Listening to the name of Diwali we all get a lot of joy. Crackers, Friends, Food, Joy are some words we think of when someone talks about Diwali. However, the Diwali of 2019 will be remembered because of only one word 'Rangoli'. Thanks to none other than Google Pay!
This Diwali, people were having one more task on their list i.e. to find the perfect combination of all the Diwali Stamps. And why people wouldn't do that, they were getting a good amount of Rs. 251/- without even losing a single penny or laying many efforts.
How I got Rangoli in Google Pay Diwali Stamp Offer?
I'm hereby sharing my experience of getting Rangoli. We were sitting with friends at a Tea Joint when I overheard a group sitting nearby talking about the Google Pay Diwali Stamp Offer. Although I was aware, I didn't know about the gifting part.
Hence, I and my friend did a couple of money transfers and gifted each other cards. As usual, we got a Diya first and later a Jhumka. I was more fortunate to get Flower on the very first day, on carrying out a DTH Recharge of Rs. 500/. At that point in time, I was sure that getting a Rangoli will be easy and I will easily get a Cashback of Rs. 251/-
We started this thing on 22nd October i.e. we were having 8 more days to get the Rangoli. But this is when life started playing its tricks. Despite multiple attempts, I was failing to get Rangoli. On 31st October, I lost my final hopes and stopped trying.
However, on 1st November I noticed that the offer has been extended till 11th November. And that's when I and my friends started trying again. One of my friend, who got Rangoli, I asked him the reason for his success. He shared a screenshot with me.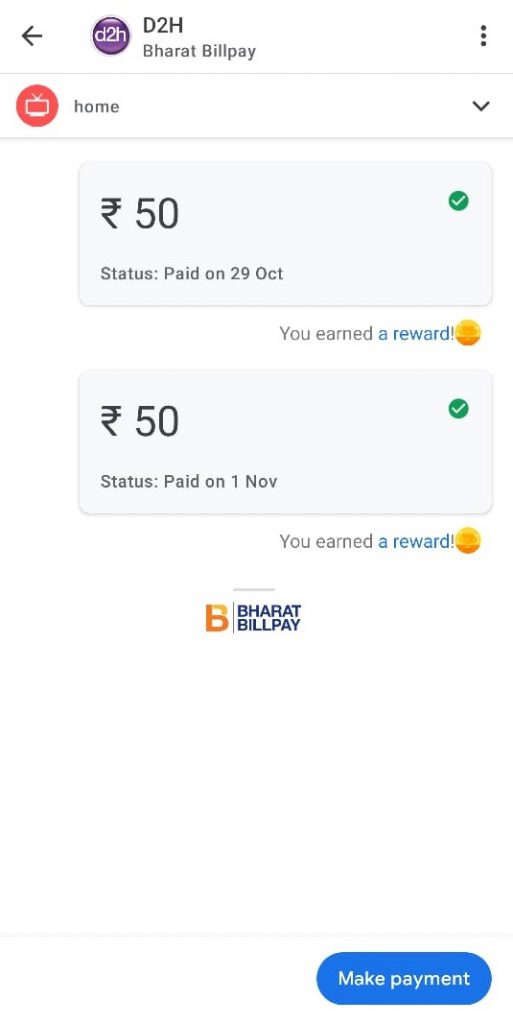 Yes, the DTH Recharge is the trick through which he got Rangoli. Although I did recharge for the next 3 months, I again carried out a DTH recharge of Rs. 50/-
It was in vain. But, I didn't give up this time. I continued the same trick for the next 3 days and finally, on the 4th Day, I got this Rangoli and this sight of happiness of getting Rs. 251/- as cashback.
So after spending Rs. 700/- on Tata Sky Recharge, Rs. 200/- on Mobile Recharge and a lot of random money transfers finally I got Rs. 251/-
I even shared my experience with the Google Pay Diwali Stamp Offer on my Social Media Handles.
A random guy from Nagpur picked up my contact number from LinkedIn and called me up to ask,
"Are you having Rangoli?"
This is crazy! I never expected to see this. But thanks to GPay it is happening!
Friends, you are still having 4 more days to get that Rangoli. I hope you all will give your full try to get the Rangoli. And entire Don't Get Serious team wishes you Good Luck so that you can get Rangoli.