Last Updated by Rohan Pandya
Are you currently looking for a break from all the sci-fi movies and dramas, then here is some juicy erotic movies list for you. These movies can surely give you the best chance of taste from the kind of film you regularly watch. Without wasting any more time, let's get into the list.
Top 50 Best Erotic Movies Of All Time You Should Watch
Without wasting any time, Let's dive deep into the topic and find out which are the best erotic movies ever made.
1) La Belle Noiseuse
Director – Jacques Rivette
Cast – Michel Piccoli, Marianne Denicourt, Emmanuelle Beart, Jane Birkin.
Synopsis – The movie is about how a young model inspires a tired painter to pick up the work he had given up on 10 years ago.
2) Basic Instinct
Director – Paul Verhoeven
Cast – Stephen Tobolowsky, Michael Douglas, Sharon Stone George Dzundza, Jeanne Tripplehorn, and many more.
Synopsis – Sharon stone plays the role of a very manipulative and very cunning novelist. The story revolves around the suspect of a murder. The film will keep you guessing. There is no chance that you will ever feel bored.
3) S*x and Lucia
Director – Julio Medem
Cast – Paz Vega, Daniel Freire, Tristan Ulloa, Najwa Nimri, and more.
Synopsis – The story starts when Lucia lost her boyfriend, Lorenzo, and flees to an island. There she meets Elena and Carlos, who too escaped to the island after the death of Lorenzo. The story starts to take a new turn when incidents in a half-written Erotic book by Lorenzo begin to become real.
4) 9 1/2 weeks (Nine 1/2 Weeks)
 Director – Adrian Lyne
Cast – Kim Basinger, Margaret Whitton, Christine Baranski, Karen Young, and more.
Synopsis – The movie starts with The 9 ½ week of an affair between John and Elizabeth. They start a more sensual journey together with John becoming more dominant, which results in giving more pleasure to Elizabeth. It's a great story about steaming sensuality.
5) Eyes Wide Shut
Director – Stanley Kubrick
Cast – Nicole Kidman, Tom Cruise, Sydney Pollack, Leelee Sobieski, and Marie Richardson
Synopsis – The character of the doctor, played by Tom Cruise, becomes more and more intrigued towards having s*xual encounters. But he comes to learn about a secret s*xual group and gets involved. But he later finds that he and his family is an incomplete problem.
6) The Dreamers (2003)
Director – Bernardo Bertolucci
Cast – Louis Garrel, Michael Pitt, Robin Renucci, Eva Green & more
Synopsis – The plot of this movie is on the political situation of France in 1968. It is a story were three students discover their new sides. They make a new set of rules for them as they experiment with their s*xuality.
7) In the Realm of the Senses
Director –  Nagisa Oshima
Cast – Eiko Matsuda, Tatsuya Fuji, Aoi Nakajima, Kanae Kobayashi, Taji Tonoyama and Melka Seri.
Synopsis – The movie is based on a true story as a woman kills and castrates her lover. This movie tells a lot about the principles of the underground power of s*x. This movie has earned worldwide fame and has won many awards.
8) Last Tango in Paris
Director – Bernardo Bertolucci
Cast – Marlon Brandho, Jean-Pierre Leaud, Maria Schneider and more.
Synopsis – Paul and Jeanne meet in an empty apartment in Paris and give a start to their s*xual relationship. They keep their bond hidden from the outside world. The film has won too many hearts and got a nomination for many awards as well.
9) Blue is the Warmest Colour
Director – Abdellatif Kechiche
Cast – Adele Exarchopoulos, Lea Seydoux, Salim Kechiouche, Jeremie Lahrurte, Mona Walravens, and more.
Synopsis – Adele, a 15-year-old girl with doubts on her s*xuality, meets a blue-haired girl who helps her to discover her desires. This is a story of a girl who seeks herself, loses herself, and then finds herself at last.
10) Crash
Director – David Cronenberg  
Cast – Holly Hunter, James Spader, Elias Koteas, Deborah Kara Unger and more
Synopsis – This is an entirely erotically charged film. James and Helen get seriously injured in a car accident. But they get s*xually engaged. The story starts unveiling from there. The kinky s*x becomes fatal for the four characters and others. This movie has won two exceptionally prestigious awards.
Check: 50 Best Movies On Netflix
11) The Ages of Lulu
Director – Bigas Luna
Cast – Francesca Neri, Javier Bardem, Oscar Ladoire, Fernando Guillen Cuervo, and more.
Synopsis – This movie revolves around the mystical drama mixed with erotic turns. It is a Spanish film. The movie got Maria Barranco, the best-supporting actress award. This can be a significant mood changer.
12) Caligula
Director – Tinto Brass
Cast – Peter O'Toole, Malcolm McDowell, John Gielgud, Helen Mirren and more.
Synopsis – this movie depicts the lusty side of Ceaser Caligula. The movie represents the affairs with his sister and how he forced the wives of the senators to prostitute themselves.
13) Shame
Director – Steve McQueen  
Cast – Carey Mulligan, Michael Fassbender, James Badge Dale, Nicole Beharie, and more.
Synopsis – The character Brandon leads a secret life. This secrecy also helps him to get more involved in sexual addiction. But, this gets disturbed when his sisters come over to his place for an indefinite stay.
14) Bitter Moon
Director – Roman Polanski
Cast – Emmanuelle Seigner, Peter Coyote, Hugh Grant, Sophie Patel, Victor Banerjee, and more.
Synopsis – This is a movie that gets you in tangles with questions like who is with whom. But, it is regarded as a cult drama, jealousy, and erotica. However, the s*x games that characters get involved in are sadistic.
15) Showgirls
Director – Paul Verhoeven
Cast – Elizabeth Berkley, Kyle MacLachlan, Glen Plummer, Gina Gershon, and more.
Synopsis – The movie revolves around prostitution, erotica, and dancing. The film is how the characters want to achieve their dream but end up getting into stripping, prostitution, and more.
16) Emmanuelle
Director – Just Jaeckin
Cast – Marika Green, Daniel Sparky, Sylvia Kristel, Alain Cuny, Christine Boisson, and Jeanne Collection.
Synopsis – This movie has been listed as one of the all-time best erotic drama. If you need a change from your regular film, you can give this one a try.
17) And Your Mother Too
Director – Alfonso Cuaron
Cast – Gael Garcia Bernal, Maribel Verdu, Diego Luna, Daniel Gimenez Cacho, Diana Bracho, and more.
Synopsis – The story starts unveiling when the girlfriends of two 17 year young boys Julio and Tenoch go to Italy. Now, Julio and Tenoch invited Luisa to trip; this is where it starts taking new turns.
18) The Lover
Director – Jean-Jacques Annaud
Cast – Jane March, Tony Leund Ka-Fai, Frédérique Meininger, Arnaud Giovannetti, and more.
Synopsis – the plot is based on the colonialism of French in 1929. This movie is about an affair between a young French girl and Chinese businessman and how they overcome the class restriction.
19) 9 songs
Director – Michael Winterbottom
Cast – Kieran O'Brien, Margo Stilley
Synopsis – This is an erotic dram alongside music. Two people, 9 songs with eight music groups, the movie revolves around this. You get a superb blend of music and sensuality.
20) The Postman Always Rings
Director – Bob Rafelson
Cast – Jessica Lange, Anjelica Huston, Jack Nicholson, John Colicos, and more.
Synopsis – The movie starts with a depression-era drifter Frank, getting a job and starting an affair with Cora, the wife of the person, Nick, who offered him the job. Frank and Cora soon begin to plan the murder of Nick.
Check: Best Horror Movies 
21) Nymphomaniac 1
Director – Lars von Trier
Cast – Charlotte Gainsbourg, Stellan Skarsgard, Shia LaBeouf, Stacy Martin, and more.
Synopsis – Joe is a self-diagnosed nymphomaniac. Her story unfolds when she tells her life long journey to her rescuer. It is an exotic psychological Drama.
22) Wild Things
Director – Jon McNaughton
Cast – Kevin Bacon, Matt Dillon, Denise Richards, Neve Campbell, and more.
Synopsis – This is an absolute thriller blend with mystery and erotica. The movie starts with Kelly van Ryan engaging in s*xual attacks. Many girls come forward with the allegation that Kelly assaulted and raped them. This is a wrenching thriller that you just can't afford to miss.
23) Secretary
Director – Steven Shainberg
Cast – Maggie Gyllenhaal, Jeremy Davies, James Spader, Lesley Ann Warren, and more.
Synopsis – This movie is more of a Rom-Com than an erotic movie. It is a movie about a young woman and a demanding lawyer getting into the s*xual yet sadomasochistic entertainment. This movie has got nominations of significant awards.
24) Body Heat
Director – Lawrence Kasden
Cast – Kathleen Turner, William Hurt, Richard Crenna, Ted Danson, and many more.
Synopsis – This movie is a smooth combination of southern Gothic, Crime, Erotica, and Mystery. Matty and Ned get involved in a sensual relationship and later plot to kill Matty's rich husband. The movie was nominated for Golden Globe Awards.
25) A tale of Ham and Passion
Director – Bigas Luca
Cast – Javier Bardem, Anna Galiena, Juan Diego, Penelope Cruz, and more.
Synopsis – The story starts with Jose and Sylvia. Sylvia gets pregnant, and Jose decides to marry her. Things took different turns when Jose's mother hired a  model to seduce Sylvia to break the engagement.
26) Salo
Director – Pier Paolo Pasolini
Cast – Paolo Bonacelli, Umberto Paolo Quintavalle, Giorgio Cataldi and more.
Synopsis – this movie has its plots based on the Nazi period. This movie is about dignitaries round up and much more. It is erotica, Gay, Lesbian, and Slavery. In other words, it can be stated as a Cult Movie set in the '40s.
27) Damage
Director – Louis Malle
Cast – Juliette Binoche, Jeremy Irons, Miranda Richardson, Rupert Graves, and more.
Synopsis – Irons, a member of parliament, falls head over heels in love with his son's fiancé. Despite getting caught, they continue their affair. However, Iron wants to leave his post and stay with his son's fiancé, but she wants to marry his son and use the marriage as a cover.
28) Nymphomaniac 2
Director – Lars von Trier
Cast – Charlotte Gainsbourg, Stellan Skarsgard, Willem Dafoe, Shia LaBeouf, and more.
Synopsis – This movie is the sequel of the famous Nymphomaniac 1. It is about a 50-year-old woman's erotic journey. It is a psychological drama and erotica. You can give this movie a try if you want an erotic psychological film.
29) Ken Park
Director – Harmony Korine and Larry Clark
Cast –  James Bullard, Stephen Jasso, James Ransone, Tiffany Limos, and many more.
Synopsis – This movie is set in the Visalia town of central California. The life of the youth that they try to keep secret. This privacy is mostly because they do things that they are not supposed to do. The film is about the families of that town. It is a movie on the erotic lives of the families in that town.
30) Shortbus
Director – John Cameron Mitchell
Cast – Paul Dawson, PJ DeBoy, lee Sook-Yin, Lindsay Beamish, and more.
Synopsis – It is an erotic movie involving gay and lesbian. This movie navigates through the emotionally unstable and vulnerable characters. This is an outstanding film, and have won many hearts due to its depiction of diverse characters. The movie is set after the 9/11 incident of New York.
Check: Best Romantic Hollywood Movies
31) American Beauty
Director – Sam Mendes
Cast – Anette Bening, Thora Birch, Kevin Spacey, Allison Janney, and more.
Synopsis – It is a cult movie about family relationships, comedy, and satire. The movie starts with the mid-life crisis of a middle-aged man. He starts to make changes in his life, like quitting his job and buying his dream car. The story has many turns and never lets you get bored. It has been nominated for prestigious awards.
32) Boogie Nights
Director – Paul Thomas Anderson
Cast – Mark Wahlberg, Julianne Moore, Don Cheadle, Burt Reynolds, and many more.
Synopsis – The likes of Rick Horner, who is an adult film director, saves Eddie Adams from being another High-School drop out. Eddie becomes a rising-actor with an exceptional gift with the help of Horner. The movie is mainly an erotic drama with great comedy. The story is based on the late '70s to the '80s.
33) Mulholland Drive
Director – David Lynch
Cast – Justin Theroux, Laura Elena Harring, Naomi Watts, Robert Foster, and more.
Synopsis – It is a cult movie based on Psychological drama, mystery, thriller, surrealism, and more. It starts when Betty Elms meets an energized brunette while she comes to become a Hollywood star. The movie is regarded as one of the true masterpieces of recent times. The movie even got nominated for the Best Director award at the Oscar.
34) Handmaiden
Director – Park Chan-wook
Cast – Kim Min-hee, Cho Jin-woong, Kim Tae-ri, Ha Jung-woo, and more.
Synopsis – It is an erotic drama and thriller. It is based on the '30s in Korea. It is about a handmaiden who has a secret of pickpocketing. She has been trained in pickpocketing by her Japanese Master. She tries to keep her skill a secret, and that's where the story takes new turns.
35) Unfaithful
Director – Adrian Lyne
Cast – Olivier Martinez, Diane Lane, Richard Gere, Erik Per Sullivan, and many more.
Synopsis – This Thriller drama is about Edward and Connie, a middle-aged married couple. They have a peaceful life, but their peace gets disrupted by the fateful encounter Connie has with a stranger. This is a family relationship dram where you will discover whether or not an infected marriage gets recovered.
36) Silver
Director – Phillip Noyce
Cast – Sharon Stone, Martin Landau, Lillian Baldwin, Tom Berenger, and many more.
Synopsis – It is an erotic thriller. It starts with a young woman renting an apartment of a luxurious New York. But he gets to know about the weird things that happened to the previous residents of the apartment and realizes that someone is watching her as well.
37) Last Caution
Director – Ang Lee
Cast – Tony Leung Chiu-Wai, Tang Wei, Joan Chen, Jacqueline Zhu, and Wang Leehom.
Synopsis – It is a thriller drama based in the '40s in Shanghai. The movie revolves around Wong Chia Chi. The movie shows her life and her struggles. But the incidents take a sudden turn at a fatal twist. This makes her flee. The movie has won many awards.
38) Room in Rome
Director – Julio Medem
Cast – Elena Anaya, Natasha Yarovenko, Najwa Miri and Enrico Verso
Synopsis – It is a drama romance. The story starts when two young women find each other in a room at the center of Rome and indulge in a s*xual and erotic journey. The journey touches their soul and makes them a whole new person.
39) Lie With Me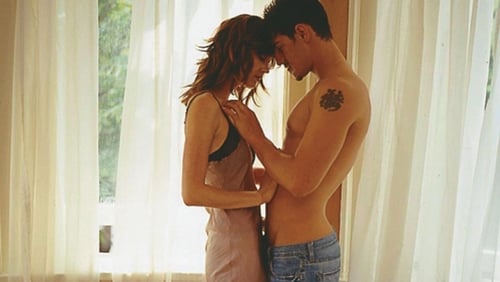 Director – Clement Virgo
Cast – Lauren Lee Smith, Don Francks, Eric Balfour, Richard Chevolleau, Michael Faccilo, and Frank Chiesurin.
Synopsis – A Carnal adventurer Leila has a steamy s*xual journey. The romantic erotic drama unfolds with the up and downs that follow in the life of twenty or something old Leila. Many characters come and go in her life. This can be a good flix if you are looking for a refreshment.
Check: Best Zombie Movies
40) Closer
Director – Mike Nichols
Cast – Julia Roberts, Natalie Portman, Clive Owen, Jude Law, Nick Hobbs, and more.
Synopsis – An epic story of romance and jealousy turning into a beautiful drama. The story involves two couples that go through abandonment. The man of the first couple gets involved with the woman of the other pair. The events get complicated here.
41) Turkish Passion
Director – Vicente Aranda
Cast – Ana Belén, Georges Corraface, Silvia Munt, Ramon Madaula, Loles Leon, Francis Lorenzo, and Blanca Apilanez.
Synopsis – It is an erotic drama. The movie has won many hearts. It is a beautiful movie with superb actors in it. The movie has got itself 12 nominations in Best Score and Production Supervision at Goya Awards.
42) Intimacy
Director – Patrice Chereau
Cast – Mark Rylance, Timothy Spall, Kerry Fox, Philippe Calvario and more
Synopsis – This is an erotic psychological drama. A failed musician now working as a bartender to earn a living, Jay has s*x every Wednesday afternoon. But, one day, he goes onto discover the life of the woman that ends up ruining their relationship.
43) Lolita
Director – Adrian Lyne
Cast – Jeremy irons, Melanie Griffith, Frank Langella, Dominique Swain, and more.
Synopsis – Humbert, a professor, gets attracted to the landlady daughter Dolores aka Lolita. He hates the landlady, but he still marries her to stay close to her daughter. The daughter, on the other hand, turns out to be more than mature of her age.
44) Cruel Intentions
Director – Roger Kumble
Cast – Ryan Phillippe, Reese Witherspoon, Selma Blair, Louise Fletcher, Sarah Michelle Gellar, and more.
Synopsis – this is a modern remake of Dangerous Liaisons and Valmont. Kathryn gets into a bet with Sebastian, her step-brother, that he will fail to break the resolve of a virgin, and the story starts from there. The bet is the exciting part of the movie.
45) The Piano
Director – Jane Campion
Cast – Holly Hunter, Anna Paquin, Sam Neill, Kerry Walker, Geneviève Lemon, Tungia Baker, and Harvey Keitel.
Synopsis – The plot is set in 1851, when mute Hunter, a Scottish woman, comes to New Zealand for an arranged marriage. The movie revolves around a Piano and its different Pianist. The film has won many outstanding awards.
46) Bound
Director – Lilly Wachowski, Lana Wachowski, Hermanas Wachowski
Cast – Jennifer Tilly, Joe Pantoliano, Gina Gershon, John P. Ryan, and more.
Synopsis – the movie revolves around two lesbians who meet incidentally. The movie does not stop there; the two women plan to rob 2000000 from their neighbors. The film has won two very prestigious awards.
47) Color of Night
Director – Richard rush
Cast – Bruce Willis, Jane March, Lesley Ann Warren, Brad Dourif, and more.
Synopsis – It is a mystery thriller, psychological erotica s well. The story starts as a New York-based psychologist goes to California to recover from the trauma of the patient's suicide but gets an L.A colleague murdered. He then meets a young woman and gets attracted to her.
48) Wild Orchid
Director – Zalman King
Cast – Mickey Rourke, Carré Otis, Assumpta Serna, Jacqueline Bisset, and many more.
Synopsis – A banker with her assistant travel to Brazil to give closure to a deal with an impotent seductive man called Wheeler. Wheeler gets attracted to both the woman, and the story starts to reveal.
49) Lovers: A True Story
Director – Vicente Aranda
Cast – Jorge Sanz, Victoria Abril, Enrique Cerro, Mabel Escaño, Alicia Agut, José Cerro, Gabriel Latorre, Saturnino Garcia, and Maribel Verdú.
Synopsis – The movie is based in the mid-'50s at Madrid. The story revolves around the life and sudden change in the event of a handsome man named Paco. It is a mystery and romance combined movie.
50) Paprika
Director – Tinto Brass
Cast – Debora Caprioglio, Stéphane Ferrara, Martine Brochard, Renzo Rinaldi, and Stéphane Bonnet.
Synopsis – An erotic drama indulging into a bit of prostitution. The story starts with a young getting involved in a brothel, to support her fiancé build a business.
Wrapup on Best Erotic Movies
We hope you loved the collection of Best Erotic Movies. Let us know in the comment section below which is your favorite movie and also let us know if we have missed any hot and s*xy movie from the list. We will be happy to add it to the list.
Rohan Pandya is a Blogger, Youtuber and an entrepreneur who loves to explore latest technology on the web everyday. He thinks When You Are Young You Believe The Possiblities Are Endless.