Best Romantic Hollywood Movies : Watching how love blossoms between two people in movies melt your heart and want you to see the beautiful side of relationships. Every story is unique where the series of emotions are depicted beautifully through various situations. Love feels real and magical in these movies. You can feel romantic inside when you watch these movies that have beautiful stories to tell.
Top 10 Best Romantic Hollywood Movies Of All Time
Checkout the list of Romantic Movies below and have a great time watching with your partner. Make memories that stay forever with you.
1) The Bridget Jones Diary Series
Renee Zellweger's unique and quirky character of Bridget Jones is adorable and amusing. This is a love story of a messy and socially awkward woman who maintains a personal diary even in the age of internet and is pursued by two men of different taste and personality. A hilarious, romantic movie about a 32-year old spinster who is trying to get everything right in her life and has to find the right man to settle with.
2) The Fault In Our Stars
This is a teen romance movie that has a serious and dramatic tone. The underlying theme of the movie is cancer where the couple suffers from it and are drawn to each because of it. A movie that deals with the tapestry of emotions with sensitivity and gives the audience many tear-jerking moments. Shailene Woodley plays the cancer patient who meets a boy in the cancer support group and they hit it off. This is a poignant love story with a heart-touching end.
3) Notting Hill
A regular bookkeeper played by Hugh Grant falls in love with the high-profile actress played by Julia Roberts. This is a beautiful love story that depicts the emotions of people coming from two different worlds. A melodrama where a regular, run-of-the-mill guy has to handle the cynics, criticism, and gossip about the life of an actress and still love her, indefinitely.
4) P.S I Love You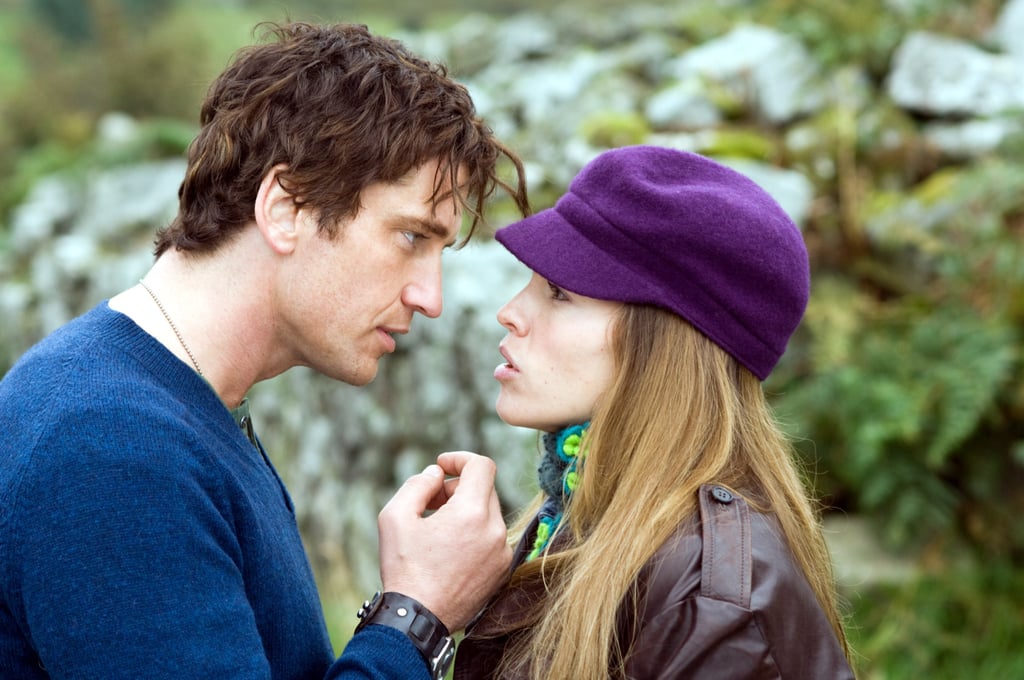 One of the heart-touching and mushiest stories of all the time with Gerard Butler and Hilary Swank in the lead. It talks of the unending romance and separation of a young, married couple, their agony and tribulations. When Gerry played by Gerard Butler dies of illness and Holly Kennedy(Hilary Swank) has to deal with his death reading series of love letters from When Gerry has written to Holly. These letters guide Holly to deal with his death because only he knows her better and only he can guide her through all the painful experiences of his absence even when he is not there.
5) Pretty Woman
A wealthy legal Edward Lewis played by Richard Gere hires a prostitute played by Julia Roberts for a day to escort him to business meetings and falls in love with her. This is a love story that depicts the complicated relationship between the two amidst making tough corporate decisions. Edward Lewis falls in love after Vivian played by Julia transforms into haute, suave woman suitable for the upscale society. This is the story of the damsel in distress meets the Prince Charming and fulfils her dreams of finding a man who would truly love her. Pretty woman is the best romantic Hollywood movies of all time.
6) The Notebook
Not a typical story about a poor boy falling in love with a rich girl. The social differences between the two separate them. Allie played by Rachel Mcadams falls in love with the local boy, Noah played by Ryan Gosling when she visits the place for summer vacations. Allie is too young to understand the repercussions of young romance as per her parents and they do not approve of the meeting. The World War II time is set and Noah joins the army to defend the United Nations. Allie meets as a nurse in the army and meets the injured Lon, a soldier and starts dating him. She later finds an ad about Noah buying a house and is torn choosing between Noah and Lon.
7) Serendipity
Jonathan played by John Cusack and Sara played by Kate Beckinsale accidently meet at a store for buying gloves for their lovers. The night turns out to be a magical romance for the two and they both spend more time getting to know each other. They intentionally split up to see if destiny lets them meet again. On Christmas Eve, Sara flies to New York to see if it is in her destiny to meet Jonathan on that day.
8) Sweet November
Sweet November is one of the best romantic movies in Hollywood. Keanu Reeves plays Nelson, an advertiser by profession. One day he meets Sara played by Charlize Theron when taking a driving test. They both meet during the driving test and Sara is kicked out of the exam, falsely accused of cheating. She follows him to his place and tells him that if he spends the entire November with her, it would change his life. On the first day of November, he gets fired and breaks up with his girlfriend and goes to stay with Sara. Sara is an eccentric, quirky woman, and Nelson is a devoted, serious man. Their love story flows from therein.
9) Eternal Sunshine of A Spotless Mind
A beautiful love story where Jim Carrey plays Joel, a man who uses technology to erase memories of his ex-girlfriend played by Rachel Mcadams. As he goes through the program, he remembers the best moments of his life were spent with Clementine and battles to restore them. After they both go through the memory-erasing program, they meet again and fall in love again with each other.
Music And Lyrics
Alex Fletcher, played by Hugh Grant, is a yesteryears singer and is given a task to come up with lyrics and a composing for the newest teen sensation. He meets a quirky and eccentric woman named Sophie Fisher played by Drew Barrymore to pen down some lyrics for him. They go through troubled times and finally find love in each other. This is an unpretentious movie about music, love, and aspirations.
Also View : Best Romantic Movies in Bollywood
We hope you liked our collection of best romantic movies in Hollywood. Pick any of the movie from this list and watch it with your crush or partner. We are sure they will feel special and fall in love with you all over again.