Confused what to wear to a halloween party? Halloween is the time of the year where people love dressing up in so many types of outfits. It's that occasion where people try and experiment with their costumes so as to look spooky and sexy at the same time. It actually is a really fun filled event, where you get a chance to be someone else for a day and trust us, this can be really exciting.
The goal of a Halloween party is to dress up really differently from others and have a gala time. Since Halloween is just around the corner, we thought we would gear you up with the trendiest outfits for this season. What to wear to a Halloween party remains a difficult decision always, and so we've bought to you a list of outfits that you can try out this year.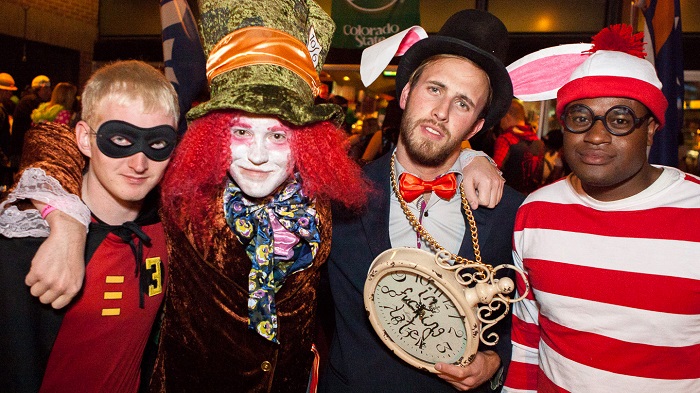 What to wear to a Halloween Party : Complete guide to Halloween Party
1) The spooky Pirate and Skeleton Outfit
It's always great fun to behave like a pirate and what could be better than a spooky one. Get a body suit which should be totally black in color, and which has bones designed on it just like a skeleton. Team this up with a great eye patch, a hook for the hand and some pirate robes, and there, the perfect outfit for the season is ready in a blink.
2) The Wicked Witch Outfit
Remember the time you always loved Snow White and the seven adorable dwarfs, but always hated the wicked witch for what she did to her. SO here's your chance to go wicked this season. What to wear to a Halloween Party remains a problem no more, since this is one of the best ideas for a cruel and scary costume. Put on a great white wig, loads of eye liner, and yes of course, carry a stick with you. And don't forget to carry an apple to add to the look.
3) The Sexy Vampire Costume
For all the girls out there, if you want to go sexy this Halloween, then this might be the perfect outfit for you. Wear a deep cut black sleeveless dress, and pair it up with the best red lipstick that you can ever find. Add those lacy sleeves on your arms and wear it with a great pair of stiletto heels. Lastly, to add to the whole demeanor , wear those lacy bunny ears on your head, and trust us you would surely make all the heads turn! It's an amazing outfit when you next think about what to wear for a Halloween Party.
Also View : Top 10 Crazy Halloween Party Ideas To Enjoy
4) The Zombie Nun and Priest
If you must have seen movies like The Conjuring, or Annabelle, then we are sure you can totally relate to this one. This goes best if you're a couple and you can easily flaunt such an outfit together. For the girl, just wear the exact same outfit that a nun wears, and team it up with an upside down cross pendant. Splash some red color across your outfit and your face to give the look it deserves. For the guy, do exactly the same and do practice the walk of a zombie to add to the effect.
5) The Doll
The doll seems to be scary no matter what, and it's one of the perfect outfits when you think of what to wear to a Halloween Party. Just be a doll and it's scary enough. Paint your face white and apply a good dark lipstick. Paint your hair white too, or just put a great doll wig to go with the look. We totally suggest that you should wear lenses to complete the look, and a white dress to complement it.
6) Joker
All the boys out there, we know that this is what you want to wear to a Halloween party, and we understand why this is your favorite. The Joker is an all time classic and one of the most fantastic outfit to wear for such an occasion. Also, painting your face like him, with those great scars around the lips give you an all time adrenaline rush. This one is a must wear in this season for sure.
So, now that we have come up with the most amazing and exciting outfits for all of you guys this Halloween, we're sure you can easily decide what to wear to a Halloween Party. And if you're going to follow any one of these that we have mentioned, trust us, you would surely look the best amongst all those present there.
Also View : Top 10 Baby Halloween Costumes To Try Out At Halloween Party
Cover Image Via : Eventbrite