Karan Oberoi (born 26 Sep 1987) also known as KO (Kay-oh), is an Indian fitness, fashion model, popular social media personality and actor. Karan Oberoi is known for his contribution to fitness modeling as well as for modeling Indian and International brands and labels and walking the ramp for leading fashion designers. An MBA by qualification, he is one of the few models who has excelled in fitness, fashion as well as commercial modeling space since he entered the modeling industry.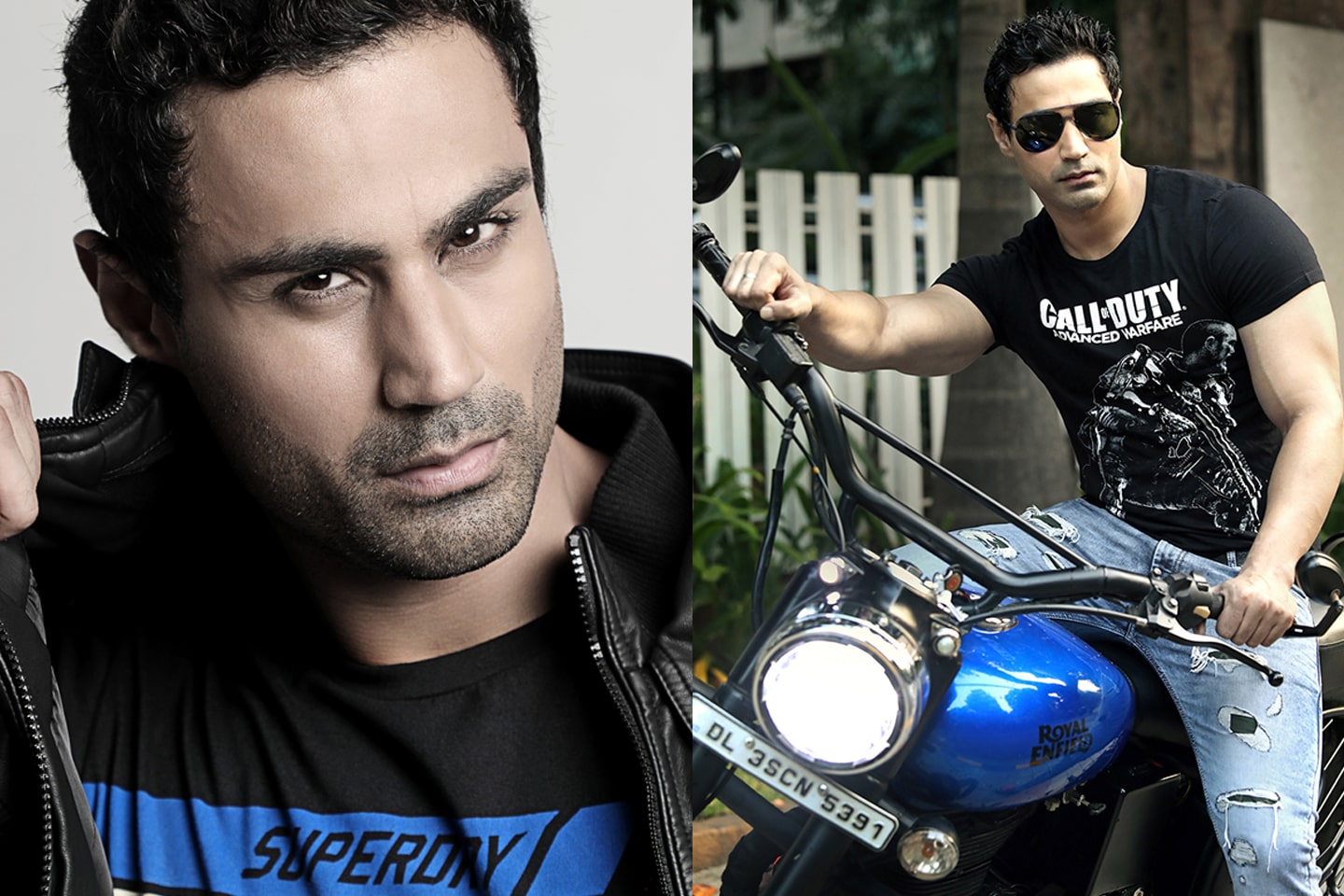 A healthy body is a synonym for a healthy life which one can achieve by the combination of a good workout as well as a good diet. This is the mantra that is pursued by our heart-throb model Karan "KO" Oberoi.  KO  is the most recognizable male model in the Indian modeling industry, known for his muscular physique in an industry dominated by extremely lean models, he's had some of the lucrative deals with well-known brands such as Royal Enfield bikes, Isuzu, Reebok India and fronted many magazine covers like Men's Health since he entered the modeling industry almost 10 years ago, but his longest and most notable alliance to date is modeling for two consecutive campaigns for Royal Enfield bike and riding apparels. Karan has also been part of digital advertising campaigns for numerous brands such as Timex watches, Tata Altroz car, Vitavin fitness brand, Viva fitness (leading fitness manufacturers), Daniel Wellington watches, 48 fitness gym chain, Royal Enfield digital campaign and many other. Ever since he got his first modeling break while working for leading advertising firm Grey worldwide back in 2011, he's been the star of numerous fashion shows and part of Lakme and Wills fashion week, commercial campaigns, and brand ambassador and face of leading fashion and fitness brands.
Top model Karan Oberoi is also known among people as KO because of the fittest model tag associated with his personality, having a body is one thing but maintaining it since a decade requires a lot of dedication, passion, and hard work. Karan has got that all, as KO word originally means knock out in boxing and is majorly associated with fitness and competition, his peers soon realized a few years back that goes well with his personality and coincidentally his name has those initials too. Karan is also known to people as K.O and Karan Oberoi KO which shall also contribute to his other names.
| | |
| --- | --- |
| Full Name | Karan Oberoi |
| Nickname | KO |
| Date of Birth | 26 September 1987 |
| Age | 32 Years (As in 2019) |
| Birth Place | New Delhi, India |
| Nationality | Indian |
| Hometown | New Delhi, India |
| Profession | Model, Actor |
| Religion | Sikh |
| Zodiac sign/Sun sign | Libra |
| School | Not known |
| College | S.G.G.S. COLLEGE OF COMMERCE (Delhi University) & AIBS (NOIDA), India |
| Educational Qualifications | Bcom(H), M.B.A (International Business) |
| Address | Bandra (west) Mumbai, India |
Awards and Recognition as a Model :
Karan Oberoi was appointed as "World Peace Messenger" by WPDO closely associated with United Nations on 16th June 2018 is a youth icon model of the nation.
Awarded as "THE YOUTH ICON" Model of the year at Second Global leadership awards at ITC Hotel, Mumbai on 7th April 2018. Karan was nominated for this award for being an inspiration among youth who follow his style and fitness.
Karan was also listed under "Top 10 supermodels of India" list released by Hindustan times "Brunch magazine" in march 2018 same list has voted Karan Oberoi as Top fitness model.
Won the title for Mr. Best body and Mr. photogenic at Mr. India's international modeling event.
We shall be sharing workout and diet secrets of India's top male model Karan "KO" Oberoi who is known for his impeccable style, muscular lean body and unconventional killer looks.
Karan Oberoi Body Bio: Karan's body is lean and muscular, his body stats are  stated as under:
Weight: 83 kg (167 lbs)
Height: 6'0″
Chest: 44 inches
Biceps: 16 inches
Waist: 32 inches
"I always wanted to look great when I was 17, I changed my lifestyle and started eating right and working out everyday and gradually it became my lifestyle", says Karan "KO" Oberoi
Karan Oberoi's Workout strategy:
KO workout is usually 2 body parts a day that is usually 3 days a week and 3 days of intense running, preferably 5 am in the morning. According to KO, cardio plays a very important role if you want to have a lean and muscular physique. Each workout in the gym should have 15 to 20 reps and each body part should have 5 variations of the exercise.
KO's Workout :
According to KO, the workout pattern needs to be updated quite often and needs a review after every month or so, and giving a lot of importance to cardiovascular exercises that help us to stay lean and muscular which should never be ignored and including stretching exercises after every workout session which helps to stay away from any sort of muscle injury.
Monday- Chest, and triceps
Chest- flat bench press, incline dumbbell press, decline pullover, cable cross over
Triceps- close grip bench press, cable pushdown, parallel bar dips.
Tuesday- intense running with 45 minutes abs workout.
Abs- exercise ball reverse crunch, hanging leg raise, a plank is important exercises of abs.
Wednesday- Back and biceps.
Back- pull-ups, cable seated row, one-arm dumbbell row.
Biceps- barbell curl, dumbbell alternate bicep curl, and concentrated curls.
Thursday
Intense running like sprints and constant running every alternate Thursday and on spot jumping with a change in abs exercises.
Friday- Shoulder, and legs
Shoulder- barbell shoulder press, dumbbell lateral raise, front raise
Legs- barbell front squat, seated leg curl, calf press, leg extension.
Saturday- Running and change in cardiovascular exercises.
Sunday- Rest Day.
Important to remember:  According to KO, If you want to grow your body, always remember the rule of thumb- more calorie intake and less calories burnt on the other hand if you want to look lean and muscular, burn more that is workout more than what you intake which means less calorie intake which is a key to have a body like leading model Karan Oberoi.
Karan Oberoi (KO) Diet :
Karan Oberoi believes it majorly depends on what you eat, he believes if you want to have a fit and strong physique like a model, seventy percent can be achieved by the right diet that shall give you results and rest is your workout.
Karan also stresses to live a healthy, drug-free, alcohol-free and nicotine-free lifestyle as they not only destroy the body from inside but also hampers stamina which is required for bodybuilding and looks great. Karan stresses to include green leafy vegetables like spinach in your diet and citrus fruits like oranges and strawberries. Almonds that are rich in vitamin E and other nuts should also be included in your diet.
Top model's diet: following a diet is followed by Karan "KO" Oberoi to look fit all year round.
Breakfast: He prefers a heavy breakfast. His breakfast includes 8-10 white eggs, slices of brown bread toast, fruits and one scoop of protein shake
Noon: Light and healthy foods.
Lunch: spinach or boiled vegetables and one cup of brown rice and a piece of chicken breast.
Evening: a glass of orange or lemon juice with 4 to 8 eggs white
Dinner: Two slices of steamed fish and green salad. His dinner includes soup, salads, and veggies.
Karan Oberoi's fitness supplement usage:
Besides following a strict diet, Karan also includes good quality protein shake powders, multivitamin caps, fish oil, pre-workout drinks and bcaa's drink in his fitness regime. He stresses not to use fake Indian protein powders that can destroy your body in the long run and one should always make sure they buy and use imported good quality protein powders in your diet.