The sacred festival of Durga Puja is a five-day occasion in a year arising in the Indian subcontinent which gives its tribute to the goddess of strength, power, and the victory of good over bad, Maa Durga. The occasion is celebrated to rejoice in the arising of good over evil to signify the time when goddess Durga killed the ruthless demon king Mahishasur. As per Hindu mythology, it is said to believe that the goddess comes to her earthly abode at the time of Durgapuja to give out blessings to her devotees.
The festival of Durga Puja has great significance in the Bengali community. Although, it is also celebrated, with much energy and excitement, in other states such as Odisha, Assam, Tripura, Bihar, and Jharkhand. People share their joy with one another and so here we have a few quotes, messages, and SMS you can send your loved one on this auspicious day.
100+ Happy Durga Puja Wishes, Quotes, Messages
Choose the one you like and send it to the right person. All these Durga Puja Greetings are filled with words full of happiness, joy, emotion, bliss, comfort, enjoyment, complacency, pleasure, and felicity that will fill your beloved's heart with ecstasy.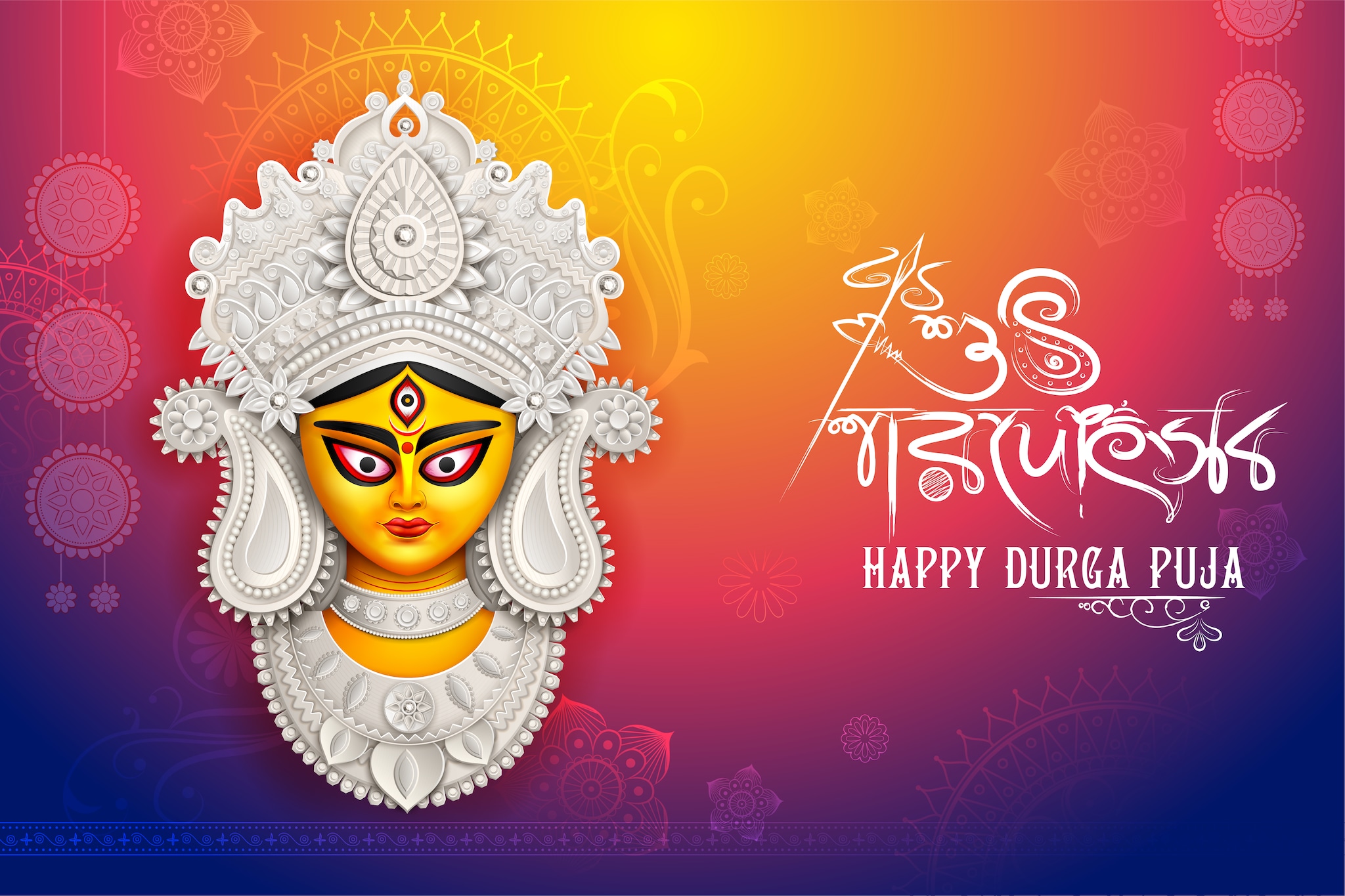 Devotees begin their procedure to welcome the goddess on Mahalaya, which was celebrated on the date October 6. This beautiful festival comes to an end with Vijaya Dashami or Dussehra, highlighting the end of Durga Puja and along with it the nine-day-long Navratri celebrations. Vijay Dashami marks the victory of Goddess Durga over the ruthless demon king Mahishasura. And you can celebrate it with more love with these Durga Puja greetings.
Happy Durga Puja. May the colorful festival brings joy and happiness to everyone's life.
Wishing you a lovely Durga Puja full of happiness and prosperity. Best wishes to everyone.
Happy Durga Puja! I hope this Durga Puja is full of fun and beautiful moments for you. May Goddess Durga bless you with good health, prosperity, and joy.
May the celebration of nine days and nine nights surrender you with all its magical moments and make you thrive through it. Happy Durga Puja, everyone.
May the blessing of Durga always be with you all. Happy Durga Puja to everyone celebrating!
It is time to welcome Maa Durga and celebrate for all the glory and blessing – she has blessed us throughout the year! Let's make this Durga Puja a memorable one.
I wish the blessing of Maa Durga fills your life with happiness and prosperity. Happy Durga Puja 2022.
May goddess Durga protect you from every evil out there and guide you wherever you go, whatever you do. Happy Durga Puja.
The mesmerizing sound of Dhak is reminding us all that Maa is coming once again. I wish you peace, happiness, and joy on this happy occasion of Durga Puja!
Happy Durga Puja Quotes and Wishes
On the day of Maha Shashti, this festival of Durga Puja celebrations starts with extreme energy and excitement, and the idol of Maa Durga is revealed to the people who come to visit the pandal. Drums, popularly known around as 'Dhaka', are banged on every pandal. At the time of Durga Puja, people rise early to pray to the goddess and go ahead with other rituals.
Days are blissful, mornings are more colorful nowadays. Nature seems to have put on a new look as Maa Durga is all set to bless us all once again. Happy Durga puja!
Prepare yourself for the most wonderful festival on earth. Don't forget to make as many wishes as you can. Because, my dear, it's all coming true! Happy Durga Puja!
I hope Maa gives you the courage and strength to face all the odds in life and showers your life with unlimited happiness. Wish you a very enjoyable Durga puja!
The goddess of power, strength, and truth has arrived once again with the promise of a joyful year ahead. Welcome her with the warmth of your heart and let the celebration begin!
On this occasion, I am grateful to Maa for sending you into my life. May Maa protect you from the evil one and shower you with her blessings.
I am thankful to Ma Durga for blessing me with a man like you. Let's have lots of fun! Happy Durga Puja!
Durga Puja is an occasion of love, color, and happiness and my Durga Puja is more colorful because of you. I want to spend every single Durga Puja of my life with you.
It's been a wonderful journey till now with the person I love most in life. It's equally satisfying to be with you during every puja! Let's welcome Maa together once again!
On this Durga Puja, let's thank Maa for having each other. Let's make memories together and make this festival a romantic one.
May this Puja bring lots of love and happiness to our life. Can't thank Maa enough for sending a beautiful and caring girlfriend into my life. Happy Durga Puja.
Check: Durga Puja Images
We have listed down a few Durga Puja quotes, SMS, wishes, and greeting herewith. You can share with your friends and loved ones to spread warmth and happiness.