Welcome, Meme lovers. Thank you for landing on our page, again. Do you also like Ashneer Grover? And want to get Ashneer Grover memes? Well, Today we will provide you with the best of Ashneer Grover memes, which will make you crazy. Before jumping straight into Ashneer Grover memes, let's first get some information about it to double up the fun and entertainment.
50+ Funny Ashneer Grover Memes That Will Make You Laugh
Let's check out the funniest collection of shark tank memes here.
Bhai! Kya Kar Raha Hai Tu?
Bhai Tu Naukri Dhundh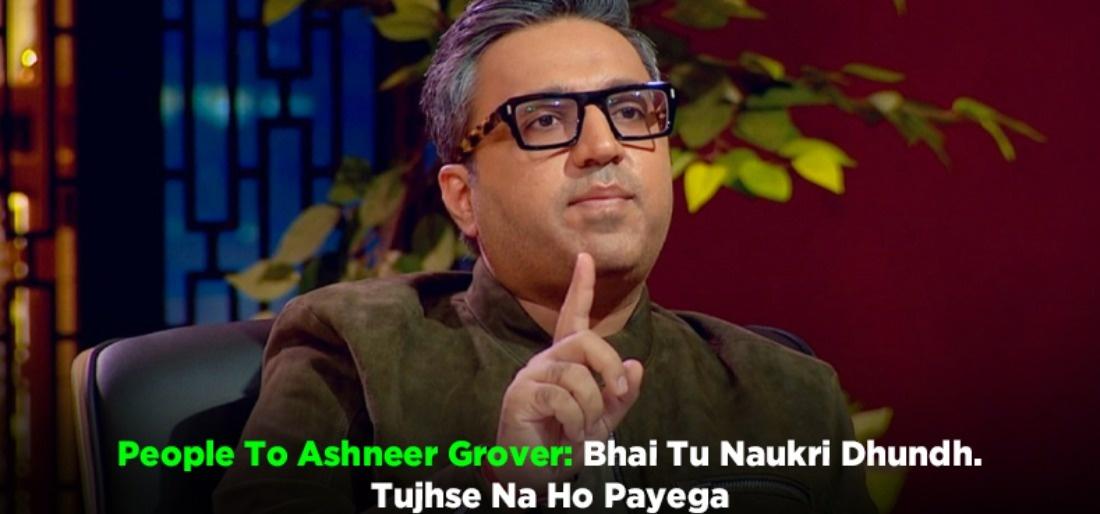 Makkan Lagane se Kuch Nai Honewala
Sach Kadwa Hota Hai
Isse wahiyat product na maine zindangi mein nai dekha!
Ye sab doglapan hai
Bilkul Bakwaas hai yeh
If you do not know Ashneer Grover, let me help you. He is the judge of the show "Shark tank" a television show and worked as co-founder and managing director of Bharat p e. If you do not know about Bharat p e, it is an online payment application launched in 201 8. Well, if we talk about how this Meme originated, probably it originated when Ashneer Governor resigned from Bharat pe due to his peculiar judging style. There is not much information about this. Before joining Bharat pe, he worked with various companies like he was also the vice-president of the Kotakak financing Bank for almost six years. He worked at the post of director with the corporate development of American express then, chief financial officer at Grover which is currently known as Blinkit. He has a good quality of talking straightforwardly without beating around the bush. He has a very peculiar style, which attracts everyone. With love, he is also the target of many people due to his rude and arrogant behavior.
One of the famous, He shared a short clip on meta Instagram in which he is talking about wearing a ladieGhaghrara where thCEOeo of sugar cosmetics Vineeta Singh interrupted him. From here a meme emerged on Ashneer in which a member superimposed his face on actress Deepika Padukone and Vineeta Singh's face was superimposed on AnupriyGoenkaka. It got huge popularity and even both Ashneer and Vineeta loved this image of big celebs commenting on this meme and it broke everyone in laughter. There are a variety of hilarious Memes on Ashneer Grover. If unfortunately, you have missed these, check now our collection of best Ashneer Grover memes that will make you laugh. Also, share these memes with your friends and relatives.
Thank you for staying connected with us!!!!
Ever you heard about our different categories of memes on Trust memes, School memes, Soulja boy, Saddam hussein, Fake smile, Annoyed memes