Kolkata, the city of joy. It is one of the oldest cities of India. And due to these old structures, there are many Haunted Stories related with Haunted Places of Kolkata. In this article, we will describe to you 9 Most Haunted Places In Kolkata That Will Give You Goosebumps
Haunted Places In Kolkata
1. Calcutta High Court
Source: Calcutta High Court
Once a Culprit was hanged in the Court. Since then many people have noticed his spirit wandering in the court area. Due to this reason, no one goes there after the sun sets.
2. National Library of India
Source: India24
Wife of Lord Metcalfe was a perfectionist who once used to live here. And a secret chamber is also found in the National Library of India. Many a time a gray shadow appears in the building, so people stay away from here after evening.
3. Calcutta Race Course
Source: Bharat Online
Pride, the horse of George Williams used to run on this race course. One day, due to age factor she lost a race. Next day her dead body was found near the track. Since then every Full Moon Saturday Night a white horse is seen running on the track which is believed as a spirit of Pride!
4. Ganga Ghats – Howrah Bridge
Source: India Blooms
Many people have drowned at this spot. And many others have seen waving hands to save them during the evening!
5. Indian Museum
Source: Remote Traveler
An Egyptian Mummy and many stories wandering around, there are spirits noticed here too!
6. Old Radio Station
Source: Para Archive Files
This Radio Station has been shut down after a death of a Musician. Still, you can enjoy there listening to him playing his piano!
7. Lower Circular Road Cemetery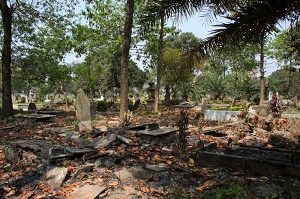 Source: Holidify
Wife of Sir W.H. MacNaghten brought her remains from Afghanistan and buried it in this cemetery. Since then, if anyone narrates the story the tree above it starts shaking.
8. Rabindra Sarobar Metro Station
Source: India
Many people have committed suicide here. Once a driver saw something running on the track and then it vanished. Since then many people have noticed spirits wandering there!
9. Tagore House
Source: YTIMG
Wife of Rabindranath Tagore, Mrinalini Devi appeared as a shadow in a photo taken after 2 Years of her death. Since then this place has become haunted.
Hope you found our article about Haunted Places In Kolkata.
Cover Image Via :- viraltalks.com