Home is where love is and It is tendency of human nature to reject things which are unique and different, so it is very difficult to see a property that differs from rest of the houses and buildings in the world. Being a child everyone thinks of building there dream house but what if someone really build a house they imagined about in there childhood
Today we have a list of 10 crazy and weird homes around the world.
1) Shoe House
This Shoe House contains 3 bedrooms, a living room, 2 bathroom and a kitchen. This house was built by Footwear magnate Mahlon N. Haines in Pennsylvania.
2) Upside Down House
This upside down house was built in 114 days by Architect Daniel Czapiewski  whih reflects pace of change in poland. This house took more than required time to built as the workers suffered from dizziness and got confused so they required frequent breaks.
3) Shell House
This house was created to resemble the structure of the ocean shell. Javier Senosiain is the architect who designed this shell house. It has three levels with no parallel ground.
4) Dome House
The Dome House is located in Auckland and is the property of geodesic paremoremo, this house looks like something shown in a science fiction hollywood movie. This was the home of Helen "Twink" McCabe and partner Noel Fuller and it was also designed by "Twink"
5) Teapot House
I'm a hot teapot, oh no i'm a house, yes this is what exactly we thought when we saw it for the first time. First it was designed as a wood-drying shed by sculptor and artist Ian Hunter but now it has been converted into a full-blown living space.
6) Cave House
This cave house is located in Australia and is a 8.5 hector property, isn't it amazing.  This cave is housed in the tunnel which is staggering nine storeys deep, it took 6.5 months to built this cave house.
7) Airplane House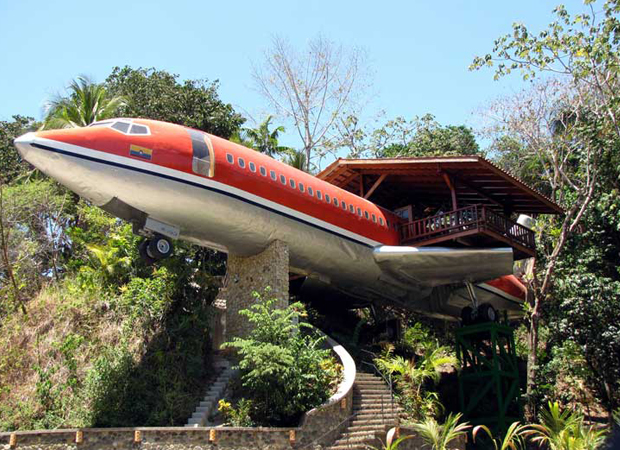 When you board a flight you usually are travelling somewhere but that is not the scene for  Joanne Ussary the creater of this house in Mississippi. She created this airplane house after her original property was destroyed because of an ice storm.
8) Stone House
This Stone House in Portugal was built in 1974 as a family's rural retreat but recently it is getting a lot of attention from architecture enthusiasts and tourists. It is a 2 stored hows owned by Vitor Rodrigues.
9) Spaceship House
E.T. Phone also know as Spaceship House was the creation of Curtis King, who spent $250,000 to built this for his son.
10) Piano House.
This Piano House is located in China it is given the shape of a giant piano with a grand glass violin for the entry gate. The open top of the piano is home's roof terrace.