So, you've been put in charge of planning your office's holiday party.  While party-planning can be fun and festive, it can also be incredibly stressful if you don't have a clear vision of what you're doing.  With finding a venue to host your party, hiring a caterer, booking talent to perform at the event and any other loose ends you need to tie up, there is more that goes into planning a corporate holiday party than you might think.  Here are a few tips for planning a memorable party your colleagues will be raving about all year!  
Location, Location, Location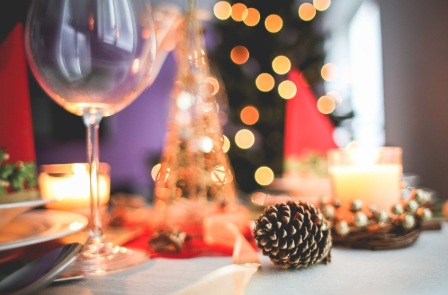 The first step to planning a great corporate holiday party is to find a location!  Depending on the size of your event, call around to different venues in your area and see what they can offer you and at what cost.  Country clubs, banquet halls, and even fire halls are all great places to have a corporate party, and most venues like this offer some sort of party package for corporate events.  If your office is relatively small, you may want to consider having the party at someone's house in order to cut costs. Once you secure a venue for your event, you can start planning the more fun aspects of the evening.
Food
Unless your party has a small guest list and someone volunteers to cook for the group, you will most likely need to hire a caterer to ensure your guests are fed during the event.  The easiest and most cost-effective option is to only serve hors d'oeuvres and some light desserts at the event. Hosting a sit-down dinner can be expensive, so some light appetizers should suffice.  If you're going to be serving drinks at the party, talk to the venue and ask if they have an on-site bartender available, or if you'll have to hire your own. When it comes to the food served at your party, it's all about presentation, so make sure you take that into consideration when planning the menu.
Entertainment
Hiring live entertainment can really enhance your party and wow your guests, so make sure to put extra thought into this step.  It can be difficult to find talent just by word-of-mouth referrals, so using something like a live music app can really help out with the process.  Depending on the overall vibe of your party, different kinds of entertainment can really make the event that much more fun.  For example, if the theme of your event is more classy and upscale, hiring a pianist can really bring an elegant touch to the evening.  If you want people to mingle and dance, then hiring a rock band or fun DJ could be a great choice. Feel out the vibe of your event and book talent accordingly!