We all have our face Ups and downs in our lives. Sometimes, there comes a time when you feel so frustrated and agitated from all the difficulties. The funny Kill me memes will come in handy for you in these situations.
Imagine getting stuck in the worst situation of a kind that you feel very low. The heavy workload in the office, any kind of financial crisis, or the worst heartbreak from your loved one can lead you to a depressed state of mind. There is no turning back from these circumstances but to keep feeling guilty for yourself and treat a problem as more significant than it is.
If something like this happens with you or any of your close ones, stop thinking, take a break from everything, and enjoy some of the funniest kill-me memes. These memes relate to your situation and describe it entertainingly.
We have made the difficult task of finding such memes easy for you. A massive collection of Kill-me memes is here to help you press the refresh button in your mind and get back to the problems with a wholesome attitude. You can share these memes with someone you know suffering from the same state of mind.
50+ Funny Kill Me Memes That Perfectly Capture Your Mood
Let's dive deep and find out the funniest memes that are worth sharing.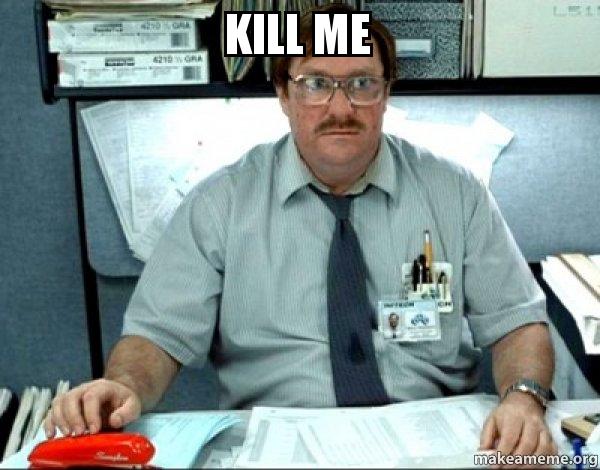 You start helping her to choose the outfit for the night at 4:00 PM, and it's midnight now, and all you can think of is "Please Kill Me."
You had a long day working at the office. You're happy going back home after the shift. Your boss comes and tells you to do overtime today and leaves.
I would personally request you to kill me, but I fear that even death will not destroy this memory.
Yes, I have been friend-zoned for the past 2 years and still hope she will be mine. Please, somebody, kill me.
We are always open to suggestions. Do let us know about the quality of these memes. Share your valuable opinion with us and send us more kill me memes created by you.