It is very interesting to see websites like Google, Facebook, Twitter, Youtube, Yahoo and etc performing so well and getting traffic in millions every month. It was the start of this website in the mid-'90s and the internet was booming in the early 2000. There is this website called waybackmachine which has all the screenshot achieves on all the web pages. Let's go back in time and brush up our memory down the lane on how this website looked when they were launched.
1) This is how Google website looked in 1998
This is a screenshot of Google when it was first launched.  The reason behind Google having such a simple home page is because Google did not have any webmaster who knew HTML .
2) This is how Facebook looked when it was launched in 2004
Everyone knows the story of Facebook and how Mark Zuckerberg single handedly developed the website in just 45 days. Now Facebook's website has many different features and a very huge team, but during the initial time Facebook had a simple and basic look and Facebook was called TheFacebook.
If you spam if Facebook then be ready to get jailed for few days, Send these funny Facebook Jail Memes to your friends.
3) This is how Twitter looked when it was launched in 2006
Twitter was launched in 2006 with a very simple home page with fewer features But today it is one of the big players in the world of social media. Twitter has the most number of celebrities using their platform than any other social media website today. You will find people of the age 50+ using Twitter more.
4) This is how the Apple website looked when it was  launched in 1987 (screenshot from 1996)
Apple is currently the most valuable company in the world with amazing products like iPhone, iPad, Macbook, iWatch, and many more were once a very struggling company in the '90s. In the early days also Apple pushed the mobile device eMate 300 which used Apple's Newton platform but it was a big flop.
5) This is how the Amazon website looked when it was launched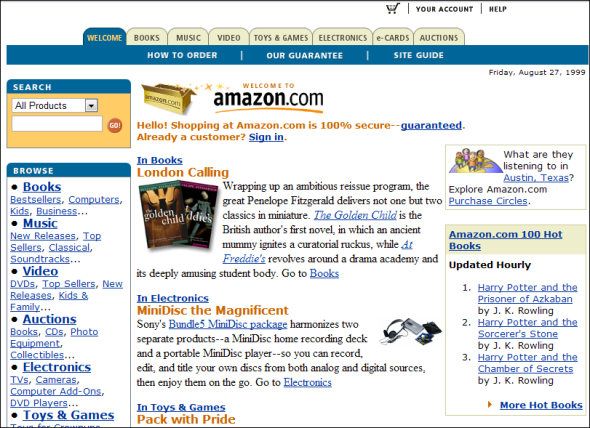 We could not find the screenshot of the Amazon website of 1997 but we managed to get the screenshot from 1999. The amazon website looks a bit modern as compared to the year 1999 but it was a 2-year-old company then so yes it had made many changes to the website.
6) This is how the Yahoo website looked when it was launched
Yahoo was launched in January 1994 and it was the pre-Google era when people were only dependent on few search engines like Yahoo. The initial yahoo website had a basic search engine and directory back then.
7) This is how the Microsoft website looked when it was launched
During the initial time of Microsoft, it used to work on Windows 98 and Internet Explorer 4. Where do you want to go today? was the slogan of Microsoft on its website when it was launched.
8) This is how the Youtube website looked when it was launched in 2005
9) This is how the Wikipedia website looked when it was launched in 2001
10) This is how the Myspace website looked when it was launched in 2003
We hope you loved our article. Comment below when was the first time you used these websites. Do share it with your friends and family and let them know that these sites looked so basic when they were launched first.