Are you searching for happy Navratri images to share with your friends and family? Well, Navratri, (Sanskrit: "Nine Nights") in the entire full form of Sharad Navratri, Navratri also pronounced as Navaratri, in Hinduism, is an important festival which takes place in respect of the divine feminine. Navratri takes place over 9 days at the time of the month of Ashvin, or Ashvina. It usually comes to an end with the Dussehra popularly known as Vijayadashami rejoicing on the 10th day. In some places of India, Dussehra is regarded as a centre point of the festival, turning it into a total of 10 days instead of 9. Furthermore, as Navratri is relied on the lunar calendar, in some years it may be celebrated for 8 days, with Dussehra falling on the 9th.
Happy Navratri Images, Pictures, Wallpapers 2022
There are four identical festivals, also called Navratri, which take place at different stages of the year. Although, the early autumn festival, also known as Sharad Navratri, is the most important. It starts on the same day as Durga Puja, a 10-day festival dedicated to the triumph of the goddess of Maa Durga, which is especially rejoiced in particular eastern states.
150+ Navratri Images HD Download for Free
Here we have some images, pictures and GIFs which you can share with your friends and family this Navratri and share your joy of the most-awaited and widely celebrated festivals in India.
Wishing you a happy Navratri, may this occasion bring your family peace and prosperity. May Maa Durga's blessings help you defeat life's evils.
May the nine avatars of Maa Durga bestow upon you nine qualities – power, peace, knowledge, happiness, humanity, prosperity, name, fame, and health.
May this NavDurga Puja, Maa Durga bestow you with joy, happiness, success and good health. May the goddess fulfill all your desires. Wishing you a very Happy Navratri!
On this Navratri, worship Maa Durga and enlighten your life with countless blessings. I pray you get all the joy, happiness and prosperity. Jai Mata Di!
Feel the spirit and have fun!
The Dandya Raas has begun
Maa Durga has come to
Bless everyone with prosperity and happiness!
Shubh Sharadiya Navratri!
Good Luck, Good Health, Blissful Life
May the great goddess Maa Durga illuminate your life with countless blessings. Wishing you and your family a very happy and auspicious Navratra. Jai Mata Di! Shubh Durga Puja!
Is Navratri apki sari manokamnayein ho puri. Ap paye sukh samridhi aur shanti. Maa Durga ke ashirwaad humesha rahe apke aur apke parivar pe.Jai Mata Di! Navratri ki shubkamnayen. Happy Navratri!
Awesome Collection of Happy Navratri Pics, Images, Wallpapers & Heart Images
We have got the most beautiful collection of Navratri status videos for you, do check it out.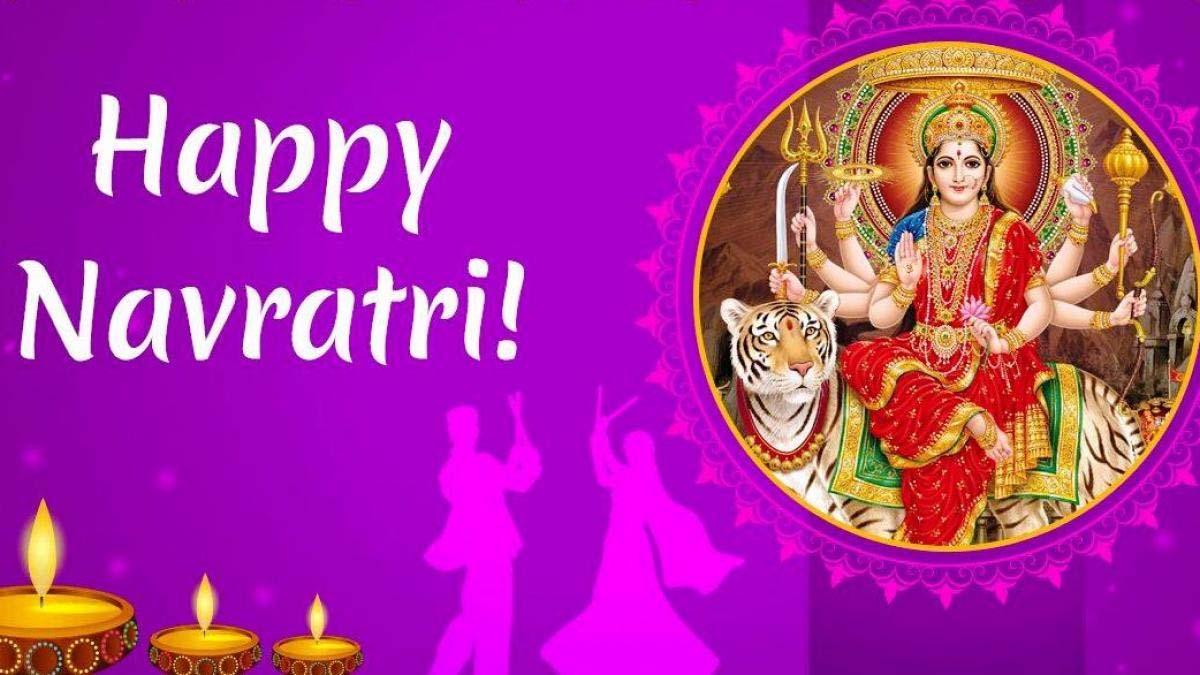 On each day of Navaratri, various avatars of Goddess Durga are honoured. On the very first day, devotees worship Maa Durga as Shailputri, on the second day Goddess Brahmacharini is worshipped. On the third day, followers pay respect to Goddess Chandraghanta; on the fourth day Goddess Kushmanda is honoured; on the fifth day Goddess Skandamata is adored; on the sixth day Goddess Katyayani is prayed to; on the seventh day Goddess Kaalratri is honoured; on the eighth day Goddess Mahagauri is prayed and on the last and final day people worship the Goddess Siddhidatri.
Wish your loved ones and your relatives by sharing these heartwarming images, cards, GIFS, and pictures to say Happy Navratri 2022.