Forgot to wish someone on their Birthday? Then it would be a good idea to send them some of the best belated birthday memes. Undoubtedly, Birthdays are special for everyone out there. It is a day of celebration and feeling good. Also, birthdays are special because our family members and friends make the day more enjoyable. But sometimes, you simply forget to wish someone on their Birthday. And wishing them formally just does not feel right, so we have collected the best belated happy birthday memes for you to cover up on missing your friend's birthday.
Happy Belated Birthday Meme
When you forget to wish.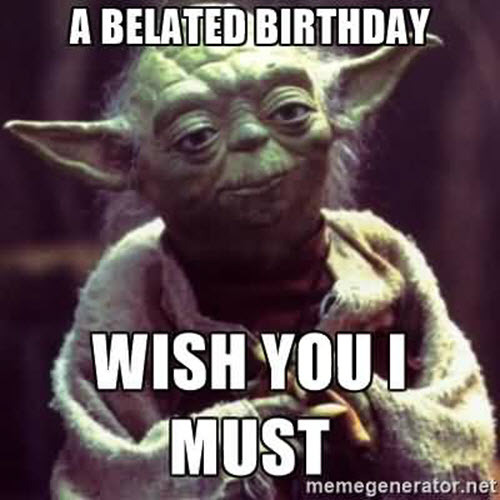 Hence, you can consider sending them a happy belated birthday meme? Why? Memes are funny, plus there is a high chance that you will get 100% of their attention. And if your friend loves memes, then there is no point in holding back and resisting yourself from sending a funny meme.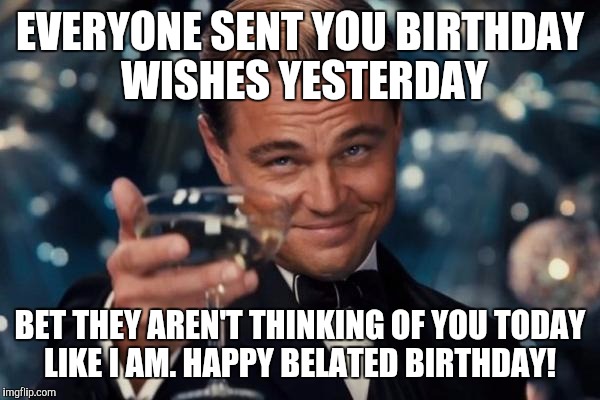 If your friend is upset with you that you have forgotten his or her friend, then a belated birthday meme would lighten up the mood. And you guys would start talking to each other with a laugh. But finding good belated birthday memes can be a challenging task. Since there are not too many meme websites are available out there to download belated birthday memes.
However, to solve this issue for you, I have shared a bunch of funny belated birthday memes down below. Simply go through them and download your favorite memes. Below, you will find a huge collection of belated birthday memes. Go through them and download your favorite ones.
Also, all of these memes are rich in quality. So when you send these memes to your friend, they will not lose their quality.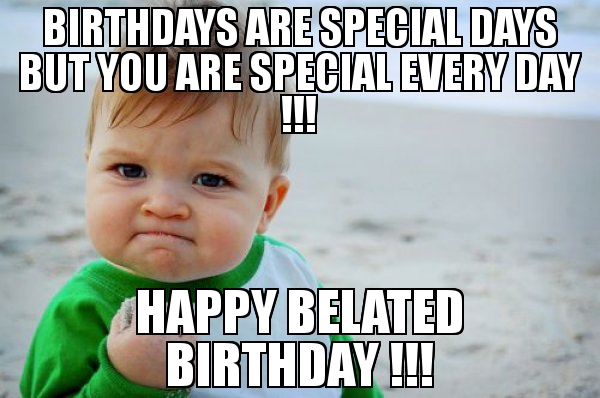 Birthdays Are Special Days
The best Excuse is No Network issues
Happy Late Birthday Meme
Lots of extra love and best wishes 🙂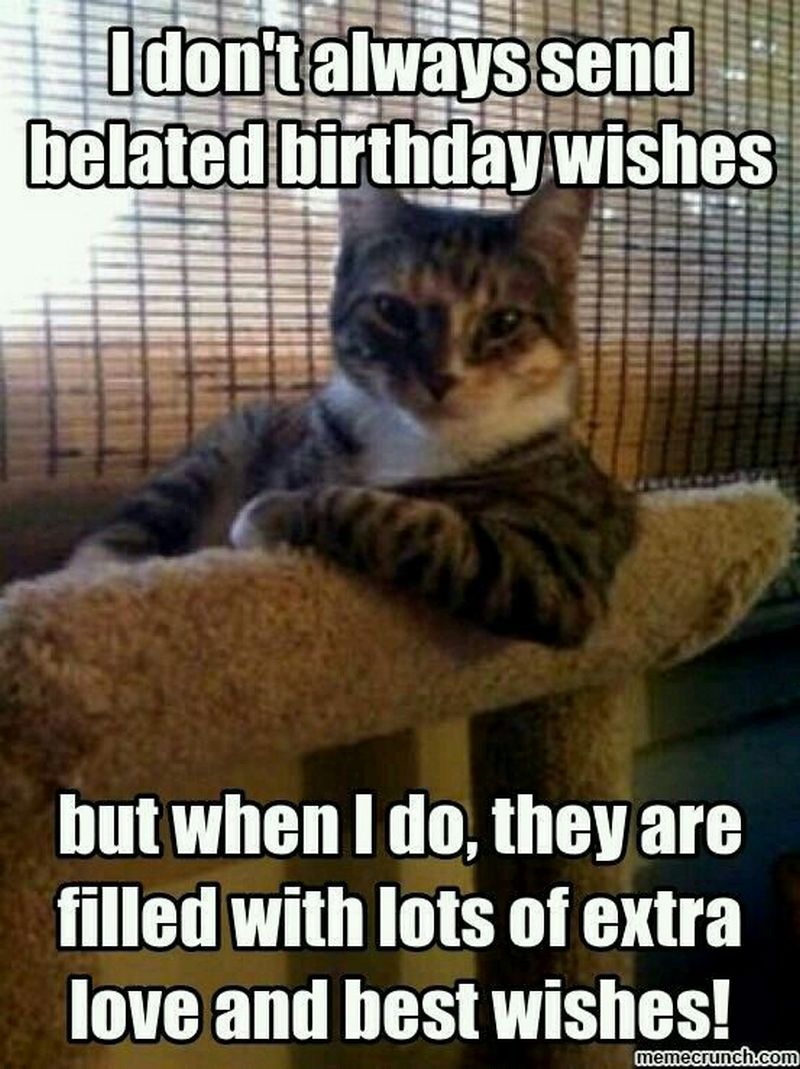 Remember!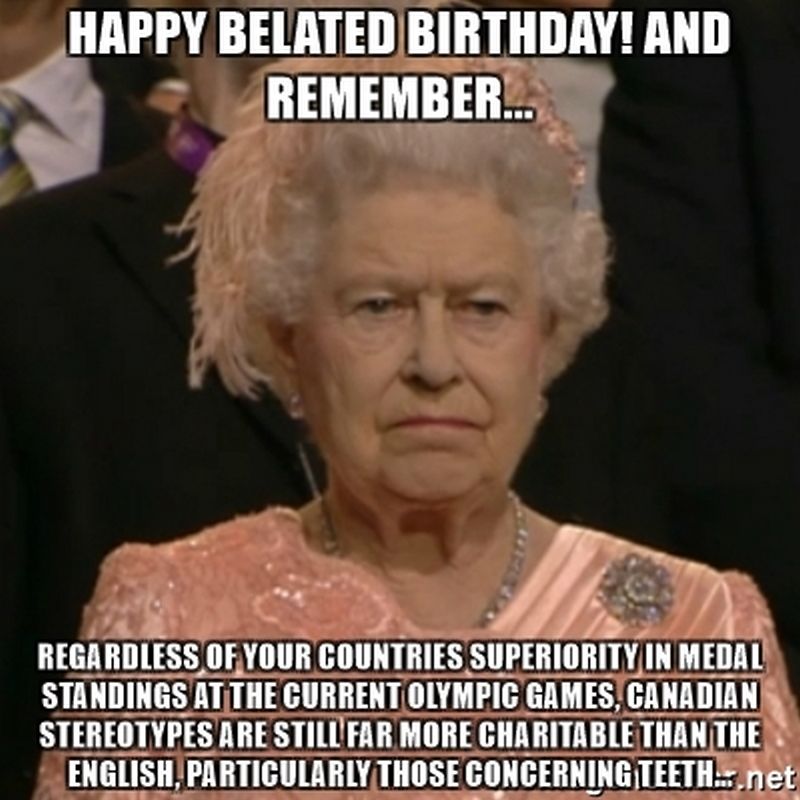 I Hope I'm Not Too Late To Wish You
I Know You Had Lots Of Wishes Yesterday But Who is Thinking About you Today
I Would Say Happy Belated Birthday
Better Late than Pregnant
Warm HUG!
Check: 50th Birthday Memes
Check: 40th Birthday Memes
It was Trump's Fault
Oh Noes!
364 early for next year
The cake arrived late! Belated happy birthday!
Belated birthday memes even Obama would approve of.
Awww, gotta love cute belated birthday memes.
I'm A Little Behind 
People are saying I forgot to wish you a happy birthday yesterday. Lies! All lies! You can't listen to the Liberal social media! I posted! It was huge! The best ever! It was amazing.
I hope you enjoyed these belated birthday memes! Share these memes and wait for the person's reaction whom you forgot to wish Happy Birthday.
Check: It's my birthday memes
How to download these memes?
Downloading these memes is an extremely straightforward process. But in case if you have never downloaded memes or images before from the web, below you will find a guide:
For Mobile Users:
At first, browse and select a belated happy birthday meme that you would like to download.
Then long press on the picture and you will get to see the "open image in new tab" option. Simply tap on it.
Now go to the new tab and long press on the picture again.
Finally, click on the download image option to save the image on your phone.
For PC Users:
At first, choose a belated birthday meme that you wish to download.
Then right-click on the picture and click on the "Save image as" option.
Finally, choose a location on your PC to save the image, and you are all done.
Check: 50th Birthday Memes
Check: 40th Birthday Memes
Check: 30th Birthday Memes
Check: 20th Birthday Memes
Check: 21st Birthday Memes
So those were some of the best belated birthday memes that you can download. Now check these memes out and see which one you like the most and share them with your friends or family members and have fun.