Success never comes in a easy way, Hard work and dedication is the key to success. The road to success is very bumpy and challenging and the first step towards it is letting go of your sleep, These successful entrepreneurs, leaders and CEOs  work very hard and deal with enough of stress to stay awake all night that they barely get time to sleep.
1) Tim Cook, Apple CEO
This 55 year old Apple CEO is the first one to enter the office and the last one to leave, he is very hardworking and dedicated towards his work that those who work with him are habitual about receiving e-mails even at 4:30 am in the morning.
2)  Starbucks CEO Howard Schultz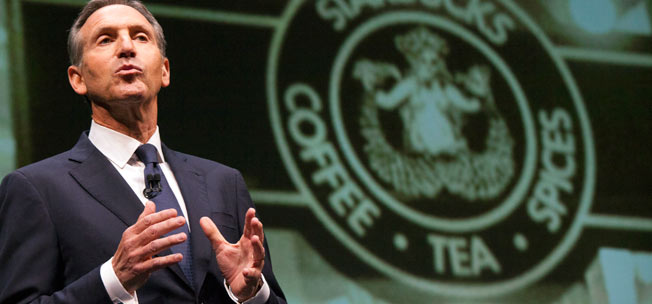 The person who is responsible for kick starting the day of entire generation by waking them up with aromatic coffee, his day obviously has to start early. The Starbucks CEO Howard Schultz is said to start his office work by 6:00 am , most of the people are only half way through there sleep at that time.
3) Disney CEO Bob Iger 
Life's no fairytale, not even for the creators of fairytales. Disney CEO Bob Iger has said in an interview that he wakes up at 4:30 in the morning to exercise, read newspaper, listen to music and utilise his morning time in checking his e-mails.
4) Twitter Founder Jack Dorsey 
The Founder of Twitter and CEO of Square Jack Dorsey is just 38 years old and has worked very hard to reach where he is today.  He has literally burnt the midnight oil after his both the companies Twitter and Square. It is said that everyday Jack gives devoted  8-10 hours to Twitter and 8-10 hours to Square. From this you can easily make out that he is left with only 5 hours of sleep.
5) Narendra Modi 
The Prime Minister of india who is 63 years is said to be a workaholic and it is believed that he hardly gets a sleep of 3-4 hours every day, Well if you have to run a country  then sleep is a trivial concern.
6) Pepsi CEO Indra Nooyi 
The Pepsi CEO Indra Nooyi is ranked among the world's top 100 powerful women and i considered a light sleeper. It is said that she gets up at 4:30 in the morning and is not early sleeper either.
7) Former US President George W Bush
The Former US President George W Bush is said to be very disciplined, he would reach office as early as 6:45 am just like his father HW Bush who woke up at 4 and reached office by 6. His day usually ended at 2 am daily.
8) Shah Rukh Khan 
The king of Bollywood Shah Rukh Khan is know to sleep only for 4 hours daily, He is so addicted with his short nap habit that he cannot sleep for more than 4 hours. Still you will never find him low on energy
9) Marissa Mayer – CEO of Yahoo
Marissa Mayer gained popularity of working really very hard at Google, working for arounf 130 hours every week, It is said that she sleeps for only 4-6 hours every night, She takes a long vacation every 4 months to recharge herself.