The World's Largest Dessert Party is an event held by 'Our Vadodara' in association with Mr. Puff to break the Guinness World record achieved previous by Equal (Hong Kong) with a big number of 1166 participating in the event.
This year, on Gandhi Jayanti, i.e. the 2nd of Oct will be held the biggest of all events at Kabir Farm from 3 pm onwards.
This event is for all the people who want to spend a good time with family, friends or even meet new people and be a part of the world's greatest events.
#1
You and your friends/family will be a part of a WORLD RECORD!
It's not just about coming and watching or just hanging around the place. But by participating in the World's Largest Dessert Party and making sure you bring more people along with you, you get to be a valuable part of a world record which is surely a proud moment for all of us.
#2 You get to enjoy three delicious desserts at a small price
If you're a hardcore foodie especially a sucker for sweets, then you will definitely enjoy this event. Don't have dessert at home after lunch because you will be getting 3 desserts (two puddings and one cupcake) of which you need to finish at least one. That's easy right?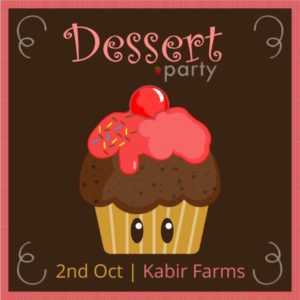 #3 Do your part for Swachh Bharat Abhiyan
By participating in this event, you also get to be a part of Swachh Bharat Abhiyan. The organizers are going to contribute towards the same after the event and we all want to see our city make us proud.
 4) This event is for all age groups
It's not just a musical concert or a jewelry exhibition limited to one type of audience. It's for all age groups starting from 6 years and above. You get to bring your family and close friends and enjoy this year's Gandhi Jayanti.
5) This is not an eating competition
Just to clear the air, this is an event to get the most number of participants to break the world record of the world's largest dessert party. Out of the three desserts that will be given, you need to finish at least one of them.
6) Let's show our Unity
This event will definitely show the love and unity of people of our city, Vadodara. Let's join together and make this event a success by getting more people and participating in the Guinness Book of World Records!
So have you bought your tickets yet?