Confused about What to Wear to an Indian Wedding as a Male Guest? Are you invited to an Indian wedding as a Male Guest? What you'll wear? Depending upon the type of wedding and your role in that wedding you have multiple options to choose from. You can wear silk Sherwani, a heavy bandh-galas, or a smart kurta. Today we will tell you what to wear to an Indian wedding as a Male Guest.
After having so many options, are you still confused about which one to choose from? Well, don't worry you won't go wrong with our tips on Indian Wedding Male Guest attire.
There's no rocket science in choosing the right outfit for the wedding but having a good understanding might help you. Knowledge about color combination, what to wear and what not to wear at an Indian wedding, of course, we will help you. Today we'll share all the secrets about the Indian Wedding with you. I recommend reading the whole article to understand it properly.
What to Wear to an Indian Wedding as a Male Guest
Let's dive in.
How to dress for an Indian wedding as a male guest
Always dress smartly and decently. The most preferred outfit in an Indian wedding for a male guest is Kurti or sherwani. But eventually, it all depends on what relationship you have with the bride or groom should ultimately decide your outfit for the wedding.
Image Source: Coupon Hippo
Confused about What to Wear to an Indian Wedding as a Male Guest?
Here are some points to keep a note on:
For a Close family member, a Silk Sherwani would be appropriate for you.
If you are very close to bride or groom you can opt in for bandh-galas.
Just a friend? Go ahead with a simple kurta pajama and a scarf.
If you are a colleague, opt in for a Western suit.
What colors to wear in an Indian Wedding?
For an Indian wedding, the most preferred colors are the bright colors. With bright, I don't mean colors like Black, White or Red. Usually, a Western outfit is not really considered appropriate because an Indian wedding Male should have an outfit which is bright, catchy and simple.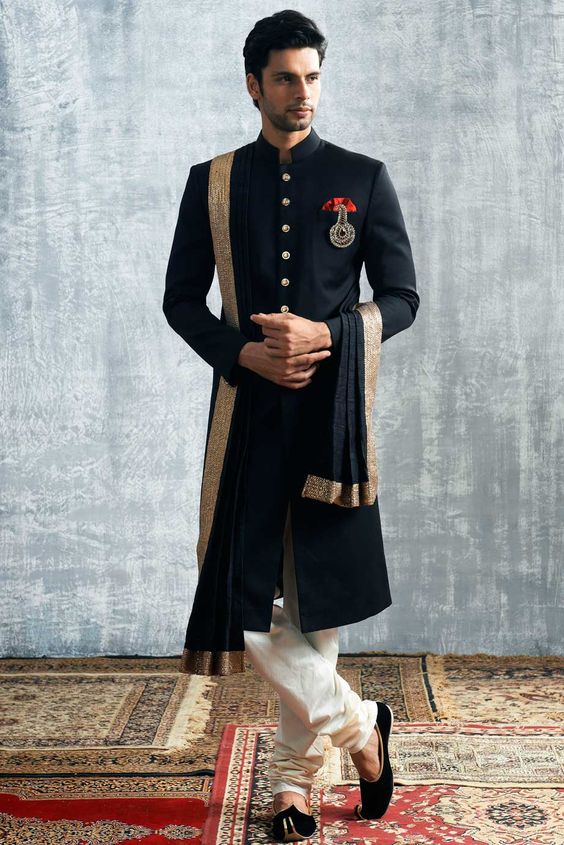 Image source: Manyavar
Moreover, the color which you choose for the Wedding can be better taken into consideration if you do a research beforehand about where the wedding is actually happening. In that way, you'll be able to get a much more clear perspective on what all is famous in the region and what all available choices you are left to choose from.
Attire for Indian Wedding Male Guest
Attire is very important when it comes to an Indian wedding. As we all know that India is famous for its hundreds of years old tradition. So, following that tradition for the Outfits of men can be paired with sandals, jootis, and chappals.
Additionally, you can add in a nice dupatta with the Kurta. You can steal the hairstyle from one of your favorite celebrities. That being said, there are no other mysteries to this for an Indian wedding male guest.
You now know what all the options are available for you to wear at the wedding. However, it's important to also note down what all not to wear in an Indian Wedding Male Guest.
Things to avoid in an Indian Wedding
These are some of the things which you should avoid wearing at an Indian wedding flip flops, shorts or any trousers, black, white and red colors, jeans and t-shirts.
In short, clothes for an Indian man should be decent and elegant, not funky and cool. Even though the bride or groom is your close friends but you need to keep that in mind that there will be elders present at the wedding. Keeping that in mind you should dress which shows pride and respect in your dressing and which has an Indian taste in it.
What to wear as a male guest – different attires
Image source: Pinterest
Mehendi night: it's an informal night so you can wear a kurta pajama or pants with a cotton shirt.
At the wedding ceremony: you can opt-in for some formal kurta and pajama.
At Reception: here you need to be more formal a Silk Sherwani or a bandh-galas will work just fine.
Concluding Thoughts
I hope you loved the tips which I shared with you about What to Wear to an Indian Wedding as a Male Guest. Let me know in the comments section which Indian attire you will be wearing in the next wedding season?
Peace.
Also View: 10 Best Shirt And Tie Combinations For An Attractive Look
Like our Facebook Page for more updates on Men's Lifestyle