Gujarat's Symbol of Pride Statue Of Unity was announced by Indian Prime Minister Narendra Modi on 31st October and will be inaugurated by Narendra Modi on 31st of October.
India, the land of traditions, rituals and many festivals has a unique way to give tribute to their freedom fighters, soldiers and officers. A lot esteem or say honour is given to these categories by the civilians and government of India.
The story of independence of India is not hidden from anyone and before and after independence several lives have been compromised in wars. So to give tribute to them and remember their sufferings for us is an imperative task.
Leaders are the bridges of a country they make governance efficient and policy people friendly so that a country can grow high on social economic basis. Different countries have distinct way of government some are Monarch Rule, some with Dictatorships and some have Democracy.
India is one of them with world's largest democracy. History of India is not easy to grab by reading some books, different authors have distinct views and so their ideology is disparaged from others.
Some believe the British Rule was better for India's development and some think Britishers have only done welfare for their community.
That is the reason why they aren't now ruling in India. Many names appear for India's freedom and some names are hidden in the books who did not get the credit. Well! Current Government would definitely think about this as they have thought for building the statue of Unity.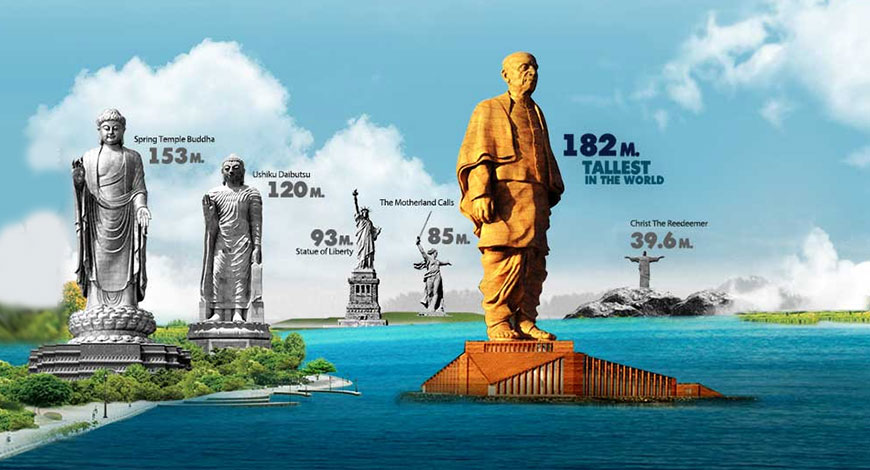 Since independence many great leaders have fought against Britishers for the rights, and one of them was Sardar Vallabhai Patel who is popular with the name the Iron Man of India.
He was India's union home minister just after the independence, he got such admiration because he is the one to unite Indian states into a union. Sardar Patel belongs to Gujarat state and there is his long statue would be placed.
So, folks, as you know there is a state in India, "Gujarat" that is known for many famous things and now it is going to include one of more amazing thing that is "statue of unity". It will be located near Narmada Dam. The nearest river known as "Sadhu Bet" will be at a distance of 3.2 km, so you can visit there too.
Let everyone know about the eminence of this great Statue so let's discuss some main points.
Facts About Statue of Unity:
1) The statue would be 182m long and vast it would be longest statue in the entire world. Sardar Patel is an iron man so farmers old iron is melted and is used in this project.
2) Statue would be located near Narmada river in a river island Sadhu bet in Rajpipla in Gujarat.
3) Construction company is Larsen and Toubro, they started building in December 2013 and finally completed, now prime minister of India would officially open this for everyone on 31oct 2018 on the Rashtriya Ekta divas, (national unity day) , this date is celebrated as the birth anniversary of Sardar Patel .This year would be his 143rd birth anniversary.
4) Government main focus is on ethical revenue generation by this wholesome project, nearby area would be developed and tourist would come that would generate revenue and employment on that area.
5) Estimated cost of this whole project is 2989 crore for designing, constructing and maintaining. The cost is further divided as follows:
6) 1347 crore on main statue
7) 235 crore on exhibition hall and convention centre
8) 83 crore for the bridge connecting the memorial to the main land
9) 657 crore for the maintenance of the statue till next 15 years.
10) 3400 labours, 245 engineers are working for this powerful project.
11) Bronze cladding is done on the statue also 550 panels of bronze is used.
12) The status is 235.73 meters above the sea level.
Places Near Statue of Unity:
If you are not a local citizen of Gujarat state, then you might not be aware about which are the near places that you can visit after exploring statue of unity.
1) A 3-star hotel near by the mammoth statue is being built to reside in
2) A special purpose vehicle, Sardar Patel Rastriya Ekta Trust is established by Gov, to build this project
3) Nearby area is developed by engineers
4) An agriculture research centre to promote farming and to discover various methods to make farming efficient.
Basically, whole project will serve lighting in everyone's life, poor or village people would get effective employment. As a memorial of Sardar Patel, this statue would not only remind India's freedom struggle but also inspire people of India to embrace Sardar Patel's ideology of patriotism and good governance.
Remembering those leaders who have done great work for our country is superior and that is what done by building this statue of Unity.
There are number of ways in which we can thank our freedom fighters who put all their efforts to save India from British rule. This statue of unity will remember Sardar Vallabhai and his sacrifice always.
Loved the information? Want to read about more such interesting facts? Then stay tuned and keep visiting our website. Do leave your comments below regarding what you think about this statue of unity and what are your reviews regarding it.
Whenever you get time, do visit this state and "Kuch din guzaro Gujarat me". Apart from statue of unity, there are many more places you can visit such as Porbandar, where the home of our honourable Mahatma Gandhi Ji is located. You can visit Pavagadh, Junagadh, Saputara, Gir forest and many more places.
We hope you found our article about Statue of Unity interesting. Keep visiting our site don't get serious for more updates and latest news.