80s Fashion has played a paramount role in building one's character and identity. Whether it is Gibson girl in the 1900s, Adam Ant and Grace Jones in the 1980s, or Megan Fox and Angelina Jolie in the 2010s, Fashion has played a role in their identity building. It is said that when you don't talk to someone verbally, your clothes (appearance) talk. So, today we will go back then to 80s Fashion from where fashion has evolved and today also, it is alive.
In the 80s, More was More! In this article, we will see how 1980s clothing and styling took place, what were the types of accessories, and what was the trend back then. Firstly, we'll see what men used to wear, their trends, their accessories along with the footwear and then about women.
Well, the 80s Fashion is known for its creativity and uniqueness. Colors were everywhere. On shirts, pants, shoes, earrings, sunglasses, belts, necklaces, and on hair also! Some fashion designers designed the future fashion and we must agree, they designed the future fashion as well. Expensive clothes and accessories got the limelight in Australia, Britain, Europe, and America. The apparel was very detailed and bright. Pearl necklaces and large gold earrings were the choices of women while the clothing included diamonds! The 80s Fashion was all about color, experimentation, and size. Whether you are a first-hand experienced reader of the fashion of the 80s or just out of curiosity you are here to explore the fashion's history, we hope that your expectations will be met and you feel nostalgic. So let us dive into the fashion world and reverse the time machine to the 1980s.
80s Fashion for MEN
80s Fashion saw a lot of unforgettable trends including the shoulder pads, neons, Nike's Air Jordan, Converse's All starts, and the freestyle of Reebok as well. The adjectives for the 1980s Fashion are Snug fitting and comfortable clothing. Clothes were tight, but not that tight compared to the seventies.
From the messy and shabby look of the 1970s, fashion had just taken a new identity and a new road. The overdressed look of the 1970s was now over. Colors like orange, tans, brown, forest green, white, and burgundy were the trend amongst men. If we talk about t-shirts with bottom-up and v-neck: these were mostly worn in polyester athletics material with brighter shades. Velvet and Velour were also the part-time rather occasional wear of the cool and handsome fashion dudes.
Image Source – MensFashionMagazine
Pants: Looser pants with embarrassing colors were worn a lot. If we talk about denim, the denim was combined with denim jackets that too with the same color, being fairly wide and straight. Apart from these bright shades of pants; Corduroy with dark shades like brown, black and dark blue combined with a tight shirt/t-shirt was put on. Levi's and Wrangler used to dominate the jeans market and to date, they're dominating the denim world.
In the 80s Fashion was a little costly and emphasis was more on accessories. So, the normal human being looked for simple colors which would cost them less. They proffered bright colors and didn't have many choices as that was the time of recession plus LPG was evolving. (LPG – Liberalization Globalization Privatization)
If we talk about shirts and t-shirts then, men used to wear little tighter and shorter shirts. While the shirts were still tighter compared to today, the soft fabric was used for quality purposes. Velour polo-neck shirts and sports jerseys were common, today also in 2017, polo-neck shirts are the must-have of your wardrobe. Sweaters were v-neck and hoodies were also available in a varied color blend! Turtlenecks were incredibly popular. When worn under a wild-colored sweater they would leave a mark! But, there is one thing that did not surrender to the multi-color trend and sized clothing of the 1980s. It is the SUIT. Suits were the only thing that was something exceptional in the world of bright colors. Dark grey, dark blue, and brown were the best picks for one's wardrobe. The process of chemically bleaching the denim, breaking the fiber of the material, and then, forcing the dye to fade is called the Acid washing of Jeans. Washed jeans came actually into the trend in the 80s and today also, they are worn and worn in high numbers! Apart from that, severely bleached and ripped jeans that were manufactured purposely or done by hand became a popular trend for high fashion styling and this was also associated with metal bands.
Socks: Tube socks with stripes that were top folded were worn and that too with shorts. See how minutely the colors were given importance. Socks were also colorful that too multicolored.
NIKE vs. REEBOK: In the 80s, Nike and Reebok ruled the sportswear madness and there was a cut-throat competition between these two. But, with the help of Basketball, Nike won the battle. Each kid and teenager had a dream of wearing those sporty Nike Air Jordan. A good pair of Air Jordan was complemented by a starter jacket. All credit goes to the NBA star Michael Jordan of the Chicago Bulls who gave birth to this trend of Jordan's. Today also, the price of Air Jordan is too much that one has to think twice before buying them. So, you can imagine the level of craze and fad amongst the youngsters for Nike! Well, by this time men were accepted in sportcoats and slacks to places where previously they had to wear a suit.

Image Source – Amazon AWS
The amazing thing about 80s footwear was that it represented advanced technical advancement. Those 10 small years showed the advancement from the rod Laver Super to the Nike Jordans. The Converse /Chuck Taylor All-Stars were originally made for basketball, but as time passes, they were visible in music videos and films. Also, Adidas Sneakers took their sales to a peak and became the fashion trend. All of these were a part of Hip-Hop Fashion. Another attraction in the late 80s amongst the footwear was the Doc Martens. These were worn by both sexes. Doc Martens were more worn in the European region for a decent gentlemen's look and girls used to wear them with skirts and stuff. We shall discuss Doc Martens for girls in the girls' section.
Activewear became popular amongst men and boys alike. The same shades of sweatshirts and sweatpants ruled fashion throughout the decade. Apart from that, the Pro Sports team's sportswear played a role. Who can forget the NFL-Licensed clothing? Pro brand tees like M-TV T-shirts were common amongst music lovers and Coca-Cola t-shirts were the choice of common people. If a boy wasn't wearing a pro-NFL, then he put on a t-shirt promoting his favorite cartoon character or a superhero.
80s Fashion SUNGLASSES
Large and Plastic framed sunglasses were the trend in 80s Fashion. Both men and women used to wear them. You might have seen handsome movie stars with large sunglasses in their movies! Small and round-shaped Tortoiseshell coloring became popular in the late 1980s. Do you remember the small metal framed with full frame and half frame that is trending these days? These are the result of the 1980s. Do you remember Tom Cruise of RISKY BUSINESS, wearing those cool and handsome-looking Ray-Ban Wayfarers? Yes, these Wayfarers are the trend of the 1980s. (Ray-Ban Wayfarer are those sunglasses which have been manufactured by Ray-Ban in 1956. Wayfarers enjoyed early popularity in the 1950s and 1960s, then again in 1982, with a successful product placement they became popular.)
In Europe, U.S, and Canada, the fantasy for Metal Bands was at its peak. Men with long hair, leather jackets (denim or leather), tightly worn jeans, and high sneakers with LOGOS OF FAVORITE METAL BAND were common. Clothing style for musicians belonging to metal bands popularized in the 1980s.
80s Fashion PUNK
The Teddy Boy look – Drape Jackets, Hawaiian shirts, black leather jackets, Bolo ties, Drainpipe trousers, and white t-shirts were the Rock Mode of youth. Ducktail, Quiff, Flap top, and Pompadour were the common hair styling craze. People in the age group of 18-22 had an inclination toward Punk Fashion. Ripped skinny jeans, worn band t-shirts, leather, and denim jackets, and those multi-colored Mohawks signified the craze of Punk Music (The Sex Pistols and Guns N' Roses). Often, the punk-style fans would use random bits of fabric and attach them to their other clothes. They did this with safety pins. Soon, this became a popular way of attaching. These shirts are rectangular pieces of fabric, pinned on one side with safety pins. The dressed-down look with buzzed hair and punk style became famous.
In short, music fashion rather the Musical Fashion was more famous in the 1980 decade. All these evolved from the music industry only. Preppy Fashion is associated with the conservative styling of Polo Ralph Lauren and Brooks Brothers. A button-down Oxford Cloth shirt, cuffed Khakis, Ascot Tie, and Boat shoes. Polo t-shirts with designer logos, turtleneck sweaters, and the best was a sweater tied loosely around the shoulders. Skaters included waffle plaid shirts, sleeveless t-shirts, baggy pants, and most important: The Basketball Cap. As we know, the 80s was the time when Jordan came into the limelight and his fan following was throughout the world! Striped tube socks and shoes like Converse All Stars and Vans combined with dark-colored jeans and brightly colored t-shirts became fashionable by the end of the decade. T-shirts with logos of Skateboard brands like Tony Hawk, Mooks, and Stussy became alive. The Football casuals included Burberry coats, Lacoste and Fred Perry Polo T-shirts, bomber jackets, tracksuits, flat caps, bobble hats, and the ever trending, Nike, FILA, and Adidas Sneakers. Football: Today also the most popular outdoor game in the world, ruled the sports in the 80s as well. And it is but obvious that if people were huge fans of music, at the same time there were people who used to fight like anything for their favorite clubs. So, can you predict the football fashion? The undercuts, Mullet haircuts, Mod haircuts, and the Caesar haircuts were the football styling but, the 'shaved head' was the most popular.
Well, enough discussion on the varied clothing and accessories. Let us talk about some hair styling. Let us talk some  Robert De Nero, Leonardo Dicaprio, and Tom Cruise. Let us talk some Tyson and Jordan. Let us talk some Mithun Da and Jitendra.
Let us talk about the
80s Fashion HAIRSTYLE
80s hairstyling for men was kind of a mix of styling. There were clean-shaven heads and there were long-haired fashion icons as well.  From hi-top faded to Jheri curls and from Mohawks to flattops, you could see each and every kind of hairstyle in the 80s. In hairstyles also, music and film star dominated. Straight hairs were a style icon in the 70s, but it was relevant in the 80s as well. As the decade was about to end, the perm came into existence. Sideburns became popular, and spiked hair, and brightly colored hair became common. On the other side, business professionals had a conservative look with short, well-groomed hair. Michael Jackson popularized the Jheri curls. During the middle and late 1980s, it was unfashionable to part either men's or women's hair as the perm made the center parting look unattractive.
Image source – FlavorWire
The mousse was used in styling an individual's hair to attain a desired shiny look and greater volume; some mousse even contained glitter. The artificial dreadlock look became popular in the mid-80s. If we talk about facial hairs, we cannot compare the 80s beard and mustache styling with today. The trend in mustaches and full beards were inherited from the late 70s and it continued in the early 80s but waned as the decade progressed. From the mid to late-1980s, clean-shaven faces with short or no sideburns were the norm. However, the facial hair style did change its look. In the early 80s, men used to have thick mustaches. But, as the decade progressed, their popularity started fading away. Chest hair and Gold were not exposed and It was no longer a fashion amongst men after 1984 except for Anil Kapoor.
If we talk about
80's Fashion ACCESSORIES
men were crazy for flat, shiny gold chains. The turtleneck chain combo was like, Boom! It was a fashion statement and usually, guys preferred it. In the late 70s, Larry Weiss proposed the idea of printing superheroes onto kids' undergarments and it was a marketing hit!
Underoos put the superheroes' alter-ego inside the exterior garments and superheroes like Superman, Spiderman and Batman were all over the clothing industry.
Men had their own fashion mark and one of them which cannot be forgotten is the knit, square-bottom tie. Available in every possible color, these were ubiquitous. After all, 80s Fashion was all about colors. And to my surprise, knit ties have made a comeback. You could find men putting them on, on semi-formals.
Why settle for only one pair of socks when you can wear two or three pairs together? Yes, the Layered Slouch Socks trend in the 80s was weird. They were made because one could show their love for colors. The top was the most elastic and stretchy so that it could easily cover the under ones. Although it was a standout, if you combine the wrong colors then, "Awww! Scrap." Well, one thing is to notice that no other decade gave this much emphasis to hosiery other than the 1980s. Even the ankle socks took birth in the 80s.
Fragrance: The Polo Cologne was a young man's 80s prime. Men have always preferred strong and noticeable fragrances for ages.
Now let us talk about gossip; I mean women. It is a saying, "Elegance is the only beauty that never fades!" And so is the beauty and style of women. Whether it is 1910, 1980, or 2017; women's way of portraying themselves differently on different occasions is still the best. If it is a meeting, you will find a different she, if it is a wedding, then she will look almost as beautiful as angels and if it is a morning walk, she is different. Because of a variety of types and the omnipresent style, women try different combinations and almost every year a new fashion statement comes in, and a new fashion icon takes birth!
Check: Hugo Boss Black Friday Deals
80s FASHION for Women
The lines between men's and women's fashion blurred in the 80s. Women's apparel tended to be bright and eye-catching. Through their jewelry like pearl necklaces, large gold earrings, and clothes covered with diamonds; women expressed their wealth! In the 1980s, the evolution of women's fashion was quite dramatic. Nothing went unchanged from pins to hairstyles and from nail polish to shoes. But it was not immediate.
The first half of the decade was relatively docile in comparison to the second half. When the iconic 1980s color scheme had come into popularity, hairs were typically curly, puffed, heavily styled, and bouffant.
When we talk about women's fashion in the early 1980s, it was slightly different from the second half of the decade. The first half of the decade was a little bit inherited from the late 1970s.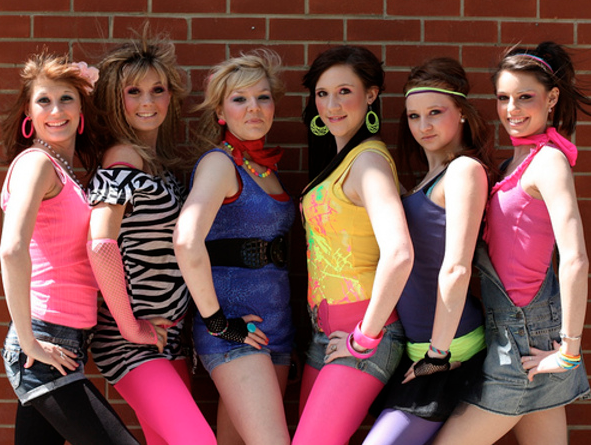 Image Source – Amazon AWS
With basic and quiet clothing colors, women showed a minimalistic approach to their clothing. Accessories were given less emphasis and practicality was considered just as much as aesthetics. The omnipresent clothing for women was that they wore turtleneck, v-neck, and crewneck sweaters; crop tops with bright colors; tube tops; velvet blazers; faux-fur coats; trench coats that were made with both real and fake leather; tunics and knee-length skirts. Apart from these different varieties, knee-length dresses were a major part of clothing for parties and meetings. These dresses were high-cut or low-cut necklines with a varied sleeve length that were made with a variety of fabrics such as polyester, silk, cotton, and satin.
If we talk about jeans, they were loose and high waist; embroidered; designer, and often leather made. In short, the jeans' was a carryover from the 70s. Women, along with the craze of fashion, also had a craze for maintaining their health and that's where aerobics played a role. Sweatpants and tracksuits were common in the mornings. Ripped jeans and tights were the trends. This health and aerobics craze was inherited from the 70s but, in the 80s Fashion, women shifted to ripped jeans from skin-tight pants. Short and tight Lycra or leather mini skirts with tubular dresses were also worn. This combination was done with bolero-style jackets.
Apart from the bright colors, Black has always remained the favorite of humans. 'Black obviously makes a statement!' It was taboo to show the slip or bra strip in public. Sexual freedom came into the picture and with new fashion's most extreme forms, women would wear outer garments for vintage style with lacy slips. Let me remind you that the trend of long and loose clothes is continued for decades. I don't know why women prefer loose, long, and comfy clothes and portray themselves as tomboys. But, one has to admit that these girls look super cute in long and loose clothes!
View: Best Online Fashion Magazine
If we throw some light on the colors, then the decade of the 1980s for women was one of the most colorful decades in terms of clothing. Fashion became more colorful around 1984 which included colorful Jumpsuits, stirrup ones, long skirts, slim miniskirts, cycling shorts, long and bulky sweaters, leather trench coats, fur coats, scarves, leather gloves, dresses with wide or thin belts, beanies, and, and, and the list continues. Women would wear blue mascara under yellow eyeshadow. They had their hair multi-colored. You know what, the only problem with women's clothing is: If the size of a top differs a little bit in inches, or there is a slight difference in the shape between two tops, it has a different name! Dear girls, don't you find it difficult to remember these many names? Above that, how do you adjust to such a widespread fashion in a single wardrobe?
Madonna played a major role in influencing women's fashion. Short skirts worn over leggings, fishnet gloves, bracelets, and necklaces, she kept her hair untidy with dark roots along with hair bands and lace ribbons. Her boy toy belt became the fashion world in the belt industry. Madonna popularized beaded necklaces, fishnet gloves, and stockings.
Image Source – Glamour
80s Fashion BELTS
Belts are usually simple and elementary. They just add essence to our clothing. But, this applies to men, not to women. Belts for women matter a lot in terms of size, placement, and color. In the 80s Fashion was colorful, and so were the belts. There were double belts, skinny belts and there were big waists. Tying a belt on the waist, actually meant that and belt was tied around the waist only. Unlike today's generation, where the belt is tied at the low waist. Rather than low-waist, they came to a girl's actual waist.
Jeans were often seen with synthetic skinny belts or perhaps canvas. The beginning of the decade was minor, skinny belts to break up the lines and school girls with ribbons of sherbet canvas. As the decade progressed into its own, fashion became more influenced; belts took on new shapes with new looks in new styles.
Women in the early 1900s were put on to work just as a replacement for men and to fill the gap. But, as industrialization came in, and the differences between men and women reduced, women were given equal importance. Belts were going the same way. For the most part belts in the power, suit either went two routes unobtrusive. This means: much like men's belts that pretended to be essential while really being decorative. The other was Funky. The chain belts crossed over from the 70s and featured in numerous styles such as linked hoops, snake-chain, down over a leather belt, and even chain swooping up. Madonna dominated fashion in the 80s. The frivolous fun-girl belt was seen for the first time when she wore it.  These belts are slightly punk featuring long thin, belt studded or decorated pun metal holes and wrapped around the waist twice. These huge, brightly colored, and or metallic belts suited the best with tight skirts, laced capris, and mesh tops.
The types of belts that played role in the movie '80s Fashion' are:
Cloth Belt

Gimmick Belt

Cord Belt

Big Belt

Skinny Belt

Double Belt

Metal Belt

Canvas Belt

Fringe Belt and,

Fabric Belt
These attractive belts were worn in different configurations depending upon the different occasions. One could easily confuse by seeing two same-looking belts and then scratching them. He/She could find the difference in material and quality as well.
Let us jump onto the protection plus style. I mean,
80s Fashion SUNGLASSES!
The flatteringly feminine Cateye sunglasses were the most used sunglasses of the 80s. One of the few shades and a rare thing these days, it comes in various sizes as well. Another one is the simply gigantic oversized sunglasses that provides ultimate protection from the sun and also make women look classic!
The sporty and the Hip-Hop sunglasses are still in use in their particular fields but, the Aviators; Wow! Aviators have been at the top of the list for both: men and women. Like men, women also followed the 'fan-following' trend and they used to put on the sunglasses that their favorite film stars or music star used to put on. Another one was the round and the square. All in all, the sunglasses that were introduced in the 80s, are still in trend.
Robot sunglasses and the Shutter Shades were something that comes under the category of Different/Unique.
For women, as there is a variety of clothing, there is a variety of footwear also. Women are like, "So many shoes, but only two feet!" So, let us talk feet; I mean,
80s Fashion FOOTWEAR
To begin with, the simplest form of footwear – is Flip-Flops. As colors were everywhere in the 80s, flip-flops were in rainbow colors. In the summertime, the beauty of these rainbow flip-flops shimmed down to their feet. The sunflower flip-flops competed with these rainbow flip-flops.
Women would DYE for shoes. Whether it was a farewell, a homecoming, or a grand wedding, these dye shoes were worn everywhere with the perfect type of dress. The majority of girls in the 80s wore shoes that were dyed shoes. They used the match their dyed shoes with the special dress. Why would they go for plain black colored shoes when they could afford shiny dyed pink shoes? The perfect match, you see!
The JAZZ Shoes: Lots of girls used to wear them at dance parties, auditions, and colleges. Usually, they were in the colors black, white and grey. These shoes look super cute with rolled-up jeans and a long shirt. Soft like a teddy bear, they were/are the most comfortable shoes ever. They were the most comfortable but they were not the most fashionable shoes because they were very, very flat.
In the 80s, women made their own fashion rules. Those boring white tennis shoes were so boring that they could not make you yawn. But, they were also made colorful by these creative women. How? By using some creative and designer laces! Bright and adorable laces with rainbows and smiling faces. They were cool and attractive.
Jelly Shoes aka Jellies: Made from PVC Plastic, these are easy and comfortable. In the 80s, if a woman was not having a pair of jellies, it was her lowdown moment. The best thing about Jellies is they are made from plastics and plastics resist water. So, it was the best pick for the monsoons. Inexpensive, infused with glitter, light weighed but, they make you sweat. Available in many colors and designs; these are back in the '#trending' again!
Another one was the Huaraches. They were popping out everywhere in the summertime. With a short skirt combined with wayfarers, Huaraches would combine the best. They also pair perfectly with cut-off jeans and Boho Shirts. Usually, these are in brown color and leather made but they were also are also available in various colors. These were a sign of royalty.
The dance scene always cements women forever cool and beautiful! Smooth brown leather with just-so laces is perfect! Granny boots were gone after the 80s decade but these days, they are back again. In the 80s, these boots were paired with skirts or jeans with complicated laces on simple legs!
Converse's Chuck Taylors and Nike's Air Jordan were common. Today also, some women crave them. But, for the athletes, it was the Cross Trainers that were common. With tracksuits and sports sunglasses, Cross Trainers would add more seriousness to one's sportsmanship.
A pair of black leather classic Doc Martens were the most royal feeling ever for a woman. 80s Fashion is nothing without Doc Martens. Founded in Britain, these boots became the style icon and want of everyone. Music stars, film stars, and professionals used to wear them to flaunt their richness.
From ribbons to purse zippers and from barrettes to key chains, the 1980's decade had so much in accessories. Let us talk about Beads, bracelets, earrings, and nail polish, and let us talk about Gold. I mean let us talk about
80s fashion ACCESSORIES
Nylon purses with ribbons; the European sports was used for various purpose. These bags came in a variety of shapes, designs, and colors. These were made from the same nylon from which parachute is made and the best thing about these sports as was they resemble miniature duffle bag.
Image Source – PinImg
From chains to nameplates and from key chains to bracelets, the 80s was always about shine and glitter. Everyone craved Gold. People used to wear gold on every possible occasion. Best friends would get a pendant made with gold that too in two separate parts. These two separate parts, when combined, would make a single piece that resembled the friendship or love they had among themselves.
Women in the 80s were like: "It is a party night. I shall dress up with matching dye shoes, stylish hair, pantyhose, with lots of accessories, and glamorously polished nails." The only thing that women could get into shape without exercise is Nails. Permanent fake nails with star nails were the glamorous statement. Manicurists would give you the best tips for 'designer nails!'
Hot pink, turquoise, maroon, black, green, and yellow; accessories in the 80s were available in any color you name. But, everything that a woman wore, had to be matching. So, how could the twister beads not play a role? Inexpensive and colorful, women could choose two or three colors, and twist them and it was a cheap fashion portraying expensiveness. Fossils, plastic, glass, and pearls – twister beads rocked because when they were worn with the crew neck sweater or a popped collar, they looked great. Also, the bead necklace was something crazy, attractive, cheaper, and unique.
The Bermuda Bags: Totally perfect for ladies and young girls. These were not so much professional but were nicely tailored. With dual colors, inside and outside, one could switch colors and change their looks. Simple designs of Bermuda bags were so easy in shifting between colors and also, and women could embellish their creativity by adding something new to their design or color. Women used to match them with their outfits as it was easy for them to switch colors. The chunky and smooth wooden handles were just awesome. But, one could not put them on shoulders as the gap between the holders was not so wide. However, women/girls used to prefer using them when it was a date time and daytime.
Friendship pins: The universal friendship symbol for girls is friendship pins. Back then in the 80s and now in 2017 as well, these are friendship symbols. Every specific color carries a meaning. Women would make some really amazing and inexpensive personalized gifts using these friendship pins to present them to their best friends rather, than alter-egos!
Earrings: Small, plastic made, and colorful. With a glossy finish, earrings were cheaper and were available in every possible geometric shape. They come in different shapes and colors; so women used to buy them in bulk and try different shades according to their outfits.
Fragrance: Light, gentle and soft. Women prefer perfumes/colognes that are flowery and which last longer. Musk, Jasmine, Geranium, and rose were most favorites.
Time: Watches were usually unisex. Digital watches with metal bands ruled the watch fashion initially but in the later years, they lost their position because by that time digital watches with inbuilt calculators and other functionalities were available at a cheaper rate. By the end of the decade, professionals came back to dial watches and leather belts. While the teen preferred the plastic made which was lightweight and inexpensive. Tank watches and the Rolex were a rare thing these days. The swatch watches: These weren't just watches; they were the culture of the 80s. Kids had a lot of collections of these Multicoloured time displays. And guess what; they are back again in the market.
The 80s Fashion is back in the '#trending' zone again. The saying, 'Old is Gold' has kept its word and it has proven itself again. You see the hair style, sunglasses, jewelry, footwear, and jeans; today there is an essence of the 80s everywhere.
Well, this was all about the 80s Fashion. Colorful, Hip Hop, Pop, and Funky was the fashion of the 80s. If you were someone who experienced this fashion yourself, I hope I took you to the 80s world and I hope you felt nostalgic. I hope you felt those colors and you became young again. If you are someone, who wanted to explore past fashion, I hope I served your purpose. Please leave your feedback in the form of a comment in the comment section.
View: Most Comfortable Outfits to Wear to the Airport
Keep yourself updated with the fashion trends and keep yourself stylish! Because Style and Fashion are the words of an unknown. Remember, your styling talks before you utter a word.
Until next time, Happy Styling.