Kochi is a paradise Island and trust us living in Kochi is Awesome. It is the beautiful city of the west coast of India.The Arabs, British, Chinese, Dutch, and Portuguese have given memorable marks on the history and development of Kochi. One of the known cities of  Kerala. It is a colonial trading port along with beautiful sandy beaches.
9 – Reason Why Living in Kochi is Awesome
Here are  9 – Reasons why Living in Kochi is Awesome Explore the Natural Beauty of Kochi.
1.Kochi the Land of Originality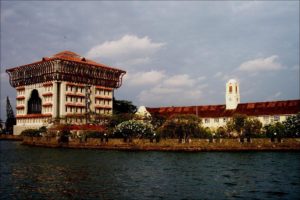 Source: Wikipedia
Malabar coast is world famous for its Coffee, Jetty and Spices.  Kochi is one of the most Important spice trading center on the west coast of India. The city is at the feel of  Arabian Sea towards the west and the  Western Ghats towards East.

2.Food
Source: Kochionline
No Kochi food is complete without Coconut.Known for specialties in sea food, Puttu, Idiyappam. Spices are the key world. its aroma and delicacy make food more flavorsome.
3. Kathakali Dance
Source: Kathakali center
Kathakali is the old traditional dance form. The Kathakali Dance performer takes one hour for applying the makeup to express their expression on stage.
4.Education
Source: The New Indian Express
Kochi is in the top 50 universities in India technical and non-technical institutions like  (Pharmacy, Engineering, MBA, and NIT).
5.Metro Trains
Source: Metro Rail News
Kochi Metro has given Employment to a Huge number of transgenders and women, for ticketing to the maintenance department. Also, 11 metro station which has themed Stations, Ferry Servies. Metro project is on solar power nature-friendly project.
6.Divine House's Of  Worship
Source: Out look India/Pinterest
Kochi has various community and groups they stay in peace and harmony. Kochi is the land of spirituality from Temples to Churches. The Onam Festival celebrations of Sadya (Onam feast) is served on Banana Leaves. Boat Race a water sport-cum-festival held every year.
7.Fort Kochi And Beaches
Source: Hotel Room Search
Fort Kochi was built up for Maharaja of Cochin from the Monarch of Portugal. Kochi beach is clean and has calm atmosphere which makes it a great place to hang out. Famous Kochi Carnival is conducted every year on New Year's Eve.
8.Folklore Museum
Source: Tour My India
Folklore is 3000 years old monument. It is a great museum with great art friction with a great deal of buying options. It has a rich heritage and cultural history.
9.Tourist Attraction
Source: India.com
Kochi has a wide range of places to visit for tourists. From devotion to Exploring the nature. Food to culture and Beaches to Museum. The authentic way of enjoying food on Banana leaves with the perfect aroma of different spices. As being coastal part of Kerala, tourist attraction is the water boat sports races.
Cover Image Via :- wtzupcity.com