Yukiko Murayama and Timothee Semmelin did something which everyone dreams of during a indian wedding, a pre-wedding photoshoot. They did it exactly the same thing on there 1st wedding anniversary. The couple travelled to New Delhi and arranged for a photoshoot with the help of there friend.
Indian clothes, bollywood movie classic pose and jewellery with Taj Mahal in background. This beautiful photoshoot was done by Delhi-based Lakshya Chawla.
Lakshya Chawla said In an interview with Huffington Post "This was definitely a lot of fun, even though it was very last-minute. I received an e-mail from Tim, five days before the shoot. I arranged the whole thing for them, including the makeup artist, a lady called Shruti Sharma and themysticalcloset for jewellery."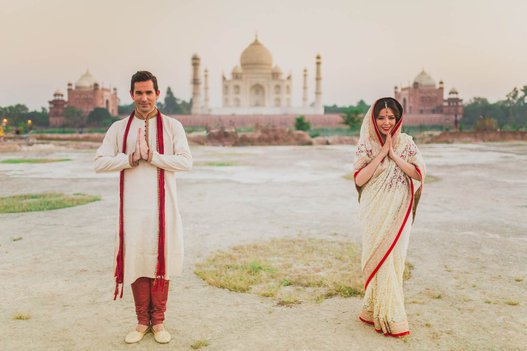 Thw shoot was done across Jaipur, Delhi and Agra. It is impossible to get permission for a photoshoot in front of the Taj Mahal so this Couple did the photoshoot in the back side of Taj Mahal (Mehtab Bagh) as you get privacy there and there are less people around .
Lakshya helped Yukiko and Timothee put togather their outfit for the shoot, the safa and the chunni, For her Lajpath Nagar for peacock coloured footwear, And for him classic Punjabi joothis.
Yuki made a special request for Gajra and Jaimala.
Chawla choreographed few classic Bollywood Movies inspired shots for the couple as they are fascinated with bollywood .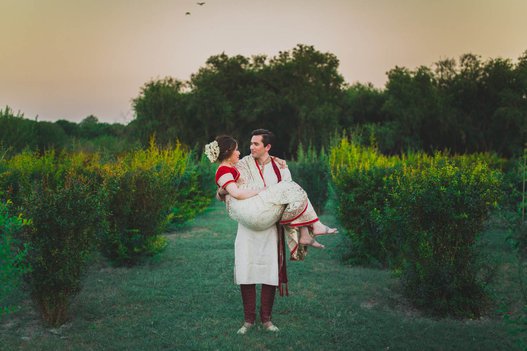 Yuki is half Japanese, half Chinese and Tim is French. Yuki is a social media guru in Beijing and Tim works for Linkedin in Hongkong