Looking for a break from the chaos and hustle of Mumbai? It becomes so important to hibernate and revive yourself for a while to get back to your work routine with even more zest. So if you are looking for resorts which can regale you to your vacationing needs, we have got the right list for you to help you choose the right place within the vicinity of Mumbai.
1) The Machan
Honestly,we cannot suggest better. Because every person we ended up asking vouched for "The Machan". A beautiful eco friendly tree house resort nesting cosily in a forest in Lonavala, if you are looking for luxury and comfort at its finest, take a break and head towards The Machan and indulge into the serenity of the nature. They also boast about the eco friendly techniques used to design and thrive the resort and also have activities like spa, star gazing, trekking, private bonfires and dinners arranged on special request.
2) Beyond by Sula
Looking for an out of the box experience? Does sharing a flavourful bottle of wine and watching the sunset or swimming in the infinity pool facing the beautiful view of Gangapur lake and surrounding yourself by vineyards sound like your kinda holiday? If yes, then head straight to Beyond by Sula, the exquisite property developed by Sula Vineyards Pvt. Ltd. behind the hills of Gangapur. After all we always believe that there is nothing a good wine cannot solve and if it cannot at least it will de stress you for a quality weekend.
3) Hilton Shillim Estate Retreat and Spa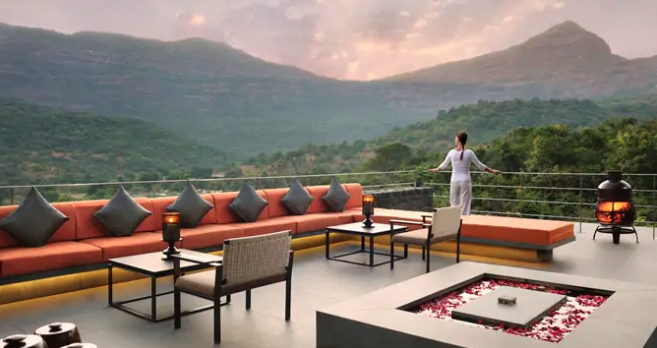 With plethora of activities like naturopathy, classes on Ayurveda, Vedanta, Tai- Chi, Pilates, aqua aerobics, pottery, cooking , bird watching, star gazing, trekking, forest walks etc this retreat cum spa focuses on helping you to rejuvenate and unwind from your monotonous routine with the traditional and natural methods inspired from South Asia. If you are the energetic one instead of the "not wanting to get out of bed on a vacation" kind, then Hilton Shillim Estate Retreat and Spa is here to cater your energy in the right direction.
4) Fazlani Natures Nest
Bringing together the five elements of nature and helping you to truly revitalize from the daily bustle, Fazlani Natures Nest can aid you in restoring your energy level with an assortment of natural and cultural activities in the beautiful property located in Mawal taluka of Maharastra between Mumbai and Pune. While there, do not forget to check out and try their wonderful range of spa services to enhance your quality experience.
5) Rhythm- Luxury Resort
Rhythm would be your answer if you are looking for a luxurious, classy and an unperturbable five star vacation. It is an all suite resort with low rise Asian Colonial design. They have a range of facilities to offer including an all day cafe and restaurant, spa, a lagoon pool with separate pool for children and also proves to be a great choice to conduct weddings and conferences.
6) Della Resorts
A perfect getaway in deluxe style, Della resorts would be a superior choice. The highlight of this resort is the extreme adventure park with activities like Della Rocket Ejector, Della Swoop and Flying Fox which might be of interest if your idea of a perfect vacation is indulging into adrenaline rush activities. With varieties of option to choose for snacking and dining they have 24 Cafe- for 24 hours fine dining experience, Creme Della – for pure vegetarian and Jain options, Parsi Dhaba – for authentic Parsi and Punjabi cruisines, The P18 night club and lounge and much more. Their 24 hours Spa would be a perfect place to relax and revamp yourself.
7) The Resort Madh – Marve
Looking for a short weekend escape from the routine but do not want to travel far? We got you covered. Right in the city located at the shoreline of the Arabian Sea in Mumbai, the resort Madh – Marve can be a delightful choice with professional spa facilities, family and children adventure activities like rock climbing, air rifle shooting, string balance, archery, commando bridge, air obstacles and much more. I can also prove to be an ideal place for arranging get together and celebrations without having to go far.
8) Dunn Barr House
Asia's only pedestrian hill resort and located in the hills of Matheran is this classic 170 years old British Mansion built by Captain Barr in the 19th Century. The only ways to reach this place is via horse riding, toy train or off course if you can hike up till there. The restaurant "Verandah in the Forest" has some delicious Indian and European fusion cuisine available along with some special parsi and bohras inspired specialities. Other possible activities at this place include shopping at the local market, bird watching, trekking, zip line valley crossing etc to try your hands on. Experience the royalty and the elite at the one of a kind Dunn Barr House resort.
9) Amanzi Resort
Located in Tikona, overlooking the Pavana dam, are the beautifully developed garden villas and swiss chalets by Amanzi. The area is known as one of the best places for trekking, kayaking and paragliding near Mumbai. This place would be your spot to connect to the nature and with your family or partner as they do not have televisions or WiFi services which can prompt you to put your phone down and explore the beauty surrounding the place. You can wake up to the breath taking view of the hills and the lake from the transparent glass windows and doors in the room.
10) The Fariyas Resort
The 5 star ambience, a video game arcade, a beautiful indoor pool, a luxurious spa, a outdoor water theme park and a classy tavern bar! Right about everything a person needs for a relaxing vacay! The Fariyas Resort in Lonavala is located overlooking the Frichley Hills and is easily one of the best choices to opt for.
Happy Vacationing Folks!