Heartiest Welcome Meme lovers, You must be searching for Will Smith slapping Chris Rock memes. Well, Stay with us for this interesting meme. We have also created a huge collection of Will Smith slapping Chris Rock memes for you. It refers to the moment at Oscars 2022 When Chris Rock was slapped by Will Smith. It may not be funny for Chris Rock but it gave birth to an extremely hilarious internet meme. HaHaHa… We all are loving it.
50+ Funny Will Smith Slapping Chris Rock Memes That Will Make You Laugh
Let's check out the funniest meme collection here.
Chris rock v/s Will Smith
Cannot say her name
The epic slap
Adolf
People who believe in God
Care about black
Surprised reaction
That Smile
Wink wink 😉
Monday
Enjoying the weekend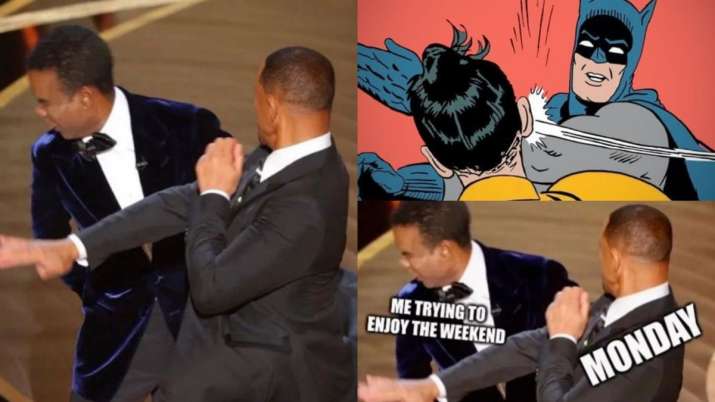 This meme is associated with the 2022 Oscars which was organized on the 27th March 2022. Well, Oscar was going smoothly until Will Smith, an actor and musician by profession did something which amazed everyone sitting there. Yes, He slapped Chris Rock who is a very famous Tv personality, comedian, and actor by profession. Actually, he was there to give the best documentary award, and in between his presentation, he mocked Will Smith's wife Jada Pinkett Smith. If you have missed this meme, You should check it out. You don't need to go anywhere to find the best Will Smith slapping Chris Rock memes. You can just scroll down and enjoy.
This meme is one of the memes which went viral in very little time. Let's talk about how it spread and reached you. On 28th March 2022 It was first tweeted by David Mackay, he tried to convey Will Smith's hidden emotions through his tweets. It received 444.4k likes and 12.7k people shared their opinion through comments. It was captured all over the world and as usual, turned into internet memes. On 27th March, Evans sugar baby, a Twitter account holder posted a meme in which he used the picture of the moment Rock was brutally slapped by Will Smith as the meme template and wrote "Everybody hates Chris". Another meme was posted by Robecuba on Reddit dank memes where Chris Rock can be seen in danger. Take a break from your boring day-to-day activities and go through our collection of best Will Smith slapping Chris Rock memes which will chuckle you up and will lessen your worries.
Have you ever heard of these memes in our memes category Flirty meme, Skeletor meme, Exhausted meme, Happy birthday sister, uwu memes, Happy birthday husband