Feel free wearing comfortable clothes with style. Try on High-Waisted Shorts with a plain or printed crop top with a 3/4 or full length cape over the crop top. It will not only give you a summer look but will also look classy.Printed and plain always has a good combination. So you can either keep the crop top plain or the cape, and one of the both printed.And you are ready to go!Don't forget to acces-sorize your self with some little stuff.You can carry a cool handbag or sling with flip flops and watch for your hand. Don't forget your sunglasses to complete your look.
                                                                                                                 Image source :- Google Images
There is nothing wrong in thinking about fashion 24*7,because that is what describes us when a person looks at us first. The second styling for summer is: Dungree. Dungrees are back again, being a 90'sgeneration we used to wear it when we were kids, but now they are back with same pattern but different style. You can wear pair of dungree and a t-shirt inside it. The t-shirt can be stripes, printed or plain dose'nt matter, anything goes with a jean. You can also style it with a crop top inside.
Image source :- Google Images
Grab a pair of sneakers to go with it for footwear.Don't worry much about the accessories, let the look be in itself.If you still wish to accessorize you can wear a watch and pair of sun-glasses or a hat. Nothing goes wrong when its black and white as a combination.The third style for the summer is high waist-ed 3/4 bell-bottomand a plain t-shirt or a tang top. Plain colours would be a great idea with the bell-bottom to keep it simple and stylish. Bell-bottoms are from 70's but they are back with a new style and making a great impact on 90's. You can accessorize it with prined scarf over your neck and pair of sandals. Be ready to rock the summer with this new style from the 70's.
Be comfortable ! I am sure nothing is going to comfort you more than this baggy plain dress.The fourth style for the summer is baggy long dresses.Summers kill us with its heat but we can kill it by our style. This fashion-able baggy dress from Zara is a style in itself, which you would love wearing in summers.It not only makes you comfortable but also give you confidence to carry yourself with a style. And fashion is all about what clothes you are comfortable in !
You don't need to accessorize this look. The simple you keep it, its better. Just go with a pair of matching sneakers with the long dress and you are good to go. Remember to keep it plain !
Summer is a best season to chill amongst all the seasons.So why keep it simple ? Chill in your best possible looks.I have some more looks which will make your summer more interesting.Go and grab the best styles you like girls!The fifth style for summer's is stripes knee length dress.Tan yourself with this little dress. Accessorize it with flat belly shoes, watch and a black leather bag.The sixth style for the season is full length black jumpsuit with stripes t-shirt under the suit. Give it a little classy look by carrying yourself with a black sling bag and black heels.The seventh look to rock the summer is leather skater skirt and a plain or stripped 3/4 length crop top. Style this look with a indo-western neck piece and pair of heels.The eight and final look is boyfriend jeans and a simple top. Nothing can be better for summers than this look. If you don't wish to buy a pair of boyfriend jean then make one at home with your old pair of jeans that you are going to throw away. Accessorize this look with pair of sneakers or flat belly shoes, a long chain over the neck or a hat.Get ready to rock the most amazing season in your own look.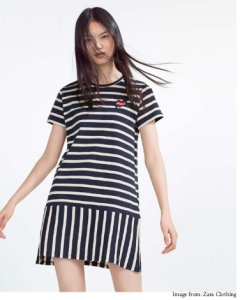 Cover Image Source :- ehookcrook.com