London is the beautiful city. You will surely love exploring the city and its various nooks and corners. While visiting any place, we need to buy some articles so that we can associate memories with that place. The present article on, 10 Best Places for Shopping in London will take you through a ride to these places. You will surely find many exciting commodities as a gift for your loved ones.
Best Places for Shopping in London – Our top 10 Picks
Here are some of the best places for Shopping in London. You will be Sable to find a lot of many things here with an extreme ease. Kindly go through the list and get the best products for yourself, friends as well as closed ones.
1. South Molton Street
Source: Arch Daily
Situated in the Mayfair in London, the South Molton Street is a good option for finding items related to women's fashion as well as jewelry. With the history ranging back in the 18th Century, the street went into the reconstruction in 19th Century. You will find many shops here to shop from and finding various artistic works.
2. Piccadilly Market
Source: Wikipedia
With forty-five stalls in its premises, the Piccadilly Market is among the modern age shopping places. With it's beginning in 1984, we can find many art and craft items here. It is also home to Piccadilly Art Festival, which has made this place more popular. You can also enjoy good food here on Mondays and Tuesdays. Whereas, the art and craft market is there from Wednesday to Saturday.
3. Tavistock Street
Source: Gryphon Property Partners
You can find the Tavistock Street in the Convent Garden locality of London. The beginning of this street takes us to the 19th Century. We can find many fashionable shops here, which are full of many attractive accessories as well as clothing. You will surely spend a pleasant time wandering in this beautiful street.
4. Conduit Street
Source: The Suits of James Bond
Having its foundation laying back in the 18th Century, the Conduit Street features among the oldest streets for Shopping in London. The place was basically established with a motive of supplying the water to the city. Which was later turned into as a shopping spot in the city. Later on, the Royal House of British Architects occupied it and decorated it to look like a shopping street.
5. Leather Lane
Source: Super City UK
Making it possible for you to shop for any kind of fruit, vegetables, clothing as well as footwear. You can not miss reaching the Leather Lane on your trip to London. This is more popular as a weekday market. Irrespective of the day of the week, you can visit it on any of the days whenever you want.
6. Carnaby Street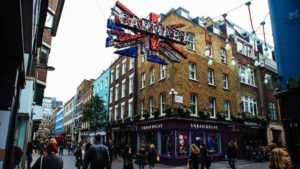 Source: Visit London
A perfect shopping destination in London, you can find the Carnaby Street in the Soho of the Westminster city of London. If you are fond of wearing fashionable clothes, it is a must visit place in London for you. There are many fashion boutiques here, where you can get good lifestyle items. You can easily walk down the street and get a lot many things.
7. Sloane Street
Source: Sloane Street
Started way back in the 17th Century, the Sloane Street became popular among the tourists for Shopping in London in the year 1990. It has never looked back since then. As of now, it is among one of the busiest streets of London. You can find clothing from many world famous brands on this street.
8. Tottenham Court Road
Source: Visit London
Well known for the shopping of electronic items in London, the Tottenham Court Road is also a good destination for Shopping in London. It is a one-way street, hence we have to be careful while wandering in these streets. Otherwise, you might miss the best commodities and someone else might take it away until you will come back.
9. Jermyn Street
Source: Jermyn Street
Another place in Westminster known for Shopping in London is the Jermyn Street. If you want to get attractive and unique kind of shirts from the world renown shirt makers, this is perhaps the perfect destination for finding them. It is also a one-way street. Moreover, if you are fond of shoes and boots, then there are plenty of options available with us at the same place.
10. Notting Hill Gate
Source: Blackberry Cars
Basically, it was a toll gate, which was later turned into a shopping destination. Apart from shopping, you can also find delicious food here. The place accommodates many cafes and restaurants, where you can find a good atmosphere along with the best food. You can also spend a good time in the bars and clubs here.
Also View: 10 Best Places for Shopping in Amsterdam
Like our Facebook Page for latest updates on Lifestyle and Shopping