Do you love to go shopping? If yes, Cyber Monday is for you. Cyber Monday is that day when you can shop the whole day instead of regular work. You can buy anything and spend all of your time in the market; it is the specialty of Cyber Monday. So, do not delay making your cyber Monday remarkable, celebrating it with lots of joy, and searching for the best shopping deal. It is fine to skip work for one day and give all of your time to shop for something you have had in your mind for a long. Everyone wants pleasure in their life, shopping is enjoyable especially for girls. In this genre, shopping grants for a part of life.
50+ Funny Cyber Monday Memes For Anyone Who Loves Discount
I do not eat today because I save Monday for cyber Monday.
Shopping one day, wearing every day.
I am online whole the day. It is the time for shopping because today is cyber Monday.
I choose to do nothing but only shopping today, do not forget, it is cyber Monday.
Work Tuesday to Sunday, but no compromise with cyber Monday.
Here are some Cyber Monday memes for you: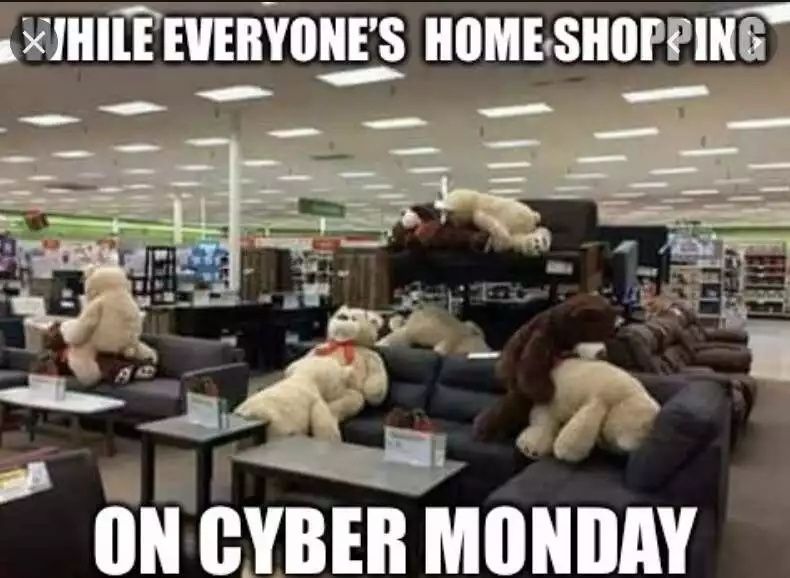 Special Thing
I love to buy new things and decorate my house with newness. If you are also like me, choose cyber Monday for the shopping. You can select online or even offline traditional markets for buying things. Get the offer price on this special day as stores give lots of discounts to buyers. You can gift others too. Commonly, spreading happiness is priceless, so you can donate to poor people after buying something for them on this day. I buy new clothes for myself and for my family members. I like to buy some extra clothes and food items for the poor people in my area and choose to distribute all of these among them, as it brings happiness to them.
We are sure you did lots of shopping on Black Friday and Cyber Monday. Let us know how was the
Conclusion
So what is your plan for the upcoming cyber Monday? Save your money and go shopping. It is time to enjoy your life and build lots of memories. So don't delay to plan for the next cyber Monday, and do not forget to share the Cyber Monday meme too!