You may probably have heard this way too many times – Mumbai is the city of dreams. In fact, Mumbai has so many names that adorn it, the city that never sleeps, the Bollywood headquarters, the melting pot of culture are just a few to name. As exaggerated as this may sound, you will realize all of this to be true, once you visit the place yourself. It truly is a dream city in every true sense. This take on Mumbai will surely make you want to catch the next train to the city.
Some street shopping helps increase one's level of awesomeness – true story
Mumbai is the fashion hub of the nation and is every shopaholic's paradise. You find the most in-vogue clothes here. Some of the hottest locations to shop from are
The linking Road – Bandra
Fashion street
Colaba causeway
Parla street, Vile Parle
You are sure to find the most stylish of clothes in all these places. And don't forget to bargain. Keep your bargain game strong and you can come back with suitcases full of clothes and accessories at un-believably pocket friendly rates.
Ride along the coast, on Marine drive and Bandra Worli Sealink
Marine drive, is one of the most favourite places for Mumbaikars. Facing the sea, listening to the waves as they hit the rocks, with the Mumbai skyline visible right ahead, relaxes all your sense and leaves you refreshed. There is the sea on one side and the road on the other. This road is called the Queen's necklace, because, the aerial view of this place during the night, is a semicircle of street lights, which resembles a golden necklace. You must ride on this stretch of 8 kms on two wheels, and feel the sea breeze from the side. You can rent a bike in Mumbai of your choice from Wheelstreet, if you don't own one.
Don't miss the architectural marvel that is the Bandra Worli sea link, officially called the Rajiv Gandhi sea link. This place has become the newest landmark of the city since its construction in 2010. The USP of this bridge is that it saves 40 whole minutes of travel to folks travelling from Bandra to Worli during peak hours.
Eat your way to satisfaction
Mohammad Ali road has set the bench mark rather high for kebabs. Scrumptious, juicy kebabs await you at this road that is no less than a mecca for food lovers. This street is also famous for its faloodas and farshan. Eat some and pack some more (I'm sure you will want to).
One simply does not go to Mumbai and not have pani puri. The street side stalls offer some really yummy pani puris, and you can find them almost everywhere in the city. And, wherever there is a stall, it will be crowded, that is how famous/ good they are.
It would not really be wrong if I said Vada pav and pav bhaji are the staple food of people in the city. Grab a vada pav at just 7Rs to 10Rs and thank me later. And the top place for pav bhaji is undoubtedly Sardar's restaurant at Tardeo.
Faith Redefined
One of the traits of Mumbaikars if their immense faith in life. Three amazing places that will restore your faith in life are Shree Siddhhivinayak temple in Dadar, Mount Mary's church in Bandra and Haji Ali Dargah in Dargah Road. When people say Mumbai is not just a city but an emotion, visit these places to know why. Each of these places are situated pretty far from one another and none can be missed. The best way to travel to all these places are on a bike. If you don't have any, rent one from Wheelstreet and go ahead.
Pay a visit to Juhu Chowpatty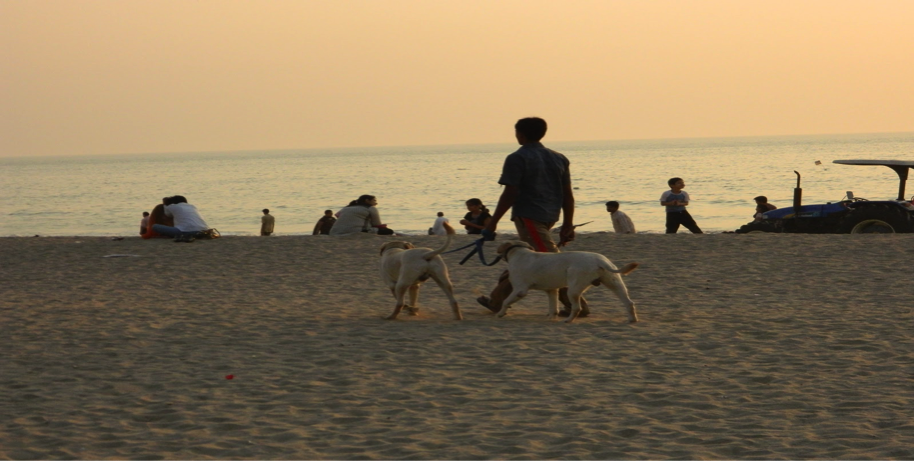 Heads up on the sea of people on this beach. Almost everyone who visits Mumbai is sure to come here at least once. Watching the calmness of the sea as the sun sets, is as peaceful as it can get. There are innumerable chaat shops which can rekindle your taste buds. Bombay Bhelpuri, roasted corn, ice golas, vada pavs, pani puri, sweet pan what more could you have asked for.
Gateway of India
This historical monument was built in the year 1924 as a welcome gesture to King George V and Queen Mary. Do visit this place, which lies just opposite the Taj Mahal palace. It is a wonder the way and style in which this monument has been built. Click some pictures, and collect moments here!