Hello and welcome meme lovers. I hope You have checked our previous collection of memes. If not, You can check it now. Today, we have come up with a new interesting internet meme, Yes it's IPL memes. Finally, Our wait for the fifteenth season of the Indian premier league has ended. It is going to start on the 26th March 2022 and the last match is scheduled for the 26th of May,2022. Like every season, Ipl lovers are sharing their excitement and reviews in different ways. But, the most popular way is Ipl 2022 memes. Social media is flooded with IPL 2022 memes.
50+ Funny IPL Memes & Trolls That Will Make You Laugh
Let's check out the funniest collection of memes.
Other Team Fans V/S Lucknow Team Fans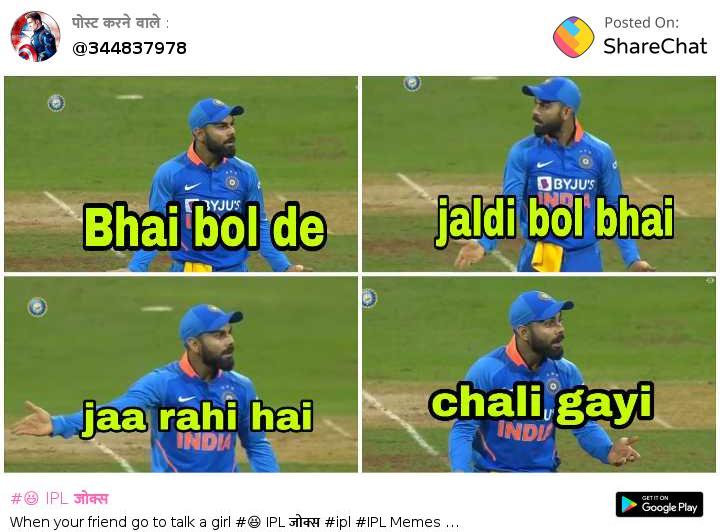 We were going through a very hard time due to the pandemic and changed lifestyle but, the time has come to overcome these bad memories and add some fun to our life. And, IPL meme is the best way for this. Let me tell you, This season is going to be much more interesting. It is the second time in the Tata Indian premier league history that ten matches will be played. It was played once in the 2011 tournament. This season is going to be more entertaining than the previous seasons due to the expansion of two new franchises Super Giants and Gujarat Titans. This season ten teams will play. If you have missed these hilarious IPL memes, then don't worry, you can check our collection of 2022 Indian premier league memes. We have created very relatable and hilarious memes.
Read our collection of best IPL memes, No matter what's your mood, After going through our collection of best memes you will not stop yourself from laughing. Do share these hilarious IPL 2022 memes with your friends and relatives. Thank you!!!