We all are eagerly waiting for the festive season to arrive. Festival means enjoyment and while enjoying we need to look perfect. Hence, it is very much necessary for us to appear good. Our present compilation on, 7 Latest Men's Fashion for This Festive Season will guide you through some of the best outfits that you can try out for this festive season.
Latest Men's Fashion – Exclusively for Indian Men
These are some of our top picks for Latest Men's Fashion for This Festive Season. We hope that you will appear well in these outfits and give an additional touch to your beauty with them.
1. Crisp Kurta with Bandhgala Jacket
Source: Pinterest
Putting a skin tight kurta on, with a bandh gala jacket provides you with a royal look. Trying the floral jackets on it will attract many eyes towards you. However, this kind of outfit is more suitable for a slim body.
2. Nehru Jacket with Dhoti Pant
Source: Looks Good
The Nehru Jacket is never out of fashion. While a Dhoti Pant is an addition to it. Trying this combo as your outfit will give you a pleasant touch while playing Garba in Navratri. We would recommend your choosing the contrast colors for your jacket. It will get you an attractive look.
3. LotuKitsch Monochromatic Ivory Tee with Motif
Source: The Art of Politics
While most of the people are preferring sherwani or kurta, wouldn't it seem too much? Trying out LotuKitsch Monochromatic Ivory Tee along with Motif at the bottom can be your solution for it. In this way, you will be getting a unique look instead of following the herd.
4. Cream Sherwani with Brown Churidar
Source: Sudev Fashion
Choosing a Cream color sherwani along with a Brown Chudidar is perhaps a good choice. As well as, a shawl on the sherwani with a dark border on it can give the additional touch for getting an attractive look with your Latest Men's Fashion.
5. Crisp White Shirt with Black Pants
Source: GQ
Black and white seem as the color made for each other. Trying a crisp white shirt along with a black pant seems to be a good combination. However, the quality of the shirt should be better for getting a pleasant look.
6. Trendy Polo Pants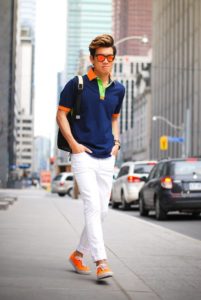 Source: Outfit Trends

The polo pants are made for giving you a trendy touch to your outfits. That's what makes it a good choice for Latest Men's Fashion for this festive season.
7. Regular Sherwani with offbeat Colors
Source: Web Tokri
While Sherwani is never out of fashion, it is necessary to be careful regarding its colors. Trying the off beat colors with your sherwani and putting on a light color pant is an awesome combo for any kind of festive occasion. Whether it is Navratri or Diwali.
We hope Don't Get Serious's comprehensive article will be helpful to you for getting familiar with the Latest Men's Fashion for This Festive Season.
Like our Facebook Page for more Updates on Men's Lifestyle