Are you a fan of cult classic movies? The romantic films with all the drama and emotion attached to them. If yes, you have already seen or know about the movie named Titanic. The best way to relive the memories of such an iconic movie is to read and share these funny titanic memes.
Released in 1997, the movie was inspired by a true story when RMS Titanic, a real ship, was immersed into the North Atlantic Ocean on 15 April 1912. The story revolves around how a young, beautiful, and rich girl, Rose, meets and falls in love with a handsome but poor boy named Jack. Their bond gets so strong in such a short time that when the ship sinks, Jack sacrifices his life to save Rose, and she also never forgets him till she dies.
The scenes and characters of the movie were so impactful that they still have a special place in our hearts. Consider these memes as a small tribute to the best romantic film ever made in the history of Hollywood.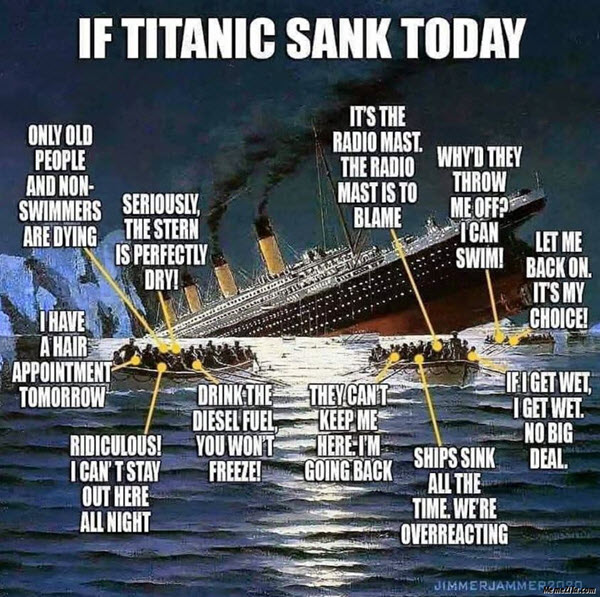 Feel the nostalgia and enjoy the funny memes that express the fervor of every Titanic movie enthusiast. Feel free to share them with your loved ones to enhance the fun of funny titanic memes.
You can't deny the fact that there was enough space for two people there.
When you asked me about my favorite character in the movie, It was indeed the Iceberg.
They're making Titanic part 2, I heard, Brace yourself to see another Oscar-winning performance not getting an Oscar.
Learn how to be pure savage from the band playing orchestra on the sinking Titanic.
We know we have made jokes out of the perfect tear-jerker movie, but with no intentions to hurt anyone's feelings. It is just a way to show our love for the Titanic movie.
Make your own memes using the creative side of your mind. If not, simply enjoy and share these hilarious memes. Do tag us on social media or mention us in the credits.