Jeans are the most sought after clothing item for men and women alike. Jeans are a very versatile item of clothing and it can sometimes be a bit tough picking the right shoes for a pair of jeans. Below, we have a list of 7 Different Types of Shoes to Wear with Blue Jeans. Refer the list to know what goes with what and whether you are looking your best or not.
7 Different Types of Shoes to Wear with Blue Jeans
Many people wonder if the shoes they are wearing match their blue jeans or not. Here we have a list of all the best types of shoes that you could pair with your blue jeans.
1. Black Dress Shoes
The safest option out there that men find acceptable with each and every kind of jeans is this one. Black Dress shoes go with pretty much every color of jeans. Without saying out loud, black dress shoes will definitely make you look great on blue jeans.
2. Sneakers
Source: The Idle Man
Sneakers with Blue jeans are a proven combination that'll make you look good. And by sneakers, we don't mean the technical ones, because it's a big NO. Classic Sneakers are the thing to go for if you are wearing blue jeans. Go for a bright color like white or red sneakers with a low top.
3. Slip-Ons
Source: The Idle Man
Blue jeans are the most versatile and the most popular choice of color. Nothing really looks bad with Blue jeans so slip-on shoes are perfect too. Go with Brown or black boat shoes, Moccasins, or Loafers to match up with the blue jeans.
4. Boots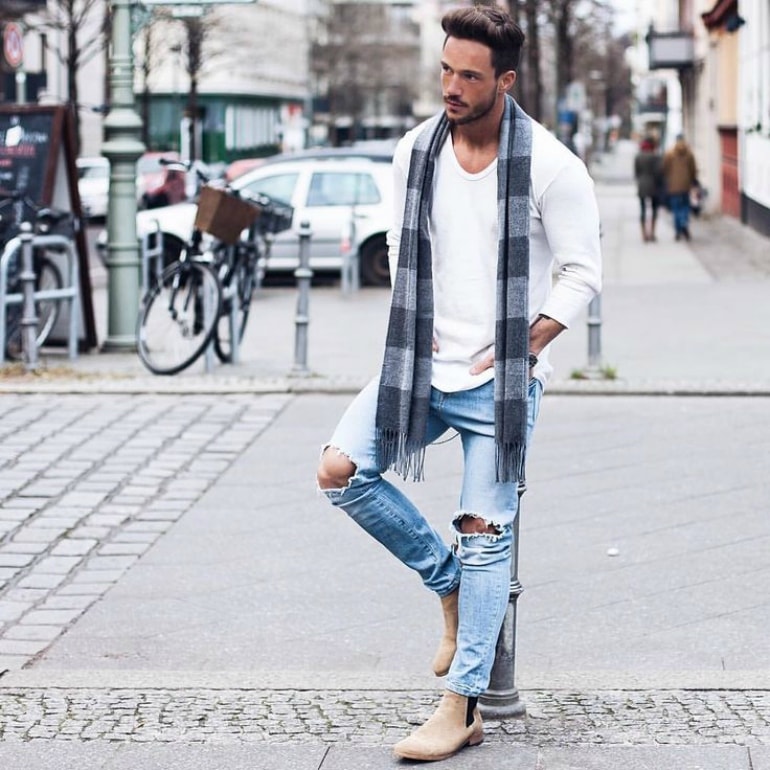 Source: The Idle Man
Boots have gotten the "casual shoes" label over the years but they really aren't. Of course, they don't go all too well with a formal attire. Desert Boots, Dress Boots, and Chelsea boots go well with blue jeans depending upon their color.
5. Trainers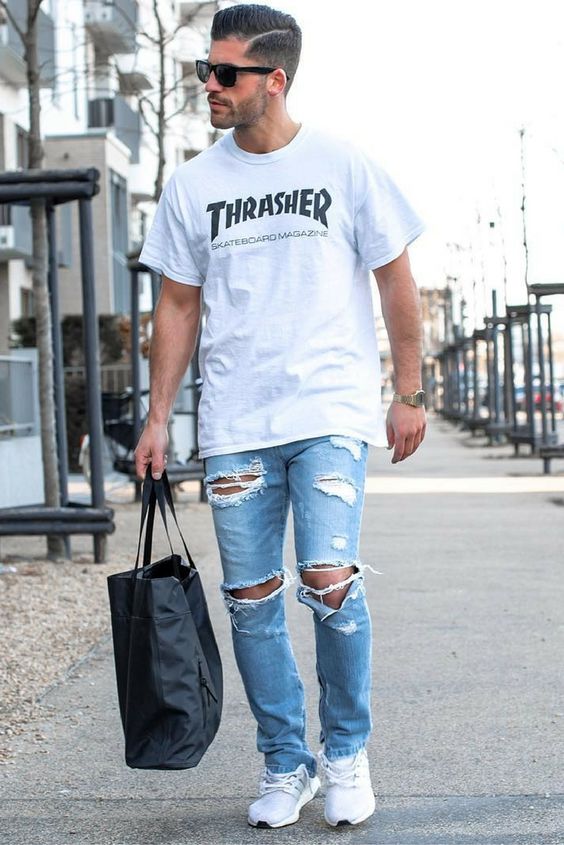 Source: Styleoholic
This is the most common choice for most of the people. Trainers add a casual edge to the look. Opting for paler colors surely work, but they tend to get dirty pretty fast. So if you know you are going to get yourself into a bit of a mess, avoid them.
6. Shoes for Raw Denim
Source: The Idle Man
Raw Denim is the kind which doesn't undergo any of the extra treatment washing and distressing. They come right off the loom with a deep blue color. So, try adding shoes of contrasting color such as white or try out a lighter shade of blue to bring out the deep blue of the jeans.
7. Shoes with Light Blue jeans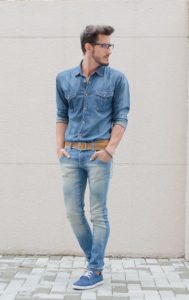 Source: Lookastic
Crisp cool tones like tans, creams, whites, and blues are an excellent choice for spring and summer months. Plimsolls are a good alternative as they are lightweight and don't get your feet too sweaty.
We hope this detailed guide on 7 Different Types of Shoes to Wear with Blue Jeans has been a big help to you. It will surely get your fashion quotient up.
For more updates on Men's Lifestyle, like our Facebook page of Don't Get Serious.