Hera Pheri is one o the most iconic movies of Indian cinema. Even it is one of the most loved comedy films ever created in India. Hence, even after two decades of the movie, it is still loved by people all around India. These days, Hera Pheri memes have become a thing. Thanks to its witty and funny dialogues, almost everyone seems to use the Hera Pheri memes in their conversations.
The first Hera Phera movie was released back in 2000. Then the second installment of the movie called Phir Hera Pheri was released in 2006. While the movie is pretty old, its dialogues have become a thing for social media users. Dialogues like Paisa Hi Paisa Hoga, Ab Maja ayega na bhidu, 50 rupiya kaat overacting ka, and others have become a part of the daily conversation among social media users.
Let's get started, Aabhi toh maza aiega na bhidu
While talking about the movie, both of the movies featured actors like Akshay Kumar, Sunil Shetty, and Paresh Rawal in the lead roles. And there is no doubt that all of these three actors are funny to the core. Also, the third installment of the film said to be in the pipeline, and we might see it in the upcoming years.
So in case if you are looking for Hera Pheri Memes Template to download, then I am here to help you out. In this post, I am going to share all the Hera Pheri meme templates that you can use for creating new memes or having a conversation with your friends on social media websites like Facebook, Twitter, Instagram, WhatsApp, and others.
Top Iconic Hera Pheri Memes Of All Time
Below, you will find all the iconic Hera Phera movie scenes as a meme template. Simply go through these memes and download your favorites ones.
To download your favorite Hera Pheri meme, right click on the meme template if you are on PC/Desktop. In case if you are on mobile, then long-press on the mobile template and select download image.
Anyway, here are the memes:
Raju Waiting Phir Hera Pheri meme
Meri kundali mein ek khoon likha hai maloom hai na
Main dastakhat karne ko taiyaar hoon meme
Raju and Shyam running after Munnabhai Meme
Inke haath mein sone ka katora dedo phir bhi ye bheek maangenge
Abe mereko to andar lo phir hera pheri meme template
Raju And Shyam Meme Template Hera Pheri Meme Template
O sarak sarak udhar Phir Mera Pheri
Paisa Laya meme Phir Hera Pheri
Jor jor se bolke sabko scheme bata de
Aee, itna andhera kyu hai bhai ?
50 rupya kaat overacting ka Meme Template
Yeh kaafi difficult course hai, kaafi kam log kar paate hai
Plastic Surgery Ka Naam Suna Hai
Beta ek zamana tha jab hum bhi gareeb hua karte the
Arey mujhe chakkar aane laga hai
Best of Babu Bhaiya Memes
Daaru nahi re baba dawaii hai
Rakh… rakh teri maa ki
Saala merko itna chota diya
Tera wajah se mera atmahatya karne ka time aa gayala hai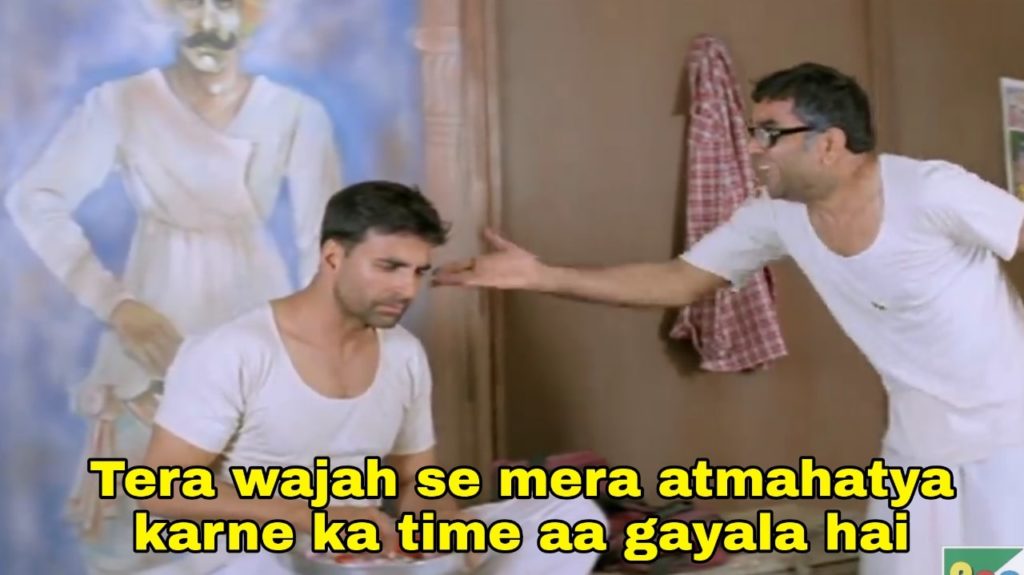 Aja tujhe sandas dikhata hu
To sabko dikhana padega na
Ye Baburao ka style hai
Khopdi tod saale ka
Merko to esa dhak dhak horela hai
Tere paas koi or raasta hai
Lgta h… kisi dusre k kholi m aa gaya
Suniel Shetty Aka Shyam Phir Hera Pheri Memes
Kya tumhein mujh par zara bhi vishwaas nahi
Shyam Trolling Raju
Yeh kya behooda harkat hai
Johny Lever Aka Munna Bhai Phir Hera Pheri memes
Abhi main tereko phod dalunga
Maal Kidhar Hai
Aye yede tere baap ka shaadi hai kya re?
Kachra Seth Phir Hera Pheri Memes
Aaaaahhhh, kadak hai
Pehle tu de
Main jeb me leke thodi ghumta hun
Rajpal Yadav Aka Pappu Phir Hera Pheri Memes
Phir apna kaam khallas
Bhai paisa ho to kya kuch nai ho sakta
Saale ko bum se uda dunga
Nakli note chapne ka dhanda hai kya
Milind Gunaji Aka Nanjibhai Memes
Saaley mera hi maal chura kar mujhe bech raha hai
Tiwari Seth Phir Hera Pheri Memes
Tiliyal bol tiliyal
Abee tu meri nakal karta hai
Bhai aapka knowledge toh kamaal ka hai bhai
Final Words:
So those were some of the most iconic memes of Hera Pheri. It would not be a wrong thing to say that Hera Pheri was itself a meme. Each of its dialogues and scenes was as funny as it could be and it had entertained us without any doubts.
I hope you are going to enjoy these Hera Pheri memes and share them with your friends and family members. In case if you want us to add any special Hera Pheri meme, do let me know through the comments, and I will add it for you.