Zodiac signs play a significant role in identifying the characteristics or traits of a person. People tend to follow these zodiac symbols for characterizing features of different personalities. These zodiac signs also help in predicting the success level of a person. People belonging to zodiac symbols like Taurus, Gemini, Libra, Aries, Sagittarius, etc., tend to be more passionate and ambitious towards their goals. Meme makers creatively use these zodiac symbols to characterize the traits in a hilarious tone. The Gemini memes are prevalent forms of memes that are admired a lot by social media users.
50+ Funny Gemini Memes That Are Relatable AF
If you are among those who are born between May 21st and June 20th, you belong to the zodiac sign Gemini. Gemini people are pretty efficient and intellectual. The unique trait of the Gemini people is they are very extroverted and entertaining. It makes Gemini people very popular in a group. According to research, a significant part of the intellectual and genius people worldwide belong to the zodiac sign of Gemini.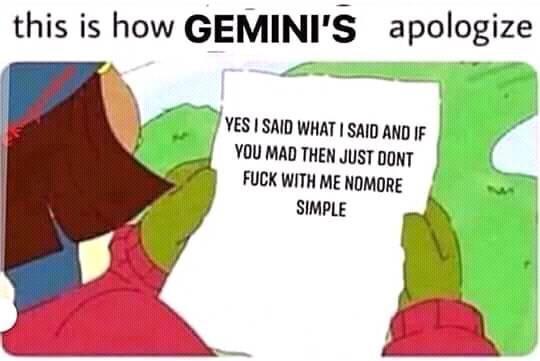 The characteristics of the Gemini people are comparatively more straightforward than the other zodiac sign characteristics. It is the main reason that most meme-makers focus on presenting the character traits of Gemini people hilariously over others. In a hilarious meme, the meme showed that Gemini people are allergic to the feeling of love. The meme showed a quote, "Love is in the air," and the Gemini person denied the extract due to their traits of high standards and trust issues. The meme was applauded a lot by the audiences as they could relate the meme with their characteristics. Also, the Gemini meme portrays the fact hilariously that people belonging to the zodiac sign of Gemini are impoverished in flirting. All these facts comprised of these memes make these Gemini memes very popular amongst social media users.
Zodiac-based memes are a trending niche in the meme industry, and thousands of people from different parts of the globe follow these memes to relate to them. We hope to witness more such hilarious and relatable Gemini memes on various social platforms to entertain ourselves to the fullest.