If you're like many people nowadays, you visit social networks for memes. Good memes can brighten your day and provide an escape from your daily stresses.
In light of that information, Scott Bowen, a Canadian gambling site reviewer at Online-Gambling.com, shares some of the funniest gambling memes he has come across.
1) Casino Fever

This meme is for everyone who gets excited when people bring up gambling topics. You know this is an area of interest for you. And you can join your friends for a trip to the casino to have loads of fun.
2) When you Win at a Slot
Every gambler knows how frustrating it feels to lose consistently at slots. Then you change the machine and voila! You win a fortune. For a moment, you can fall in love with the game.
3) The Pressure in a Blackjack Game
We agree—emotions are our worst enemies while gambling. And this meme explains why. You know a hand of 18 (10+8) is good and you should stand. But the moment you see the dealer's upcard is an ace, tension sets in and you end up hitting for another card.
4) Visible Happiness
Let's face it. Everyone experiences inner happiness after you teach a newbie how to play blackjack, poker, baccarat or even a slot machine. Most newbies look clueless at the casinos, anyway. And they're pretty grateful when you show them how it's done.
5) Losing Streak
You've heard this expert tip. One of the best ways to maximize your profits in a casino is to maximize your betting amounts. But no one prepares you for the stress that comes with losing continuously while betting the maximum you can afford.
6) A Pair of Jacks
This is so true. When you have a pair of jacks in the pre-flop, you feel infallible. Someone could triple the blinds and you'll call it knowing you have a strong pair of cards.
But then you survive the flop and the turn by sheer luck. There, your two of a kind is so weak that you have to sit anxiously hoping no one has a better hand.
7) Sad but Funny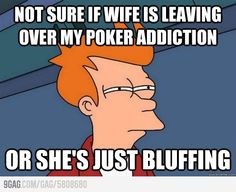 When you're a poker fan, it's easy to mistake people's threats for bluffing—even if it's your spouse threatening to leave. Now, you never want your love for poker to turn into an addiction. So, work on your skills, budget your money and play for fun.