Navratri means 'nine nights' in Sanskrit. During these nine nights, nine forms of Devis are worshipped. Navratri is a celebration that is colorful and very energetic during all nine nights. Men and women dress beautifully during this festival.
The city is filled with people in and around the garba grounds and around the city in their colorful chania cholis and kedia dhotis or kurta paijamas full of energy to do Garba at their favorite places.
The Garba dance is done in circular and spiral figures and in the middle is placed an image of Goddess Durga. This form of dance is inspired from Dandiya Raas, which was traditionally performed by men. In Baroda, 'Dodiyu' style of garba is popular among today's youth and most of them do it gracefully.
If you're in the city while these nine nights, you ought to visit some of the famous and best garba places to see the colors, the dance, the enthusiasm, the love, the dresses, the energy of people of Vadodara. Such celebration of Navratri will not be seen in any other city!
And how can we forget the late night outs without worrying about what our parents will say, and the delicious food that follows after the exhausting session of Garba.
Here are 2 MUST visit places in Vadodara in Navratri.
United Way of Baroda Garba Mahotsav
United Way of Baroda has the largest crowd during Navratri celebrations. In year 2011, UWB marked above one lakh visitors at their venue. They also went for the Guinness Book of World Records for the same.
Women start preparing for Navratri before a month or two. And the outcome of the super outfits that you get to see in the venue will make you forget about those celebrity outfits!
Registrations for the same are made before a month. Previously you could see the longest of queues outside their registration office every day. Now you can register online. NRIs, foreigners and even people from different cities come to United Way to enjoy Garba. So don't miss this celebration if you're in town!
Fine Arts
The ethnic Garba of Fine Arts has always been an attraction for the garba fans. The students of Fine Arts, MSU organize and participate in Garba during the nine nights of Navratri.
Fine Art garbas are unique from all, the variety of garba steps that these students do is amazing to watch. Also garba is done solely on instrumental music and no singing.
The rhythm players are mostly alumni of Fine Arts who specially come to play the garba.
Majority of the garba songs sung at fine arts faculty belong to the Pracheen category. Traditional instruments are played here to add variety to the festival. The ground has given many singers to the city including Atul Purohit, who is famous for United Way of Baroda Garba Mahotsav every year.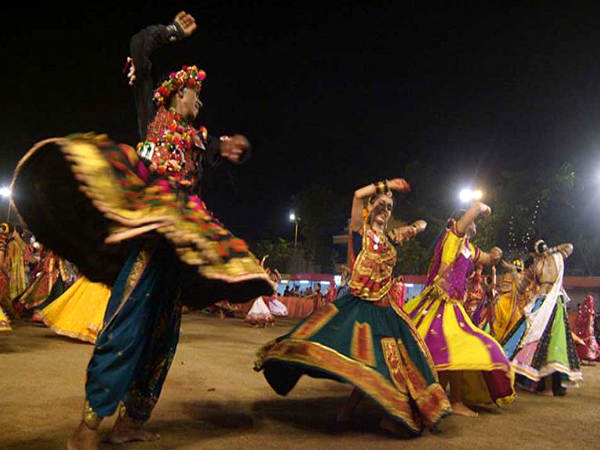 Other venues and places you can visit are Maa Arkee Garba, Sandesh Garba, Samta Garba and Mehsana Garba. The whole city is lit up with lights and beautiful people on their vehicles trying to reach their destinations or just to hang out. Also do not miss the late night pani puri, aloo tikkis, bhel and more after you're tired of running around on the ground for 3 hours!
Cover Image Credit: http://www.barodabuzz.com/