Everyone loves traveling and when it comes to traveling the world, It is a dream to travel the world. Few people are even lucky enough to go around the world and explore new places and if you are the one who always wishes to travel the world, then this article is for you. Here we are going to share some of the most mindblowing places to visit before you die.
The list is for everyone who loves to travel. These places are just beautiful and if you get a chance to go on a backpacking trip, don't miss it out.
1) Half Dome at Yosemite
Where: California, US
The granite crest rises more than 4,737 ft (1,444 m). While the summit can be ascended in various ways, the most common is by following a 13.7 km trail from the valley floor, which includes several hundred feet of granite stairs. — with Anand Swaminathan, Sriram Ram, Maniq Ntrj, and Karthick Subramaniyan.
2) Dachstein Stairway
Where: Schladming, Austria
This 'Stairway to Nothingness' is a glass platform jutting out of the edge of a cliff, where you can see 1,300 ft (396 m) straight down beneath your feet to the bottom of the mountain.
3) Step into the void
Where: Aiguille du Midi peak, near Chamonix, France
The minimalist glass box is the world's highest glass floor and offers unobstructed panoramic views of the French Alps, with a sheer drop of 12,604 ft (3,842 m).
4) Skywalk at the Grand Canyon
Where: Arizona, US
The transparent horseshoe-shaped bridge is built 4,000 ft above the Colorado River. There is a straight 700 ft (213 m) drop beneath the viewing platform.
5) Insanity at the Stratosphere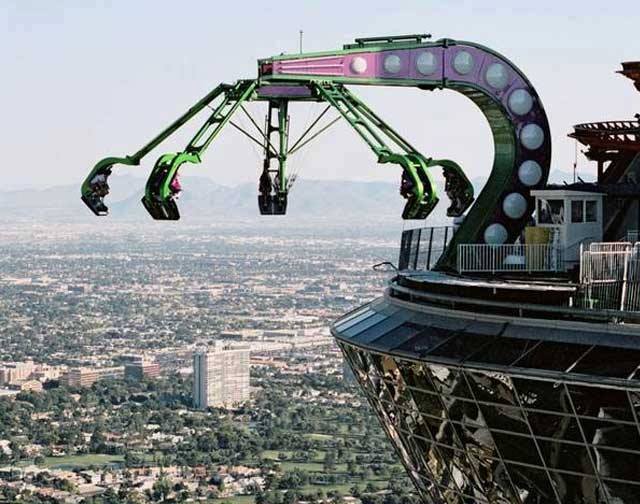 Where: Las Vegas, US
If conquering a peak isn't enough for an adrenaline junkie like you, how about spinning while sitting in a narrow seat, suspended 900 ft (274 m) above the streets? Still too tame? The ride spices things up by tilting you at an angle of 70 degrees so that your body faces straight down at speeds of up to 3 'G'.
6) Trolltunga Cliff
Where: Odda, Norway
This piece of rock, called Troll's Tongue in English, juts horizontally out of a mountain about 2,300 ft (700 m) above the north side of Lake Ringedalsvatnet.
7) Edgewalk at CN Tower
Where: Toronto, Canada
You can buy tickets (about $200) to take a 20-30 minute walk on the edge of the roof of the CN Tower's restaurant, suspended 1,168 ft (365 m) above ground.
8) Hua Shan plank walk

Where: Huayin, China
Called the 'most dangerous hike in the world', this walk consists of steel rod ladders and narrow planks of wood, with just a rusty chain to hang on to. The Chinese government has now carved out much safer paths, but adrenaline junkies prefer the dangerous route, which in some areas has a straight 7,000 ft (2,134 m) drop.

9) Lion's Head
Where: Cape Town, South Africa
Get a panoramic view of the sprawling city and the surrounding ocean from the summit of the mountain, sitting 2,200 ft (670 m) above sea level.

10) Burj Khalifa

Where: Dubai
At 1,821 ft (555 m) above street level, At the Top SKY, is the world's highest outdoor observation deck.
11) Sky Deck at Willis Tower
Where: Chicago, US
The glass box, called 'The Ledge', is suspended 1,353 ft (412 m) in the air and extends out 4.3 ft from the Skydeck.
12) Infinity Pool at the Marina Bay Sands
Where: Singapore
If sweating your way to the top just for the view is not your scene, how about gazing at a spectacular skyline while lounging in the world's longest elevated pool, with a 146-m vanishing edge, 191 m (626 ft) above the ground?
13) Sky Bridge
Where: Langkawi, Malaysia
The bridge is 410 ft long and 2,300 ft above sea level. It's suspended by 8 cables from an 81.5 m high single pylon and hangs at about 328 ft (100 m) above ground.