Best Universities In Canada: With a lot of students considering migrating to foreign countries for higher education, Canada has become one of the most popular options for the majority of the students looking for quality education but at a lower cost. Canada houses numerous top-notch universities and educational institutes that hold the top positions globally and provide great opportunities for education and research. We have provided you a starter pack for understanding the general information and universities you can consider applying in if you are interested in procuring your higher education in Canada.
10 Best Universities In Canada
1) University of Toronto:
One of the leading universities globally, standing strong on its past achievements in the field of research and its quality of education has helped it to maintain its position in the top two universities of Canada and ranks 21st in the world. Some notable alumni from this university include James Hillier, Donald Sutherland, Roberta Bondar, etc. It encourages diversity and believes in providing opportunities through numerous scholarships. Its status goes higher than NYU Brown or Penn and is Canada's largest school in both size and population. Students can also affordable housing in nearby apartments like the River & Fifth Condos in Toronto.
2) McGill University:
Another leading university, standing tall in Montreal and boasting its achievements in the field of education and research areas such as artificial blood cells, Plexiglas and other upcoming prominent areas such as alternative energy resources, epigenetics, etc is the McGill University which was established in 1821. Some Notable alumni from this university include Evan Goldberg, Edward Saxon, Gail Simmons, etc. But getting in will require a lot of hard work and REALLY good grades as it has the highest average admission grade.
3) University of British Columbia:
Harboring the motto "Tuum Est" (It is yours), this globally recognized university ranks among the top three best universities in Canada and amongst the top 20 public universities in the world. It encourages diversity and welcomes challenges and innovation catering to a large number of great minds of Justin Trudeau, Kim Campbell, Rick Hansen, Bing Thom, etc. Want to know a fun fact? UBC has a Quidditch team (yes the one from Harry Potter!) that competes in international matches!
4) University of Waterloo:
A dream university for many and a place for the best and the brightest of the lot, this university is a place for research and inspired learning. They not only focus on the theoretical approach but give equal opportunity to learn from the practical challenges pertaining to the subject. Its co-operative education and research excellence make it one of the most sought universities for the whiz kids around the world.
This university takes its classes and exams so seriously that apparently they never have snow days and the classes never get canceled! Also, the university has a strange obsession with geese! (What?!) Apparently, it's the unofficial mascot of the university and you have a good chance of spotting them around the campus or maybe getting attacked by them if provoked.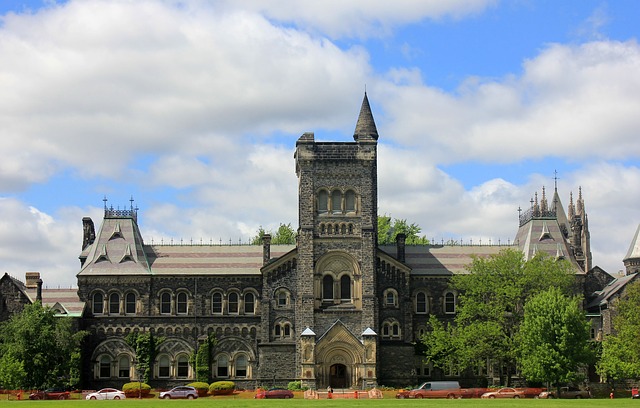 5) University of Alberta:
A public research institution located in Edmonton Alberta and also one of the prime universities of that state and also holding a place in the top five universities of Canada, the University of Alberta works mainly in the field of applied research and believes in providing a vibrant and supportive learning environment. Crazy Fact: There is a building, on the north side of campus, that was built in 1969, and legend has it that several contractors worked on the construction of the building and disagreed on various things. As a result, rumor has it that you will find shower stalls with electrical outlets, sinks with no drains, a stairwell that goes nowhere, doors that open onto brick walls, and a very mysterious secret classroom that must be entered through a closet!
6) McMaster University:
Another public research university of Ontario located in Hamilton and home to more than 70 research institutes and centers was founded by Senator William McMaster, a member of the first senate after Confederation and founding president of the Canadian Imperial Bank of Commerce. With a large number of alumni doing well and serving as cabinet ministers, business leaders, scientists, Hollywood celebrities, Nobel laureates, etc, this university has managed to bag position amongst the top 100 universities in major global ranking systems.
7) Université de Montréal:
The top university of Quebec and Holding the 90th position according to the Times Higher education ranking, Université de Montréal offers about 600 programs and highly advantageous for the francophone students but not absolutely necessary, was founded in 1878 in Montreal. The campus is really picturesque. If you are interested in science and health studies Université de Montréal offers world-class education.
8) University of Western Ontario:
The University of Western Ontario or commonly known as the Western university is a public research university located in London, Ontario is one of the best universities in Ontario and also has one of the top ten medical programs in Canada.
Western University is also a hub for some fun extracurricular activities and there are clubs for almost all interests available for the students to socialize.
What's more, this university also has an underground tunnel system to go between buildings!
It definitely has one of the most vibrant campuses. Also, Playboy ranked UWO as one of the top party schools in Canada.
9) University of Calgary:
Located in Calgary, the city of skyscrapers and known as the center of the oil industry in Canada, it has become the highest preference for studying geosciences and engineering but it also maintains, the faculty of arts, law, medicine, and business. The former prime minister of Canada – Stephen Harper, Co-founder of Uber Garrett Camp, inventor of Java computer language – James Goslings are the star alumni of the University of Calgary.
10) Queen's University:
A beautiful waterfront campus located in Kingston was established in 1841 by the royal charter of Queen Victoria covering fields like computational science and engineering, mental health, globalization studies, environment and sustainability, clinical biomedical sciences, etc. It is a research-intensive university and has also focused on developing sustainable energy systems and green initiatives throughout the campus making it environmentally friendly.