Dubai, since the oil was found in the city, it has developed at a greater pace. And with that also developed the beautiful places for exploring the city. The present article on, 7 Best Places to Visit in Dubai is about such places wandering where you will find a lot of beautiful sceneries and a lot of memories for cherishing. So, go through our list, know about these places in brief and have the best experience while visiting them.
Best Places to Visit in Dubai – Our top 7 Picks
Here is a list of Best Places to visit in Dubai. These are among the most beautiful places in Dubai. And you will surely love visiting them and enjoying their beauty.
1. Burj Al Arab
Source: CN Traveler
The symbol of Modern Dubai, Burj Al Arab is a hotel in a sail shape. It offers a lot of things to do in and around the hotel. Looking at the sea from this hotel will surely give you a wonderful experience.
2. Souk Madinat Jumeirah
Source: Dubai Online
Basically a marketplace, Souk Madinat Jumeirah is developed in a Middle Eastern style. It is a very ancient place developed with the modern techniques which add a lot of beauty to the place.
3. Al Jaber Gallery
Source: Trip Advisor
If you are looking for some things to gift to your family when you will return from Dubai. This is the best place to get beautiful gifts for your loved ones.
4. Sheikh Mohammed Centre
Source: Yo Ninja
Letting the people know about the culture of Dubai, Sheikh Mohammed Centre is among the must visit places in Dubai.
5. Dubai Desert Conservation Reserve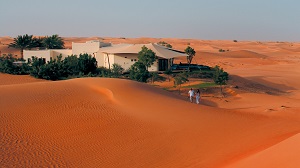 Source: Magnifeco
The best way to enjoy the Dubai Desert, the Dubai Desert Conservation Reserve is the best place if you want to enjoy various parts of the desert.
6. Bateaux Dubai Dinner Cruise
Source: Time Out Dubai
And a place for the people who want to have a lot of fun in the sea along with a lot of international dishes. Bateaux Dubai Dinner Cruise is the best place for enjoying sailing in the sea.
7. Dubai Atlantis Aquaventure Waterpark
Source: YouTube
If you are looking for the fun in water, then there is also a water park in Dubai. Dubai Atlantis Aquaventure Waterpark is the best place to have fun.
Cover Image Via :- es.pinterest.com