Men all over India love to wear branded clothes and good brands offer some great range of styles from formals to casuals making any man look pretty amazing. We've bought to you the list of the best clothing brands for men that are trending today.
10 Best Clothing Brands for Men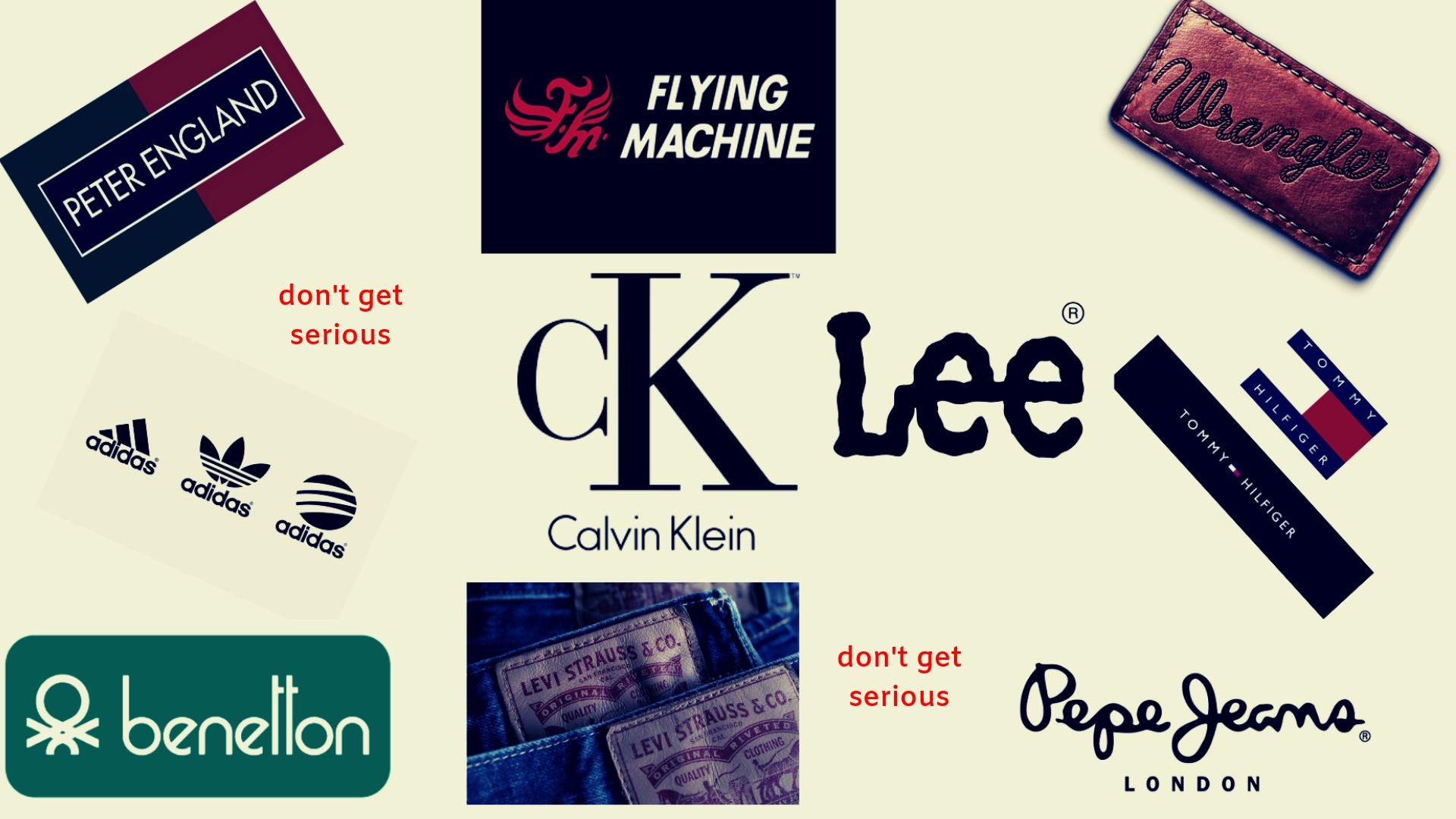 Lets not waste any time and dive in straight to the list. Our list will surely help you make a choice while you go shopping next time.
1) Levi Strauss and Company
A lot of people may not have heard about this earlier but Levi's is a brand which is really popular for its denim jeans. This jeans not only represents the bold style but today, it has almost become a household name. It has sales in more than a 100 countries and due to the quality that it provides. It is one of the largest brand with sales and they consistently provide good quality jeans by earning the trust of their consumers.
It's one of the most popular brands used by the youth of India as of date.
2) Pepe Jeans
This brand is said to be UKs most successful jeans brand ever and is now competing pretty well in India. Even though there has been a huge rivaling of the big US brands for the number 1 spot in the marketplace, Pepe Jeans has made its mark well in the industry.
Over more than 3 decades. Pepe has amazing photographers, talents as well as directors who have made this brand what it is today
Also View : 80s Fashion Men
3) United Colors of Benetton
Benetton is an Italian company and it started by producing hand knitted woolen sweaters in basic colors. Since the youth market was growing pretty well, this company then started producing sweaters in some bold as well as bright colors. They even rebranded their name to United Colors of Benetton.
Eventually, its advertising campaigns were loved by the people, and it was able to communicate more with the people making it one of the top most clothing brand for men.
There was a list of the topmost brands in terms of clothing and it mentions that "the brand its over competitors such as Levi's, Marks & Spencer and Tommy Hilfiger" therefore here is where it earned this distinction as one of the Best Clothing Brands for Men4
4) Tommy Hilfiger
This brand is one of the world's leading lifestyle and what this has become more popular for is for celebrating the essence of classic American cool style with a twist designs. Apart from that, Tommy Hilfiger delivers premium styling and value to its customers and it has a breadth of new collections which consists of denims, foot wears as well as accessories.
Apart from that, it also has a range of products which includes eyewear, wallets as well as watches. The designer of this company is Tommy Hilfiger itself who provides his expertise in design as well as leadership.
The distribution network here is also intensive and has network in more than 100 countries as well as 2000 retail stores. The brand has now become one of the popular ones in terms of men's clothing and has a strong global appeal. Since Tommy Hilfiger designs specifically for Indian audiences in its local factories, it has the best fits and designs in its repertoire, this one is definitely one of the Best Clothing Brands for Men
Also view : What to Wear to an Indian Wedding as a Male Guest
5) Lee
Lee started with producing jackets and dungarees and eventually after the introduction of a zipper fly, it started to expand. Eventually television ads started to float by Lee and they gradually shifted their focus to work wear business and then they began catering to fashion cycles. Talking about best Indian Denim Brands for men, Lee has become one of the most popular brands amongst the youth.
6) Wrangler
Talking about jeans, Wrangler has become the talk of the town. With its headquarter in North Carolina it started off as making cowboy jeans for rodeos, and then it gradually evolved into casual wear as well as western inspired attire.
Today, Wrangler preserves its roots by harnessing their rich legacy of authentic products steeped in American tradition and how they do that is through their timeless design, versatility as well as performance. It inspires its customers to tackle everyday adventures in life. Eventually, it also has introduced several other lines which is designed towards specific groups, mostly men though and thus is pretty popular among the men of our country.
7) Adidas
Adidas started off as a sportswear manufacturer and is the largest manufacturer in the world after Nike. In terms of fashion, Adidas took the cake and it transcended the sportswear only label eventually. After a huge deal that it signed with Kayne West, it trickled down into the everyday lives of Indians.
So today, Adidas has become a household name for all of us and has managed to retain the premium label brand very well. It has been voted as one of the Best Clothing Brands for Men in India
Also View : Most Comfortable Outfits to Wear to the Airport
8) Flying Machine
Flying Machine is a brand of apparels that actually reflect the future of the youth of India in terms of fashion. It has bought real time international fashion to the Indian audience. Not just that, but it also has contemporary styles and it directly focuses on the trends of the season, which every good brand should do.
Apart from that, it is India's home bred denim brand and the very first in that case. With true Italian styling as well as urban innovation and deadly designs, this brand has come a long way especially when it comes to talking about the best brands for men.
This brand takes care of young and bold designs and combines the best of both worlds to make jeans like stain free ones, zero odor jeans and also the best skin fitted jeans ever.
Also View : Online Fashion Magazine You Need To Follow To Stay Updated With The Trend
9) Peter England
This is one of the largest menswear brand in India with over 5 million garments sold every year. It started off in India with the mid price shirt range segment and is one of the brands who went over to endorse the products without having any celebrity face.
For men, it has been a great brand as its range of products include sub-premium formal, semi-formals, formals etc. This brand sells over half a million pieces of denim per year and gears up to take it up to a million in the coming years
10) Calvin Klein
When talking about the leading fashion design and marketing studios of the world, Calvin Klein comes first, and this brand designs both men's and women's collections of not just clothes but also a wide range of other products such as handbags, belts, shoes, and jewelry.
Also View : 80s Fashion Trend
As it has been a very well recognized fashion brand, Calvin Klein is rapidly establishing the market position to be one of the leading Best Clothing Brands for Men. The successful performance of every new collection that it has designed recently tells us about this brands potential and growth in the coming years.
Also View : 10 times Narendra Modi Showed the World What Style looks like
They have recently launched stores in India and not only is their underwear section doing great but others are catching on pretty well thanks to the upper strata of the society loving their collections
We hope you loved our collection of Best Clothing Brands for Men. Don'r forget to check our list before you go shopping next time. Also share this with your friends and let them know about which brand to go for.