Ahmedabad is the biggest city of Gujarat where Sabarmati River runs through its centre, It is also one of the best city in india which can offer quality life.  Today we have 9 Reasons Why Living In Ahmedabad Is Awesome
1) Ahmedabad is beautiful
Ahmedabad is the most prettiest city in India with a lot of tall buildings and greenery. Every part of Ahmedabad has street lights with no power cuts. 95% of public transport and auto rickshaws run on CNG which helps in reducing pollution.
2) People of Ahmedabad are always welcoming
You will not feel left out in this city as people of Ahmedabad are always ready to help everyone. They are very sweet and welcoming.
3) Safety – In specific, Womens safety
Ahmedabad is one of the safest city in India. You don't need to worry about crime like theft, assault, and violent in this city. All you need to worry about is street dog's biting you at the night lol
4) We love Navratri
Navratri is tomorrow land for us. We never miss a day of navratri.
Image via :- Chello Divas movie poster 
Hanging out with a Amdavadi people will never make you feel bored, they will always have something to speak and crack jokes at. Don't forget Ahmedabad people hearts are as big as their houses.
5) Sabarmati riverfront
Image Source :- cityalongbanks.files.wordpress.com
Chilling with your friends at Sabarmati Riverfront gives amazing feeling. Times flies when you hangout here. You will not realise when 2-3 hours has passed.
6) Food
The food here is very tasty, From street food to high profile restaurant, Ahmedabad has got it all. If you are in this beautiful city then you should try out Asharfi Ni Kulfi, Jail na bhajiya, Haleem at Bhatiyar Gali, Famous / Bera Mutton Samosas, Magic Chicken at Juhapura and many more.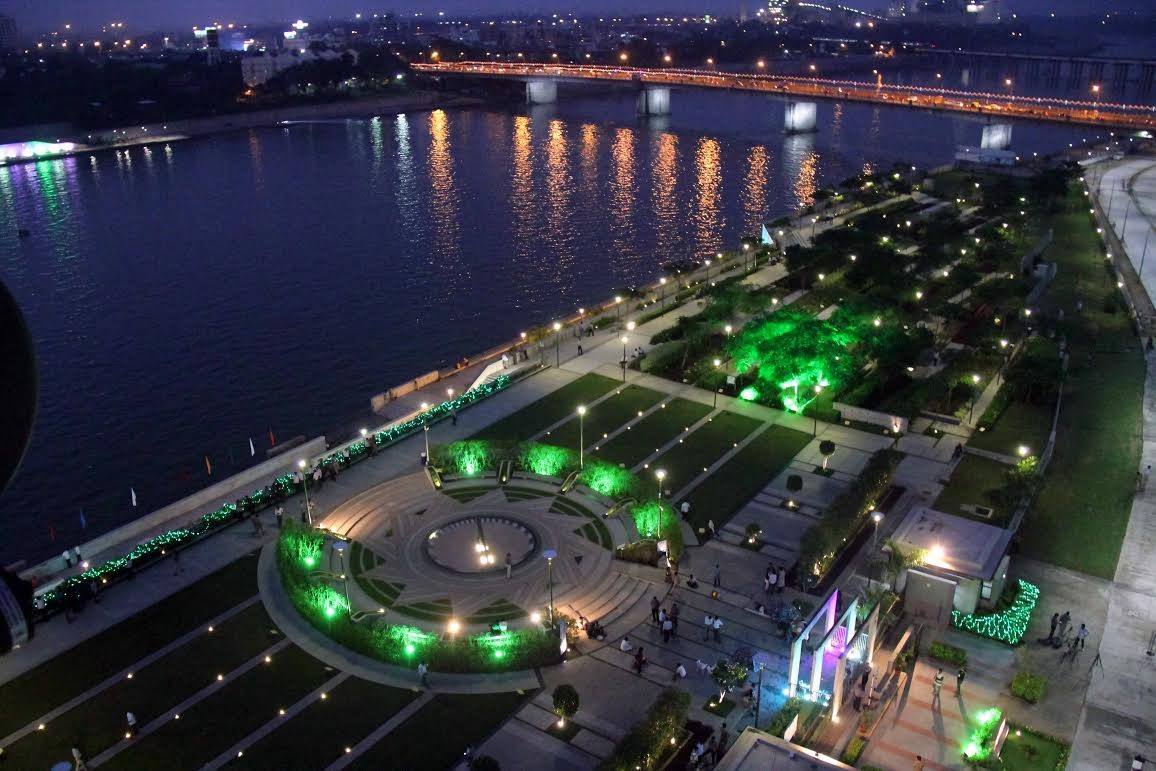 Image source :- nioh.org
Well it's neither too hot not too cold in Ahmedabad. The climate is just perfect.
8) Education
Do we need to say more about education when you have best colleges of india like IIM and NID, LD College Of Engineering in your city
9) Happy Streets On Sunday Morning
You didn't bother to set up an alarm to get up for a Sunday morning, isn't it? You were already up and running after all. Surprisingly it's not just the senior citizens or the little kids who enjoy it but people from all age groups seem to actively take part in the activity at Happy Streets.