A nicely brewed hot cup of coffee can make it so much easier to go through an overwhelming dull day. From genuine coffee lovers to bunch of friends looking out for a casual evening of gossip, a cup of coffee and some munchies along, Baroda has some really superlative cafes which provide great ambience and variety of other beverages to try out. Listed here are 7 Must Visit Cafes In Baroda that have it brewing.
7 Must Visit Cafes In Baroda
1) Banyan Deli
A bijou café hiding adjacent "The Shoppe" serves as a perfect escape to a silent evening reading your favourite novel along with a steaming cup of coffee. Also this place vouches on its basil lemonade and shawarma wrap. The colourful wicker plant baskets, the tiny watering pots on the table and their iced latte are everything you need to uplift your day.
Checkout Banyan Deli Facebok Page for more info
2) Varitea Cafe
A cosy dim yellow indoor interior as well as a beautiful garden outdoor setting with high wooden benches, it is more of a place for the tea lovers where it provides a medley range of tea and coffee and serves as a perfect place for a relaxing gossip session, trying out exotic flavours of tea served in little kettles.
So next time when you are there, ring in the bell on the table for some irani chai and hot and fresh paneer tikka panini!
Checkout  Varitea Facebook Page for more info !
3) Replay:it
The sprawling new sports café of the city is ideal for the sports fan to hang out together with their friends and root for their favourite team dominating the projector screen over a plate of cheese nachos and salsa. Maybe it's the spacious booths with individual TV that can be tuned to any channels you want, the range of mocktails or the cold stone ice-cream counter( you can play with your favourite flavours and toppings!) this place is where you'd love to keep coming back.
Checkout Replay:it Facebook page for more info
4) Caffein
Known as the regular hub for the college students of Baroda, it serves as a perfect place to sip on your frappe and work on your class project. Or maybe just a tall glass of lemon ice tea to wash down a good old game of UNO. (cause seriously when did that go well?)
Checkout Caffein Facebook page for more info
5) Goodies Cafeteria
Not a fancy ambience carrier yet perennially crowded goodies café is what you look for when you are looking for a simpleton food and bakery products packed with best flavours. Pick up any item of their menu and they are guaranteed to excite your tastebuds.
Checkout Goodies Facebook Page for more info
6) Café Bistro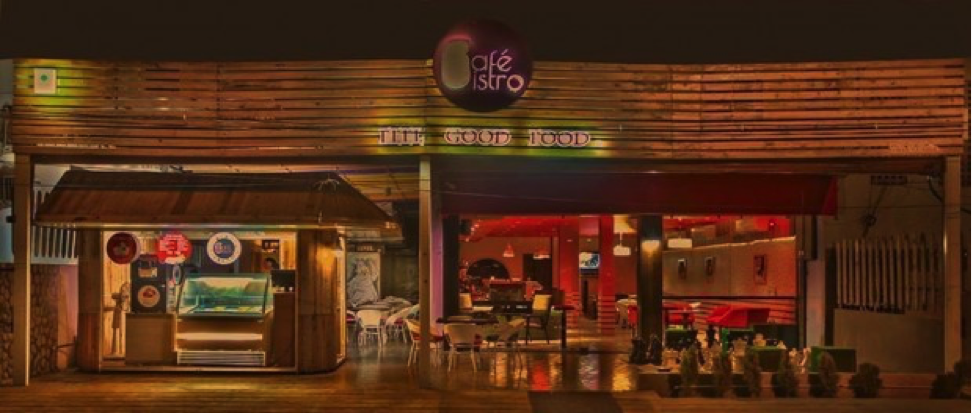 Try your hand on their Oreo coffee with whipped cream and you will be floating in bliss. Pair it with pasta sandwiches and life just gets better. The good old Bistro carries a retro ambiance along with some wide range of coffees and snacks to choose from along with foosball table, garden chess and playstation to keep you busy. They also have a titillating variety of in-house bakery products for you to check out.
Checkout Cafe Bistro Facebook Page for more info
7) Bali café
A part of the Morsel restaurant, Bali Café is everything what a genuine coffee lover is looking for. The house special "Bali's Macchiato" is worth giving a shot. The simple yet classic shade of the café serves perfect with the tastefully selected items on their menu.
Checkout Bali Cafe Facebook Page for more info
Cover Page Image Source :- cafecoffeeday.com
Also View :- 10 Reasons Why BBA BAAZIGAR Is The Best College Event In Vadodara
If you liked our article 7 Must Visit Cafes In Baroda then kindly like our Facebook Page For More Such Stories