1. Beach Parties in Goa At Anjuna Beach
Anjuna is one of the most popular and famous beach for it trance rave parties and it's flea market. The beach will not charm you much as it is not extraordinary but you will always find awesome parties happening at one or the other shacks. The most famous places in Anjuna beach are Curlies, UV Bar and Shiva Valley.
2) Witness The Pushkar Camel Fair
A city of lakes and temples, this place is famous for Pushkar cattle fair and Lord Brahma's temple. A must visit place here is Pushkar Fair as thousands are animals are there for sale and purchase, mainly camels are the most popular among these animals.
3) Go White Water Rafting In Rishikesh
Rishikesh is surrounded by nature and a place worth visiting. The best part about Rishikesh is river rafting where you can do a marine drive which is a 27km of rafting, you can even do camping near the waterfall area.
4) Do The Chadar Trek In Ladakh, Walk On Top Of Ice
Chadar is a hindi word which means blanket and chadar trek is a trek on blanket of snow on the mountains. This trek is very adventures and only brave heart people can complete it because temperature there is -20 degrees, you will never see such beautiful place in your life and villagers will always welcome you with a nice smile .
5) Enjoy The Iconic Hyderabadi Biryani In The City Of Nawabs
Well this briyani in picture above does not only look good but it is very yummy at taste and very famous. you will see mughal's history and culture in the old city. It is the capital of Telangana but still people speak more of Telugu and Urdu.
6) Visit The Haunted Bhangarh Fort In Alwar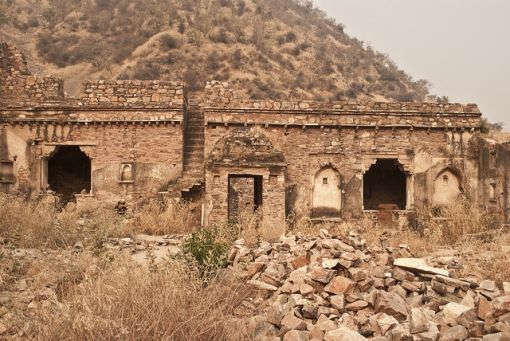 It is one of the most haunted places in the world, entry is not allowed at before sunrise and after sunset, on weekends the place is filled with tourist so it doesn't look scary but come on a regular day and we bet you will experience the thrill.
7) A Bike Ride To Leh-Ladakh
This is one hell of a ride which you cannot miss in your life. The culture and the locals at leh-ladak are to be respected, they are so nice and helpful. it is a dream of every person to ride atop Khardung La pass the highest motorable road, you cannot get enough of ladakh, it's an addiction.