The Sindhi Girl is free in her wildness, a wanderess, a drop of free water! She knows nothing of borders but respects rules and customs. 'Time' for her isn't something to fight against. Her life flows clean, with passion, like fresh water!
Here are 7 things about the life of a Sindhi Girl that you probably did not know!
1. Mundan Or Tonsuring Ceremony:
A lot of Indian Cultures have Mundan ceremonies held for baby boys, but in the Sindhi Community- this ceremony is also performed for baby girls.
It is supposed to purify the baby, by ridding the baby free of its past life negativities, and bestowing her with a long life, and a good future!
2. Name Change After Marriage:
Yes, a majority of women do change their last name after their marriage! But in Sindhi culture, women also change their first name.
It is believed that when a girl gets married, it is a new birth for her. By changing her maiden name to the new name- she can assimilate better in her in-law's family!
3. Fasting For A Good Spouse:
Sindhi Girls are known to fast for a good spouse and Marital bliss on the festival of Teejri. Goddess Parvati had fasted for Lord Shiva to be her husband and it actually happened! Hence, the ritual!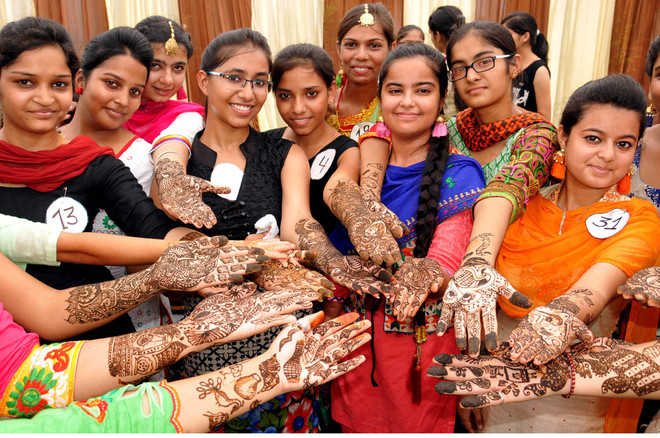 On this day, all girls wake up at 4am to eat (before commencing the fast). Later, they go to the "Guriyani" (Sindhi Priestess) for Pooja. They fast all day and eat only after sprinkling water and some grains to the Moon!
4. Teejri:
Married Sindhi women also fast on this festival: from dawn till the moon shows in the sky- praying for the long life of their husband.
On this day, they beautify themselves- adorning their body with ornaments, dressed in bright colors and decorate their hands and feet with mehndi/henna.
5. Home Environment:
Sindhi Girls are raised on high values, over-protective yet open-minded environment. Sindhis are generally non-violent and peace loving– and this characteristic is greatly apparent in the upbringing of the Sindhi Daughters.
Even the husband is quite open minded in Sindhi families, and mothers in law are known to be quite free and non-interfering. "Live and let live" is the motto in the Sindhi Culture.
6. Education:
With the modernization spreading far and wide, education has become one key aspect in the life of Sindhis. Parents understand the importance of education and insist on educating their daughters- even if eventually the girl settles down to be a housewife.

Sindhi families believe that a well-educated daughter will not only bring up her family's name but will also educate her kids and in law's family well. #respect
7. Dowry and Post Marriage Behavior:
This is something I personally dislike about Sindhis. Dowry is a huge aspect in Sindhis who go for an arranged marriage- this may include jewelry, cash, property, automobiles etc.
Post marriage, the Sindhi girl's parents do not ever stay over at their daughter's place. Also, drinking water/ eating food at their son-in-law's place is considered taboo.
Of course, with advancement in the society- a lot of modern families are adopting the newer ways! But many Sindhi families still continue to follow these old customs.